The Chemours Company calls itself a start-up with a 200-year-old legacy. With 7,000 employees globally, the company spun off from DuPont in 2015. Today, they have three business lines: titanium technologies, fluoroproducts, and chemical solutions.
Chemours' current story is about transformation. R.M. Boccuti shared that story—specifically the saga of Chemours' IT Team—during the recent WAN Summit New York.
IT Adapts and Pivots
In 2015, Chemours was on the brink of extinction, according to Boccuti. Its post spin-off IPO share price was about $18, but its debt load was enormous and there was litigation against the company. "Our stock went down to about $3 within six months and everyone buried us," he said.
Chemours' executive team developed a five-point plan to ensure the company's survival. This plan involved cost reduction, refocusing investments, growing market positions, optimizing their portfolio, and enhancing the organization through simpler processes.
It was a plan that required every function, IT included, to adapt and pivot.
For IT at Chemours, this transformation plan meant:
A culture/paradigm shift from one of a large corporation to an agile, responsive company
Automation, enabling virtual engineers to deliver infrastructure service management
Hybrid computing and cloud adoption across the IT portfolio
Application rationalization; the company had a lot of legacy applications that weren't suitable for today's world
Unified communications with integrated voice, video, mobility, and presence
Service provider optimization and partnering with best-of-breed providers
Infrastructure modernization using technologies like SDN and NFV to enhance service quality and responsiveness
When you're threatened with extinction, you start to think and operate differently, said Boccuti.
Monitoring Results
As the IT department began implementing these changes, earnings "went up dramatically."
The Chemours IT team is relatively small, so automation meant that staff was freed up to work on other valuable projects. "We've released labor we didn't think we had—labor which we can re-apply to more strategic initiatives," Boccuti said.
"Suppliers will always tell you they can do great things, but you need to find out what fits you. We weren't SDN experts and we needed a solution, not a product, that worked from end to end."
The IT organization also moved from having multiple service providers to three or four strategic partners, which proved to be a more streamlined approach.
Introducing SDN and NFV has been a change that Boccuti is particularly enthusiastic about. "I thought it would make us nimble, agile, and cost-effective. The key drivers were performance, redundancy, agility, integrated security, flexible communication, lower total cost of ownership, and quality of service."
And the team continues to learn from their new processes.
"We ran an RFI/RFP," Boccuti said. "If you're looking to move from MPLS, then I would recommend you do this. Suppliers will always tell you they can do great things, but you need to find out what fits you. We weren't SDN experts and we needed a solution, not a product, that worked from end to end. We needed a managed service; we don't have the internal resources to manage networking and telecoms, so the supplier had to be able to manage the service."
And if he could do anything differently?
Boccuti said that he originally failed to incorporate network security, adding, "I learned quickly enough network and security must be integrated as one service."
Ironing Out SD-WAN
Chemours selected Swiss company Open Systems AG as its SD-WAN partner. Boccuti is happy with the way this relationship is progressing.
"They manage my assets, they apply security end-to-end 24/7. They're my sentry because I don't have enough soldiers. It's a handful to manage, so if you can unload it on someone you have confidence in, then that's a good thing."
Chemours has just begun leveraging the technology. The IT team is fine-tuning and designing add-on functionality, but it's already seeing the benefits of moving to an opex mentality. For example, there is now redundancy at the company's sites. Formerly, because of the cost of MPLS, there was none.
Lessons Learned
Boccuti said he has learned a number of valuable lessons from the transformation process at Chemours.
Don't make an SD-WAN project a device swap project.

It's more than a firewall/router replacement project and if you treat as such, then you will undervalue the work and you won't achieve the benefits.
Run a formal RFI/ RFP with specific requirements.
Contract an independent and specialized solution integrator

who can help you navigate the SD-WAN landscape and integrate network and security requirements. Chemours' IT team weren't SD-WAN experts. They needed a third party who could validate what they were told.
Execute a proof of concept with clear success criteria.

This doesn't need to be executed for every site, just done enough times to prove the concept.
Order the telecom lines as soon as the architecture is approved and the requirements are met.

There are long lead times to provision them. Boccuti said this is the cause of the biggest delays at Chemours.
Have a clearly defined view of the future operating model.
Prepare for setbacks.
Don't forget security.
Up Next
Ethernet Connects Thomson Reuters and Customers Worldwide. Thomson Reuters determined that moving to an Ethernet WAN would be the best fit. Here's how they did it.
Challenges and Opportunities for SD-WAN Development. In this webinar, Snehal Patel from Gap Inc, joins Greg Bryan to discuss the Gap's SD-WAN implementation project. Watch now.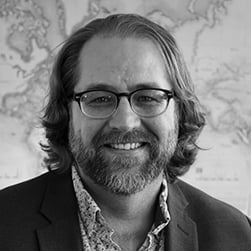 Greg Bryan
Greg is a Senior Manager, Enterprise Research at TeleGeography where he leads our enterprise pricing research. Greg is also the chair of the WAN Summit conference series.