The latest figures from TeleGeography's GlobalComms Forecast Service show that there were 7.95 billion cellular subscriptions worldwide at the end of 2019, up from 6.97 billion five years earlier and 4.61 billion at the end of 2009.
Although annual growth has slowed as expected, wireless markets are continuing to add new subscriptions.
TeleGeography is forecasting a compound annual growth rate (CAGR) of 1.9% over the next seven years, taking the user total to 9.09 billion by end-2026.
Global Growth
Global Wireless Market 2005-2026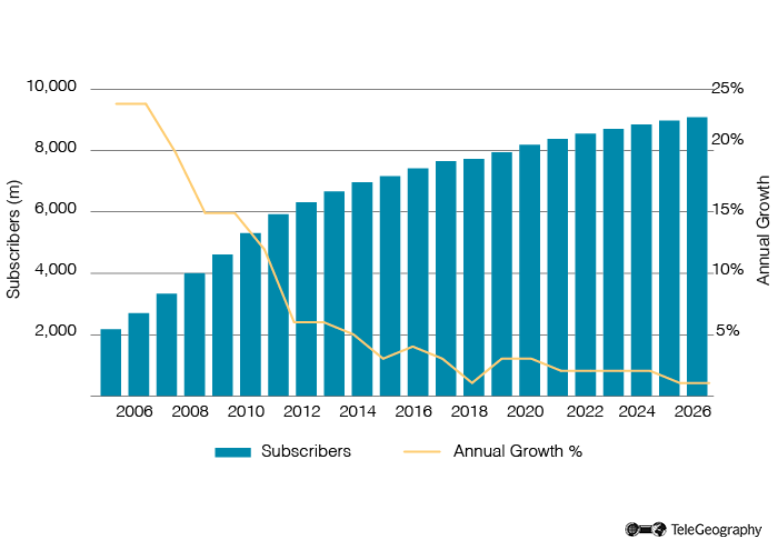 Regional Variations
In regional terms, the Asia-Pacific is home to the most subscribers, accounting for 55% of the global user total at the end of 2019. China and India together contributed 2.68 billion users. This figure is set to rise to over 3 billion by the end of 2026, giving the two largest markets one-third of all wireless customers globally.
Africa will record the highest CAGR between 2019 and 2026, with a growth figure of around 4%, compared to 2% in Asia, the Middle East, and North America.
Three African markets are set to experience double-digit compound annual growth between 2019 and 2026: Eritrea, Central African Republic, and South Sudan.
Africa has more room for subscriber additions, however, with its regional wireless population penetration rate under 85% at end-2019. All other regions boast rates of 100% or above; the global average was 111% at the start of 2020.
Wireless subscriber growth in Europe has slowed to a crawl. From now until 2026 both Eastern Europe and Western Europe are forecast to return compound annual growth of around 0%. Indeed, Eastern Europe could begin to see declines in its subscriber total by the end of the forecast period, with this due at least in part to corresponding falls in regional population.
Demographic Changes
The elderly and children are among the fastest sectors of subscriber growth in mobile phone ownership across highly penetrated, developed markets. UK telecom regulator Ofcom revealed in 2018 that 47% of people between 65 and 74 used a smartphone, up from 20% in 2013. A further 45% used a non-smartphone.
Operators and handset manufacturers recognize this growing segment of the market, with a number of specially designed handsets featuring larger buttons, louder ringers, and hearing-aid compatibility.
Meanwhile, mobile phone ownership among children also continues to grow. According to Ofcom, at the end of 2019, half of all 10-year-olds and 95% of 15-year-olds in the UK had their own smartphone with a service plan. Nine is the most common age for children to get their first handset.
2G, 3G, 4G, and 5G Subscribers
The global 2G subscriber base peaked in 2011 at 4.8 billion. Migration to 3G and 4G networks continues apace. On a combined basis, 3G and 4G surpassed 2G during the first half of 2016. Further, 4G surpassed 3G in the second half of 2017.
At the start of 2020 2G accounted for 25% of global wireless subscribers, 3G accounted for 22%, and 4G represented 52%.
5G technology will obviously make a significant impact over the next few years. The first full commercial launches of cellular 5G services took place in 2019 from operators in South Korea, the U.S., China, and the U.K., among others.
Coverage areas of 5G networks are likely to be restricted to major urban areas until 2021. In Europe, the European Commission has set an interim target of "at least one major city to be 5G-enabled by the end of 2020 and then all urban areas and major terrestrial transport paths having uninterrupted 5G coverage by 2025."
5G Plays Its Part
Growth of 2G, 3G, 4G and 5G | 2005-2026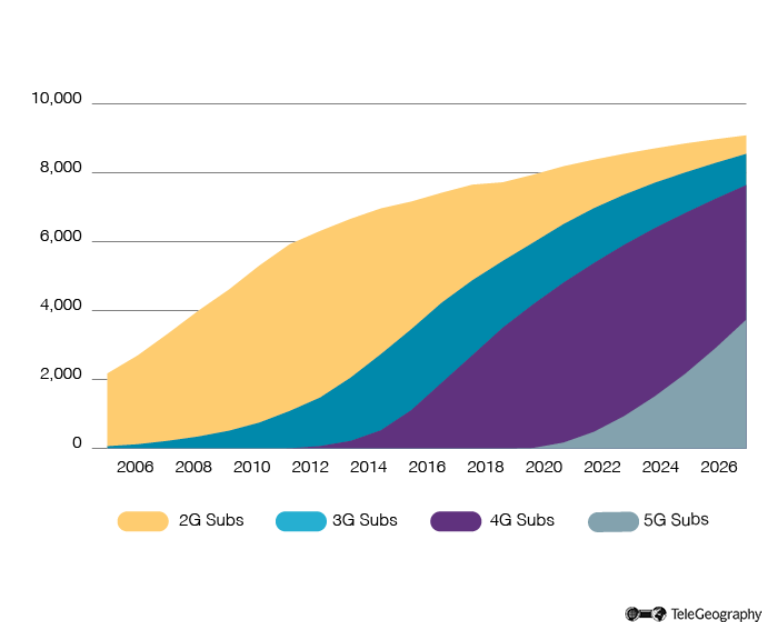 The take-up rate of each new generation (2G, 3G, and 4G) has been faster than the previous one; TeleGeography forecasts this will continue with 5G.
China played a substantial role in developing technical standards for 5G. Significant government backing and Huawei's 5G expertise fostered the world's largest 5G subscriber base from an early stage following the commercial launch of networks by the three main cellcos in October 2019.
TeleGeography is forecasting 3.7 billion 5G subscribers by the end of 2026, with our initial projections having now been revised upward following rapid early uptake in countries like South Korea and China.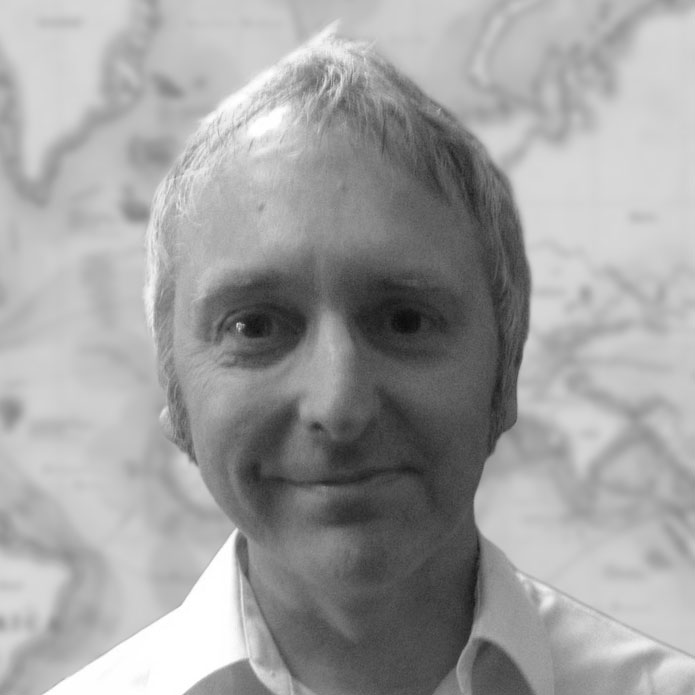 Pete Bell is a Research Analyst for TeleGeography's GlobalComms Database and also contributes to the daily CommsUpdate newsletter. He has a particular interest in wireless broadband and was responsible for TeleGeography's 4G Research Service until it was integrated into GlobalComms.