TeleGeography's Pricing / Enterprise Team was set up in the Summer of 2001 by Rob Schult. At the time, the telecom industry was in the midst of liberalization and right before the dot-com and telecom industry bust. The team has since grown from 1 to 8 analysts, expanding its once singular focus on point-to-point, wholesale international private line price benchmarks to include wholesale IP transit and Enterprise WAN services.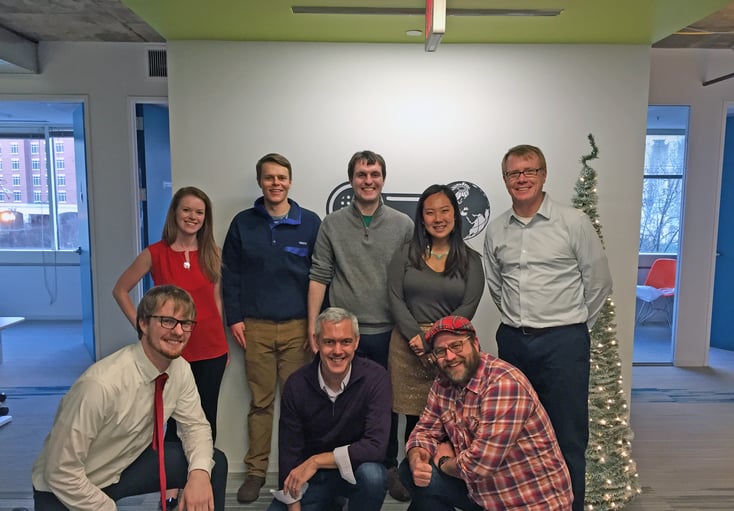 In the back from left to right: Brianna, Elliott, Mike, Janice, and Rob. In front from left to right: Sam, Erik, and Greg.
The team actively travels the globe covering industry conferences in 5 of 7 continents (waiting for the Australian and Antarctic invitations!), and provide price benchmarks and forecast models to both the telecom and financial services sector. Its most recent engagements include benchmarking global WAN data network services for multi-national enterprises. The team also created and supports the WAN Summit conference series, a tri-annual event held in the U.S., Europe, and Asia focused on network pricing, network architecture, and evolving technologies.
---
Rob Schult. Rob's role as Research Director gives him a hand in both business and product development and leading the pricing and enterprise networks research teams. With TeleGeography since 2001, he brings leadership experience and an engineering background (he was a submarine officer) to the team. Rob enjoys sailing, coaching youth soccer, and talking European football.
Greg Bryan. Greg joined the pricing team in 2006 when all we covered was bandwidth pricing and has had a hand in creating and launching more than half a dozen new pricing products. Nowadays, he is primarily involved in coordinating TeleGeography's enterprise research and managing the program for our enterprise-focused conference, the WAN Summit. When he is not being a TeleGeographer, Greg enjoys cycling, hiking, Renaissance Faires, and recording heavy metal kids songs in his home "studio" for his three children.
Erik Kreifeldt. In Erik's decade-long tenure at TeleGeography, he has taken a deep dive into the marketplace for global bandwidth services, streamlining wholesale market analysis, and forecasting prices for global transport and IP transit services. With additional experience covering optical networking, he brings insight that helps anticipate how technology advances affect the global bandwidth market. He's engaged with the primary operators that carry most of the world's international Internet traffic. Erik enjoys boating, fishing, and is most likely to identify a classic rock band by album cover or the first few notes of a song.
Brianna Boudreau. Brianna has been a member of the TeleGeography pricing team since 2008, contributing to the market analysis sections of the wholesale and enterprise pricing products. Her specialization in Asian and African markets has made her a frequent moderator and presenter at industry events around the world. Outside of TeleGeography, Brianna is training to become an Xtend Barre instructor.
Mike Bisaha. Mike has been a self-described data nut at TeleGeography for the last 5 years. If you walk by his desk, he's probably busy building a new analytics tool for the pricing team to play with. When not tackling data-heavy research questions, Mike likes to spend his time traveling, playing basketball, and being the only person you've ever met from Delaware.
Janice Shon. Janice specializes in Latin America and emerging markets in Asia for the pricing team's wholesale and enterprise services research. She speaks Spanish and Korean, and enjoys collaborating cross-culturally to better understand these developing connectivity markets. While a city dweller, Janice loves the outdoors and has trekked the Himalayas, Grand Canyon, and the Appalachian mountains.
Elliot Cheresh. Elliott focuses on data analysis and pricing in the Russian, Eurasian, and European markets. In his spare time, Elliott enjoys trail running, sampling Washington's espresso offerings, Russian literature, and is most likely to arrive at the office on Monday morning with some kind of bike racing injury.
Sam Toolan. Sam is the newest member of the pricing team and is focused on Data Analysis and Presentation. He brings Python chops to wrangle our massive pricing databases and help us make sense of the data. In his spare time Sam plays guitar in his band Red Sword in and around Washington, D.C.