Anyone who is familiar with our Pricing Suite knows that São Paulo is Latin America's de facto center for wholesale IP transit and transport and reports the most competitive pricing in the region.
In other areas, we see that prices are falling as supply increases.
Colombia is one example.
Recent price changes throughout Latin America are happening during a period of economic strain in many countries.
Brazil and Argentina, for example, show significantly higher rates of inflation than nearly all G20 countries. And while São Paulo and Buenos Aires remain regional centers for transport and transit, complications from inflated currencies and limited purchasing power have nudged some investors to look to markets like Colombia.
A review of our Global Internet Geography data shows that Colombia is using less international bandwidth per person than most Latin American countries.
This room for growth, combined with its geographic proximity to the United States and more stable economic conditions, explains why Colombia is a desirable site for telecom investment.
This room for growth, combined with its geographic proximity to the United States and more stable economic conditions, explains why Colombia is a desirable site for telecom investment.
Foreign investment has increased in Colombia—roughly $14 billion came from abroad in 2019, continuing an upward trend. This creates favorable conditions for telecom services to grow.
On the domestic side, Colombia has seen increased investment in fiber connectivity for residential end users, particularly in areas with limited broadband access. Key FTTH projects underway involve Telefónica/Movistar (working with KKR), Ufinet (working with ETB), and government-led investment (Hogares Conectados). But what about international connectivity?
Colombia has growing demand from content providers and nascent cloud region on-ramps.
According to our Global Bandwidth Forecast Service, in 2014, about 11% of used international bandwidth in Colombia was attributed to content providers, educational research, and enterprise. In 2020, that category accounted for 28% of all used international bandwidth.
Our Cloud Infrastructure Map demonstrates that cloud service providers have yet to expand in the Colombian market. In that event, we'd expect the scale for international connectivity to spike.
10 Gbps Is Not Enough
As we see more investment in Colombian cloud and connectivity infrastructure, the demand for high capacity cables and ports also increases. This is already evident once we observe price multiples between 10 Gbps and 100 Gbps transport.
Median Price Multiple on Bogotá-Miami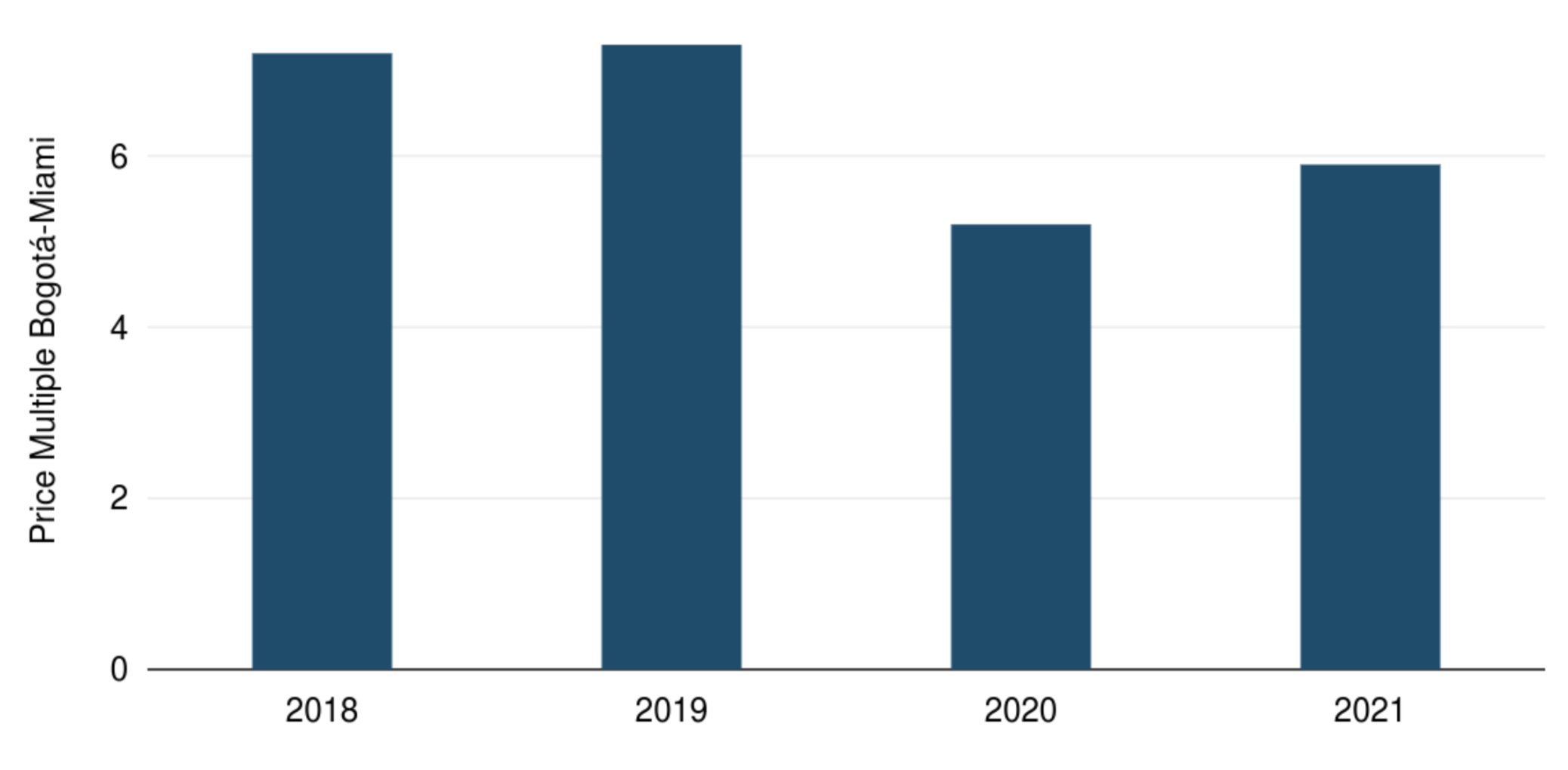 Source: © 2022 TeleGeography
Increasing demand for higher capacity services and lower unit costs has occurred alongside steady price erosion for 100 Gbps services. In fact, our Global Bandwidth Forecast Service estimates a 33% increase, compounded annually, for international bandwidth in Colombia between 2020-2027.
And even though 10 Gbps transport prices are still falling quickly, this has compressed price multiples between 10 and 100 Gbps, making it much more cost effective for customers to upgrade their networks. Since we know that 100 Gbps demand is increasing, this suggests that prices at that capacity are also on the way down.
From Miami With Love
International connectivity plays a big role in Latin America. And connectivity to the United States has seen sharp price erosion in recent years. But that erosion has been more pronounced in some markets than others.
Let's have a look at 10 Gbps prices across the key cities we track to better understand what trends stand out.
Weighted Median Latin American 10 Gbps Wavelength Prices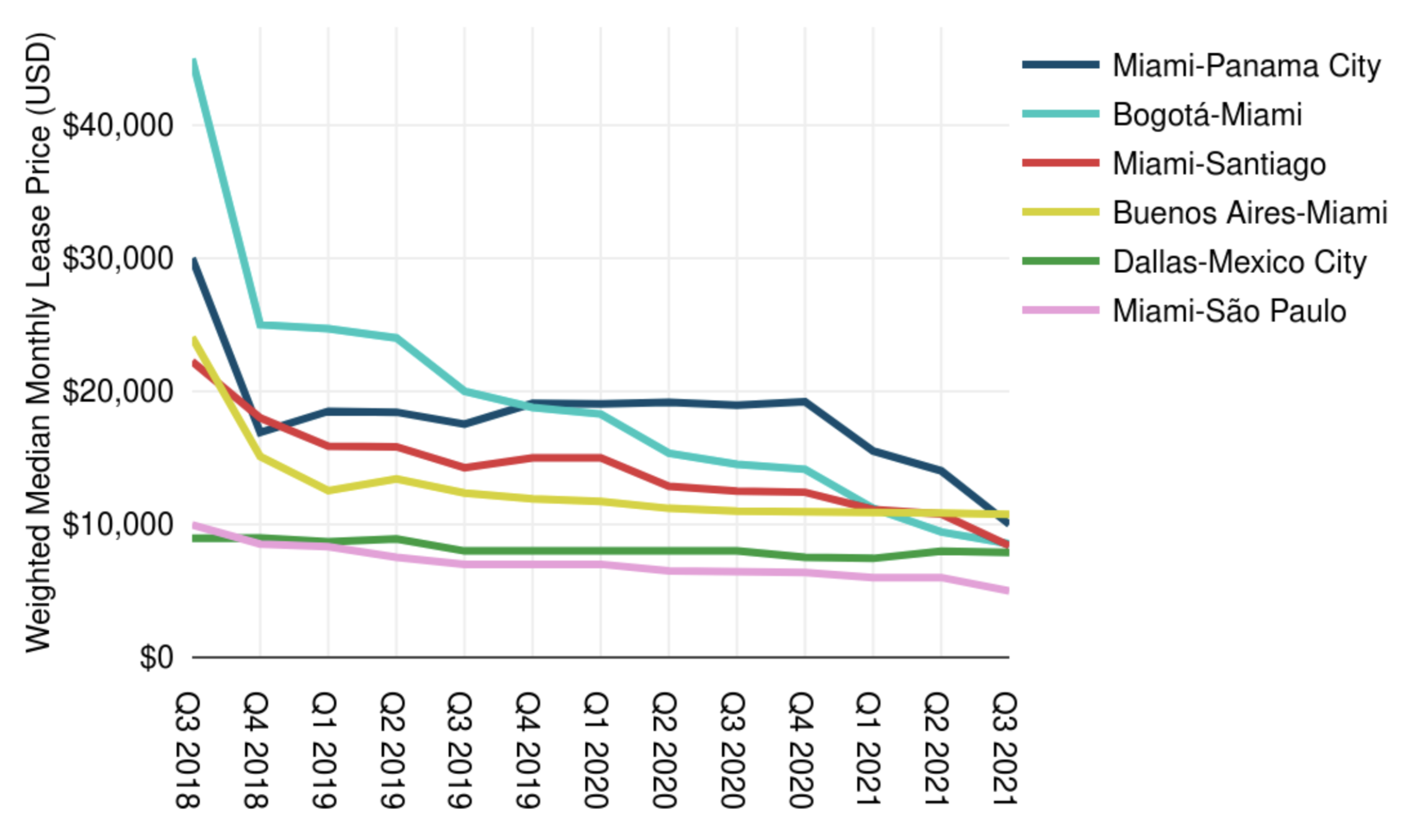 Source: © 2022 TeleGeography
As the above figure shows, with a Q3 2021 weighted median of $5,000 for 10 Gbps, transport on Miami-São Paulo remains cheap. But prices in markets like Colombia are tumbling and have started to converge with other key regional routes.
For 10 Gbps transport in Q3 2021, our weighted median comes in around $8,532 on Bogotá-Miami. That's 41% lower than a year prior.
In terms of convergence, the price difference between Bogotá-Miami and Miami-São Paulo has dropped from 2018, when Bogotá-Miami had a weighted median 4.5 times higher. In Q3 2021, it was only 1.7 times more expensive.
Weighted Median and Price Range for 10 Gbps Wavelengths on Bogotá–Miami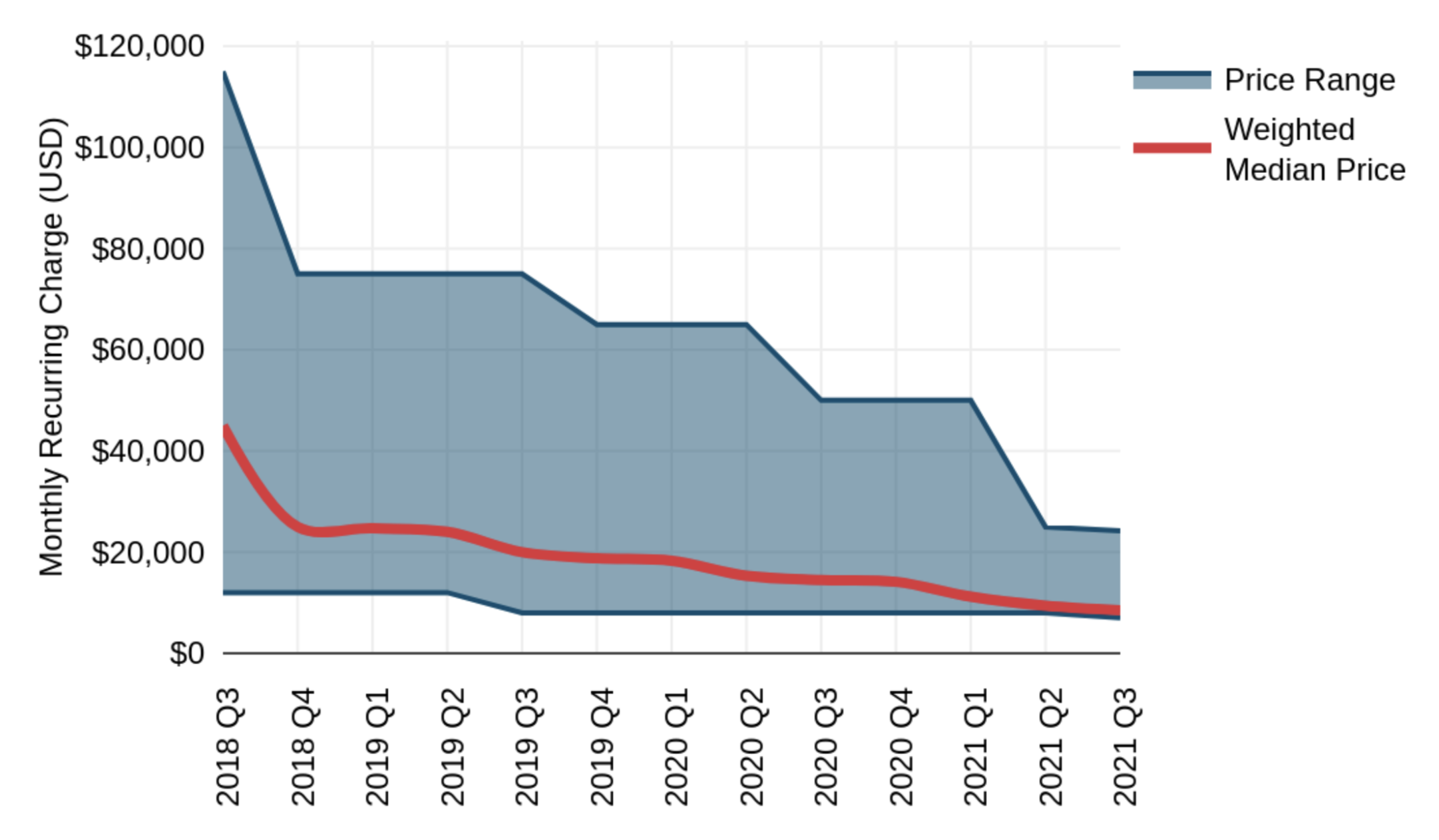 Source: © 2022 TeleGeography
As we can see, not only are prices on Bogotá-Miami falling, but the range of prices is narrowing. The weighted median price falls near the minimum, meaning most transactions occur along the low end of the range.
With upcoming cables potentially disrupting the Colombian market with a new supply of capacity and increased competition from new entrants, those prices could keep falling.
The AURORA cable system is scheduled to be ready for service Q1 2023, connecting Colombia, Ecuador, and Panama to Florida with branches to Honduras, Guatemala, Mexico, and the Cayman Islands.
In Q2 2024, the Caribbean Express system is expected to be launched, connecting Colombia, Panama, and Mexico to the U.S.
For Your Port Only
Price erosion isn't just limited to international transport. As transport costs continue to erode, IP transit throughout Latin America sees similar trends.
Colombian international connectivity has historically been similar to most other Latin American countries. A pipe-and-port model with IP transit in Miami has long been the norm everywhere besides Mexico. In Colombia, IP transit has been more moderate in its price decline, relative to other markets. But it still falls at a rapid pace.
The below figure compares key Latin American cities and shows what pricing patterns have looked like recently.
Weighted Median 10 GigE IP Transit Prices in Latin America
Source: © 2022 TeleGeography
Overall, IPT prices have fallen at similar rates during the past three years. That means the distribution of prices relative to one another has been fairly stable.
Bogotá is a good example of this. In 2018, a 10 GigE port in Bogotá cost about 1.6 times more than the same port in São Paulo. In Q3 2021, it is about 1.4 times more.
Part of the reason prices in Colombia have been historically higher than markets like Brazil is because fewer transit providers are active there and local demand has previously been limited.
For context, our Global Internet Geography data shows that Colombia had 6,323 Gbps of international internet bandwidth in 2021. Compare that to Brazil, which had 31,748 Gbps the same year.
So prices are falling more or less in unison across key markets. But there is some variation. Since 2018, 10 GigE prices in Bogotá have fallen slightly faster than the other markets shown above, declining 38% compounded annually.
If price erosion for transit in Bogotá continues to outpace other markets, even marginally, we will eventually see its prices compress with those in São Paulo.
License To Invest
Economic conditions and heightened demand for bandwidth make Colombia an appealing market for investment. Combined with upcoming cables and low IP transit costs, we will see the international connectivity market in Colombia continue to grow.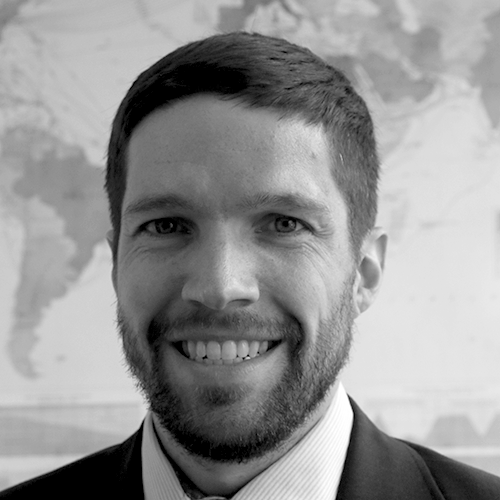 Peter Wood is a Senior Research Analyst at TeleGeography. His work is focused on network services and pricing with a regional focus on Latin America and the Caribbean.