Unlike previous submarine cable construction booms, content providers like Amazon, Google, Meta (formerly Facebook), and Microsoft are taking a more active role in this recent surge.
These companies alone have such incredible demand for data center traffic that they're driving projects and route prioritization for submarine cables, which is why we thought it made sense to compile a list of their submarine cable holdings.
We'll update this list as these providers get involved in new cable projects or as other content providers start investing in similar builds.
Amazon

Meta

Google




Microsoft

Note: Only publicly announced cables are shown. Updated: May 2023
Few trends in the global telecommunications industry have been as impactful in the past decade as the rise of content providers as the dominant user of international capacity.
Who Are the Content Providers?
We've developed a pretty broad category to encompass these types of networks. Our classification begins with (and largely deals with) the big four companies that are investing in new undersea cables: Google, Meta, Amazon, and Microsoft.
We also factor in companies such as Apple, LinkedIn (now owned by Microsoft), Dropbox, IBM, OVH, the Chinese content providers (including Alibaba and Tencent), content delivery networks (including Akamai, Cloudflare and Limelight) and many others.
While we use the term "content providers" for this category, it is common to hear these companies referred to by other names such as hyperscalers, web-scale companies, OTTs (over-the-top providers), ICPs (internet content providers), or CSPs (cloud service providers).
Content Reigns
TeleGeography has a unique vantage point into the growing network dominance of content networks. Our data shows that content providers' international bandwidth growth has outpaced that of all other customers in recent years.
This has been nothing short of revolutionary in an industry long-dominated by traditional internet carriers. Between 2015 and 2019 the amount of international capacity deployed by content networks rose over nine-fold to 962 Tbps, and by 2017, content providers had surpassed internet backbone providers as the largest users of international capacity.
This shift is clear when looking at the below figure.
Having accounted for less than 10% of total usage prior to 2012, content providers' share of total capacity surged to 66% in 2020.
Used Bandwidth by Source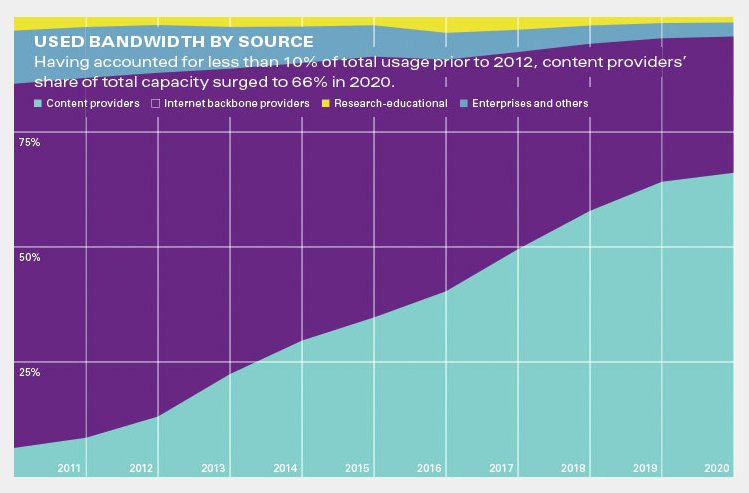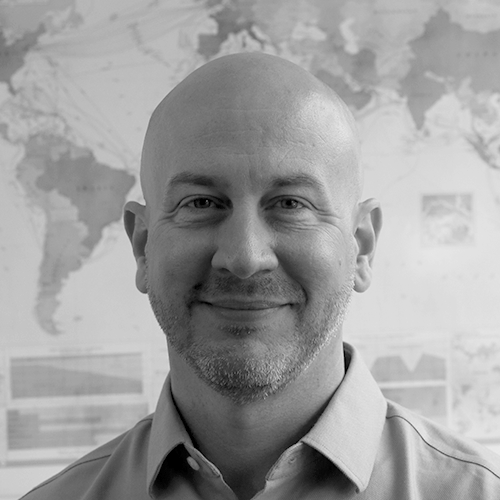 Alan Mauldin is a Research Director at TeleGeography. He manages the company's infrastructure research group, focusing primarily on submarine cables, terrestrial networks, international Internet infrastructure, and bandwidth demand modeling. He also advises clients with due diligence analysis, feasibility studies, and business plan development for projects around the world. Alan speaks frequently about the global network industry at a wide range of conferences, including PTC, Submarine Networks World, and SubOptic.