Unlike previous submarine cable construction booms, content providers like Amazon, Google, Facebook, and Microsoft are taking a more active role in this recent surge.
These companies alone have such incredible demand for data center traffic that they're driving projects and route prioritization for submarine cables, which is why we thought it made sense to compile a list of their submarine cable holdings.
We'll update this list as these providers get involved in new cable projects or as other content providers start investing in similar builds.
Content and Cables: A Natural Pairing?
The amount of capacity deployed by content providers has outpaced all other customers of international bandwidth in recent years. Between 2013 and 2017 the amount of international capacity deployed by companies like Google, Facebook, Microsoft, and Amazon has risen 10-fold to 339 Tbps. (In contrast, international capacity deployed by all other operators only rose three-fold, to 350 Tbps)
Used International Bandwidth by Source, 2002-2017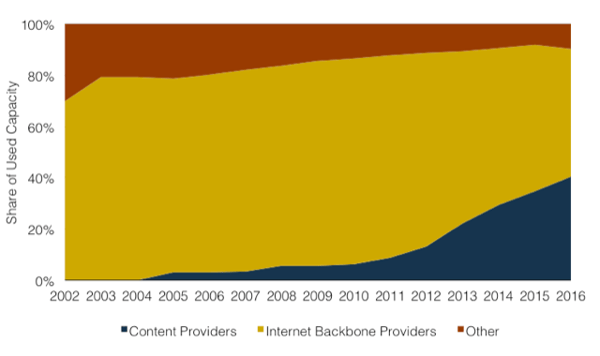 Content provider networks have yet to displace internet backbones as the largest source of used international bandwidth, but their share of used capacity is rapidly gaining as internet backbone providers' share wanes.
Why? Content providers tend to experience high volumes of demand between their proprietary data centers.
The requirements for inter-data center demand vary by company, but they're generally related to database mirroring, search index synchronization, and cloud computing services and applications. The role of inter-data center demand becomes clear when examining content provider capacity on major submarine cables routes.
Where? Content providers prioritize some submarine cable routes more than others in their network deployments. Between 2013 and 2017, content provider demand was the strongest across the Atlantic where capacity rose at a compound annual rate of 78 percent to 77 Tbps.
And as such, the largest content providers have built U.S.-centric network architectures. Their investments on systems directly connecting Europe to Asia are almost non-existent, in comparison. In the Atlantic and Pacific, content providers accounted for over half of total demand in 2017. In contrast, content providers represented only a small share of capacity usage on routes connected to the Middle East and Africa.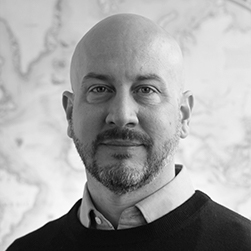 Alan Mauldin
Alan Mauldin is a Research Director at TeleGeography. He manages the company's infrastructure research group, focusing primarily on submarine cables, terrestrial networks, international Internet infrastructure, and bandwidth demand modeling. He also advises clients with due diligence analysis, feasibility studies, and business plan development for projects around the world. Alan speaks frequently about the global network industry at a wide range of conferences, including PTC, Submarine Networks World, and SubOptic.