Unlike previous submarine cable construction booms, content providers like Amazon, Google, Facebook, and Microsoft are taking a more active role in this recent surge.
These companies alone have such incredible demand for data center traffic that they're driving projects and route prioritization for submarine cables, which is why we thought it made sense to compile a list of their submarine cable holdings.
We'll update this list as these providers get involved in new cable projects or as other content providers start investing in similar builds.
Amazon

Facebook

Google




Microsoft

Note: Only publicly announced cables are shown. Updated: June 2019
Content and Cables: A Natural Pairing?
Content providers' international bandwidth growth has outpaced all other customers in recent years. Between 2014 and 2018 the amount of international capacity deployed by content providers rose over 8-fold to 530 Tbps.
Content providers have surpassed internet backbone providers—the traditional telecom carriers—as the largest users of international capacity. Having accounted for less than 10% of total usage prior to 2012, content providers' share of total capacity surged to 54% in 2018.
Used International Bandwidth by Source, 2008-2018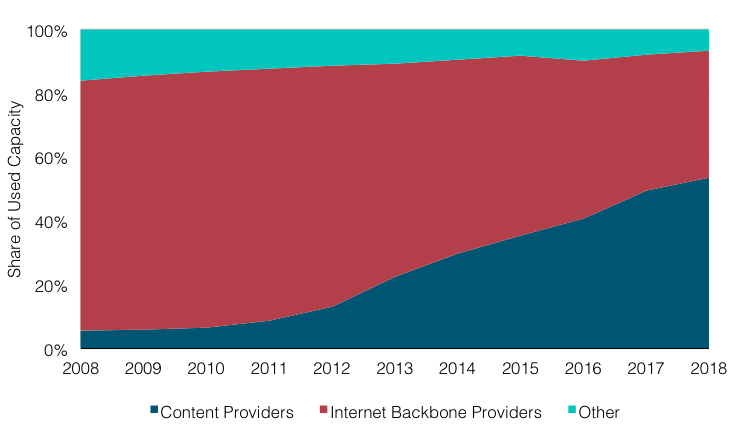 Invest for Success
Content providers began as customers of wholesale capacity. However, their huge demand volumes and rapid growth rates have pushed some content providers toward owning infrastructure. This began when Google became an investor in the Unity cable consortium, which entered service in 2010.
Since then, Facebook, Microsoft, and, most recently, Amazon have also invested in new submarine cable systems either directly or as major pre-sale purchasers. Beyond these publicly-disclosed cable investments, content providers have acquired partial or full fiber pairs on other submarine cables.
The investment by content providers in submarine cables is recent phenomenon. Despite their dominant role in bandwidth usage, content providers are not the dominant investors in new cables on most routes.
Content provider investments are extending beyond submarine cables to terrestrial networks, as well. Facebook has built a new route between Texas and New Mexico in the U.S. and is planning another proprietary build between Virginia and Ohio.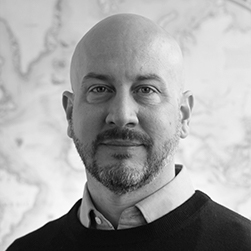 Alan Mauldin is a Research Director at TeleGeography. He manages the company's infrastructure research group, focusing primarily on submarine cables, terrestrial networks, international Internet infrastructure, and bandwidth demand modeling. He also advises clients with due diligence analysis, feasibility studies, and business plan development for projects around the world. Alan speaks frequently about the global network industry at a wide range of conferences, including PTC, Submarine Networks World, and SubOptic.