There's been a lot in the press recently about new low-orbit satellites. Rumors abound about content providers wanting to move their internet traffic off of the ocean floor and into space.
I wanted to test this myth not just because of these headlines, but because of something I heard from Elon Musk: "We're really talking about something which is, in the long term, like rebuilding the internet in space. The goal will be to have the majority of long distance internet traffic go over this network."
The majority of long distance internet traffic in space. That's what I want to think about. Is this something Elon Musk could really pull off?
What Does a Majority of Long Distance Internet Traffic Look Like?
I looked at TeleGeography data to understand the total amount of international bandwidth at the end of 2018. It was almost a full petabit.
Elon Musk's SpaceX satellites sound like they'll be ready for service in 2020, so we should consider what international bandwidth will be at that time. Demand roughly doubles every two years, so we'd have nearly 2 petabits of used international bandwidth.
The SpaceX satellites would need to carry at least a full petabit of used international bandwidth in 2020 to claim they had the majority.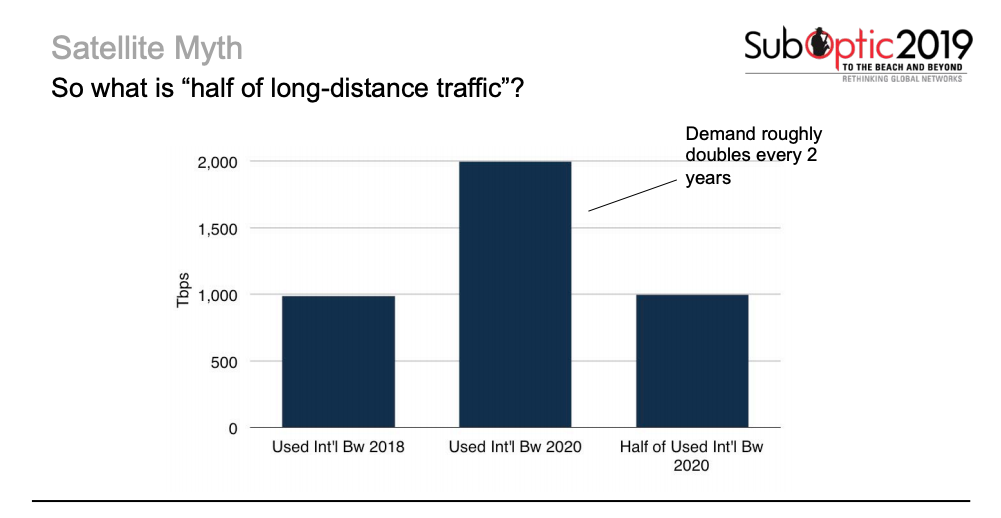 What Can the SpaceX Satellites Carry?
Next, to understand satellite bandwidth I deferred to MIT. A recent paper compared three of these low orbit satellite constellations and the bandwidth that they could offer. It explored three major projects: OneWeb, Telesat, and SpaceX.
SpaceX is easily the largest project of the batch, with 4,425 satellites in its mega-constellation at the end of 2018. I believe Musk has since announced even more beyond these, but for today I'm going to use these hard figures.
So, first MIT looked at the maximum bandwidth per satellite. Telesat had the most, with about 38 Gbps per satellite. SpaceX was second with about 21 Gbps.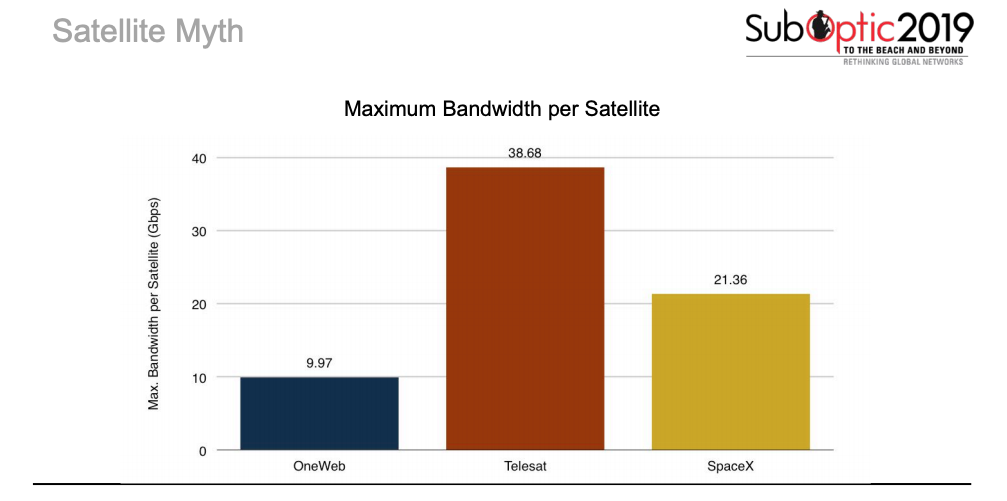 The paper then considered what it would look like if you combined all of these satellites together. What is the theoretical maximum bandwidth for each of these systems?
Because of the large number of satellites, it's not surprising that SpaceX takes the cake, claiming nearly 24 Tbps of capacity. For comparison: that's a little less than one pair on the MAREA submarine cable.
The Verdict
The myth I'm exploring isn't if SpaceX could carry MAREA's traffic—it's if they could carry half of used internet bandwidth in 2020.
As you'll remember, that's about a full petabit.
These new satellite constellations are going to be very important to reach underserved areas and provide them with lower latency. But the idea that they could take on half of long distance traffic isn't yet feasible.
Luckily for Elon, he has another great quote: "I say something then it usually happens. Maybe not on schedule, but it usually happens."
We'll have to wait and see. Until then, this myth is busted.
Alan Mauldin took on this myth during his and Tim Stronge's SubOptic 2019 mythbusting session.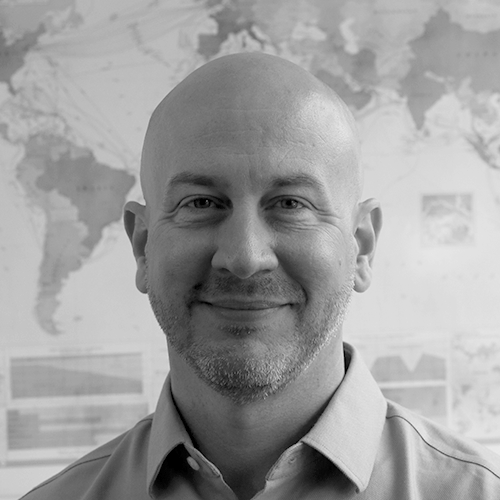 Alan Mauldin is a Research Director at TeleGeography. He manages the company's infrastructure research group, focusing primarily on submarine cables, terrestrial networks, international Internet infrastructure, and bandwidth demand modeling. He also advises clients with due diligence analysis, feasibility studies, and business plan development for projects around the world. Alan speaks frequently about the global network industry at a wide range of conferences, including PTC, Submarine Networks World, and SubOptic.