Have you heard? There's a new submarine cable map in town.
Our 2020 edition has arrived along with a new interactive experience and free map downloads.
This new edition, which is sponsored by Telecom Egypt, depicts 447 cable systems and 1,194 landing stations that are currently active, under construction, or expected to be fully-funded by the end of 2022.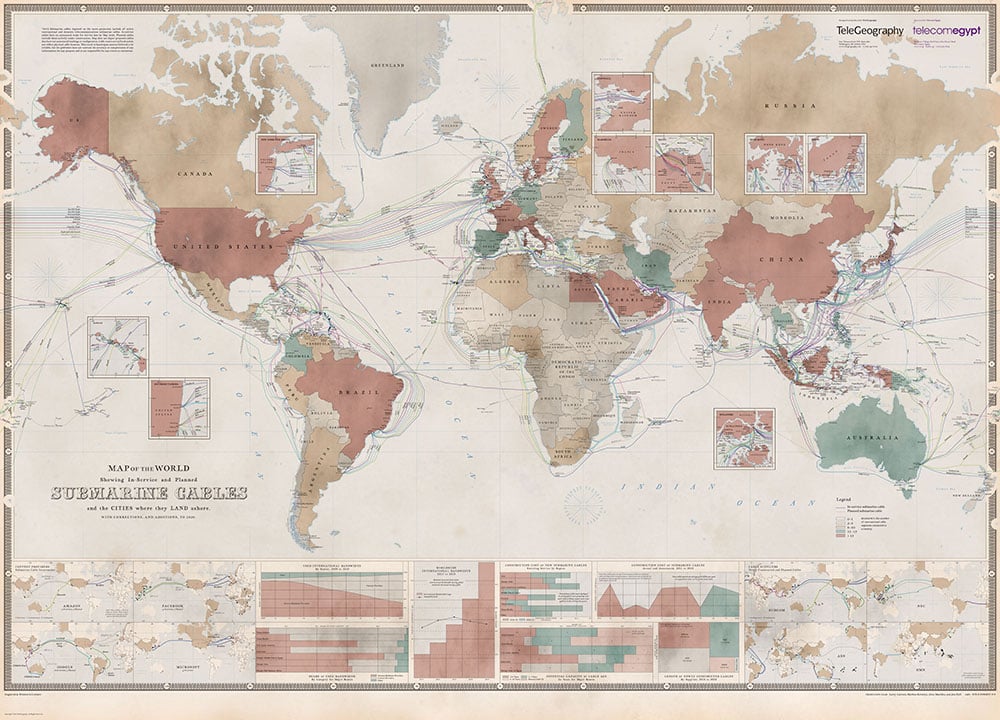 New Builds of Note
Africa
Africa is the home to one of the longest cables ever planned—2Africa. This 37,000 kilometer cable will connect 16 countries in Africa and 23 countries overall. Besides the extreme length, the cable also features a massive potential capacity of over 180 Tbps over 16 fiber pairs.
Members of the consortium include China Mobile, Facebook, MTN, Orange, stc, Telecom Egypt, Vodafone and WIOCC.
PEACE Cable is slated to launch in 2021 and will span 12,000 kilometers between Pakistan and France, with extensive branch coverage down the east coast of Africa.
Asia-Pacific
Infrastructure developer RTI is heading up JGA-North and JGA-South, which will enter service this year.
JGA-North will link Japan to Guam, while JGA-South will extend south from Guam to Australia. RTI will fully own JGA-North, while JGA-South's owners include RTI, Google, and Australia's Academic and Research Network (AARNET).
The combined JGA system will be the first cable on this route since the Australia Japan Cable (AJC) entered service in 2001.
Trans-Atlantic
Aqua Comms, Bulk Infrastructure, Facebook, and Google, are building the Havfrue consortium cable. The cable—linking the United States, Ireland, Denmark and Norway—is slated to be ready by the end of the year.
Aqua Comms, which has dubbed its portion of the cable AEC-2, will be the overall system administrator and the landing party in Denmark, Ireland, and the U.S.
Bulk Infrastructure owns the associated branch and is the landing party in Norway. Bulk announced last year that it had already sold a large portion of its capacity to Amazon.
U.S.-Latin America
Curie is a Google private cable that will connect Los Angeles with Valpariso, Chile. It will also include a branch to Panama.
Google operates a data center in Santiago; Curie will augment the capacity and improve resilience for this site. It's expected to be in service in the second quarter of 2020.
And we'd like to thank our generous sponsor Telecom Egypt for making this map possible.