Today seems like a good day to unveil our 2021 Submarine Cable Map, don't you agree?
This new edition, which is sponsored by Telecom Egypt, depicts 464 cables and 1,245 landing stations; 428 cables are active and 36 are planned.
And we have new graphics and FAQs to show off. This edition is loaded with trivia on cable suppliers, content providers, deployments, fiber, and more.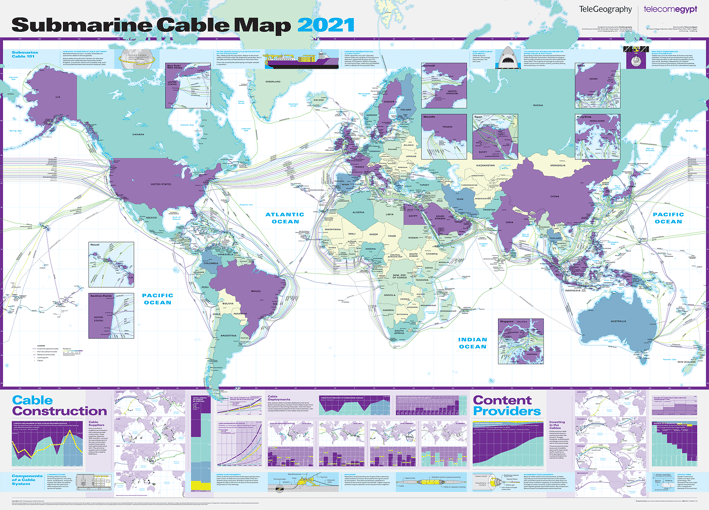 Map Highlights
Submarine Cable 101
This design includes answers to some of the most-asked cable questions in our queue, from how many kilometers of cable you can find under the sea to how much information is carried by a cable.

You'll also find a new shark friend in this section. You might have heard that sharks are known to bite cables, but bites like this haven't accounted for a single cable fault since 2007. The majority of damage to submarine cables comes from human activity like fishing and anchoring. Tell your friends: the sharks have gotten a bad rap!
Cable Construction
Over the next three years, we could see more than 60 new cables constructed totaling over 290,000 km in length.
Only a handful of suppliers are involved in cable construction. Three suppliers—Subcom, ASN, and NEC—account for 90% of the new construction market since 2017 (measured by total cable length). The only other supplier with a notable share is HMN Tech.
Content Providers
Accounting for less than 10% of total usage prior to 2012, content providers' share of capacity surged to 66% in 2020.
Unlike previous cable construction booms, content providers like Amazon, Google, Facebook, and Microsoft are taking a more active role in this recent surge.

These companies alone have such incredible demand for data center traffic that they're driving projects and route prioritization for submarine cables.
You can pre-order this map here. Maps will begin shipping in June 2021.
And we'd like to thank our generous sponsor Telecom Egypt for making this map possible.