Mobile network operators around the world continue to close legacy 2G and 3G networks in order to migrate valuable spectrum resources to more widely used 4G and 5G technologies.
Following up on our August 2021 piece covering 3G sunsets in Europe, today we have a look at how the situation has developed since then and which markets will be next to wave goodbye to 2G and 3G.
2G Decline
By the end of 2022, ten countries had switched off all 2G services. Most recently South Korea, which saw its one remaining 2G network—operated by LG Uplus—close on July 1, 2021. Previously, SKT closed its own CDMA-based system in July 2020 and KT Corp stopped offering CDMA 2G services in early 2012.
The Asia-Pacific and Oceania regions are at the forefront when it comes to closing legacy 2G networks.
The Asia-Pacific and Oceania regions are at the forefront when it comes to closing legacy 2G networks.
The first country to complete a full 2G shutdown was Japan, way back in September 2012. Since then, other notable markets have finalized their 2G switch-offs, including Macau (June 2015), Singapore (April 2017), Taiwan (December 2017), and Australia (June 2018).
Away from Asia-Pacific and Oceania, a number of other countries are also close to seeing an end to the 2G era.
Rogers, the last of Canada's main mobile operators to support 2G, retains the 850MHz band for both 2G GSM and 3G W-CDMA services, but 2G is now getting only limited use in remote areas outside the 3G network footprint.
In Switzerland, second-placed cellco Sunrise started its gradual phase-out of 2G connectivity on January 3, 2023, after announcing the network closure in August last year. Rival operators Salt and Swisscom completed their own shutdowns in December 2020 and April 2021, respectively.
After initially planning to close 2G systems by the end of 2022, Etisalat in the United Arab Emirates and rival operator Du are now looking to complete the process by the end of this year.
Decline of 2G and 3G Subscriptions
Share of Subscriptions by Mobile Technology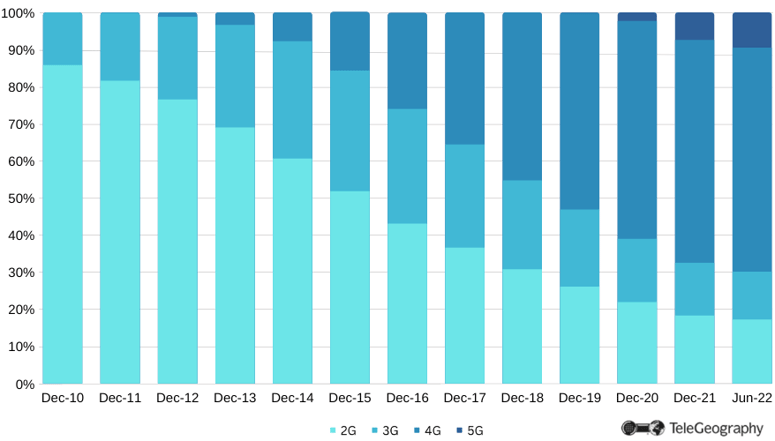 TeleGeography's GlobalComms Database notes that there are 89 countries where 2G accounts for less than 10% of overall subscriptions, and by 2028, 172 countries will see at least 90% of mobile subscriptions belong to 3G, 4G, or 5G networks.
3G's Days are Numbered
Turning to 3G, the first country to phase out services completely was Taiwan at the end of 2018. Since then, it has been joined by markets such as the Czech Republic (November 2021), Germany (December 2021), Singapore (December 2021), and Malaysia (March 2022).
Countries saying goodbye to 3G in 2023 will include Denmark, Slovakia, Greece, Hungary, and Sweden.
Countries saying goodbye to 3G in 2023 will include Denmark, Slovakia, Greece, Hungary, and Sweden.
All four main mobile network operators in Denmark are planning to shutter their W-CDMA systems in Q1 2023, with some 2100MHz spectrum already refarmed to support 4G technology.
In Slovakia, Slovak Telekom, O2, and Orange are now all expected to switch off their 3G networks by the end of this year. Orange only recently announced this news, previously anticipating an end-2024 closure.
Each of the big three mobile providers in the U.S. have already completed their 3G network closures. AT&T was the first to push the button at the start of 2017, while T-Mobile and Verizon hung on until mid-2022 and end-2022, respectively.
Verizon revealed that the 3G shutdown cost it 909,000 post-paid subscriptions (576,000 Consumer and 333,000 Business) and 237,000 Consumer pre-paid subscriptions.
U.K. Guidance
Some markets still have a long way to go before a 2G and 3G sunset. The U.K., for example, is likely to have GSM-based services until the late 2020s or early 2030s. The older technology is being maintained beyond 3G to support customers with legacy handsets, while smart utility meters also require an upgrade from 2G/3G to 4G.
In February 2023, the U.K. regulator Ofcom published a document titled 3G and 2G Switch-off: Our Expectations of Mobile Providers. Although network shutdowns are carried out by operators themselves and Ofcom has no formal role in the process, it says it wants to "ensure that consumers are treated fairly and can continue to access the services they need."
Some of the factors the regulator asks operators to consider include: minimizing the reduction in network coverage; providing accurate contract information with regard to network closures; communicating with and providing support for consumers with regard to updating handsets; and reducing the impact on other services which use the networks, such as telecare alarms and payment terminals.
For further information on network shutdowns, see the new 2G and 3G Sunsets section of the GlobalComms Database, which offers historical and forecast data in a downloadable spreadsheet.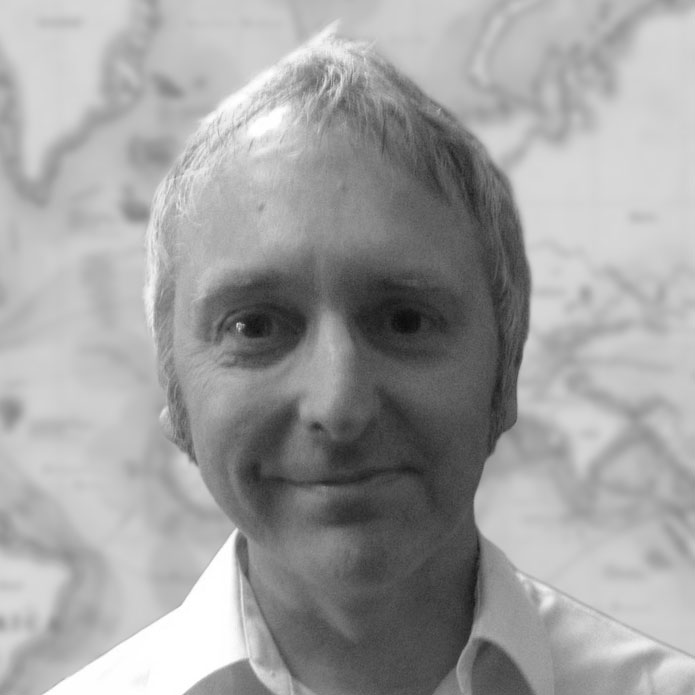 Pete Bell is a Research Analyst for TeleGeography's GlobalComms Database and also contributes to the daily CommsUpdate newsletter. He has a particular interest in wireless broadband and was responsible for TeleGeography's 4G Research Service until it was integrated into GlobalComms.