Let's face it—there are a lot of definitions to memorize in the telecom space. And if you've ever racked your brain for what "MVNO" stands for on a Monday morning, you're not alone.
Here's a hot tip: there's a secret Telecom Glossary tucked away at the end of our free 2022 State of the Network Report.
Save it to your phone. Print it out and display it on your fridge. Or just keep reading to peruse the terms listed under A, B, and C.
Addressable Wholesale Capacity
The amount of capacity that wholesale operators are able to sell in the form of managed bandwidth services.
Autonomous System (AS)
Organizes data about IP addresses that are accessible through its network and announces that data across other networks using standardized BGP routing tables.
Autonomous System Number (ASN)
A unique id number that a network must have in order to appear in the global routing tables.
Average Traffic
The sum of all traffic across a link in one month, divided by the number of seconds in the month.
Bandwidth
A measure of information-carrying capacity on a communications channel. May also be referred to as "capacity."
Bandwidth Demand
See Used bandwidth.
Bit
A binary unit of information that can have either of two values, 0 or 1.
Bit Rate
The amount of capacity transmitted by a single wavelength.
Border Gateway Protocol (BGP)
A standardized gateway protocol that exchanges routing information among autonomous systems on the internet.
Channel
Transmission path for a telecommunications signal.
Colocation
The lease of space to house transmission equipment at the same physical location of a carrier or ISP.
Compound Annual Growth Rate (CAGR)
This typically refers to the change in price over a given period of time.
Content Providers
One of the four components of used bandwidth. Includes networks deployed by operators such as Google, Meta, Microsoft, Amazon, Apple, as well as content delivery networks and many others.
Cross-connect
A physical cable interconnecting equipment (servers, switches, routers) in a data center.
And there's more—but you'll have to download the e-book to read it.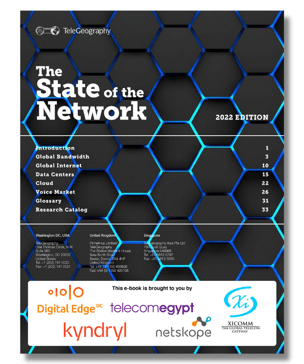 The State of the Network Report is our annual telecom check-in, informed by another year of data collection and analysis from TeleGeography's larger research portfolio.
In the report, we extract the major global bandwidth headlines, take a snapshot of the global internet, peruse the latest in data centers, check in on the cloud, and finish with an update from the voice market.