The second most populous nation in the world, India, also boasts the world's second-largest mobile market, with almost 1.15 billion subscriptions at the end of June 2022, according to TeleGeography's GlobalComms Database.
The country's mobile customers are getting access to 5G services for the first time this month following the widely anticipated launch.
Auction Delays
The Indian government hoped to see 5G networks go live back in 2020, but this plan was derailed as cellcos found themselves struggling financially and unwilling to fork out the funds for expensive spectrum.
In May 2021, the Department of Telecommunications (DoT) allocated temporary 5G spectrum licenses to the three largest mobile network operators (MNOs)—Reliance Jio Infocomm (Jio), Bharti Airtel, and Vodafone Idea (Vi). The concessions included spectrum in the 700MHz, 3.5GHz, and 26GHz bands.
Jio Leads the Market
India – Mobile Market Shares, June 2022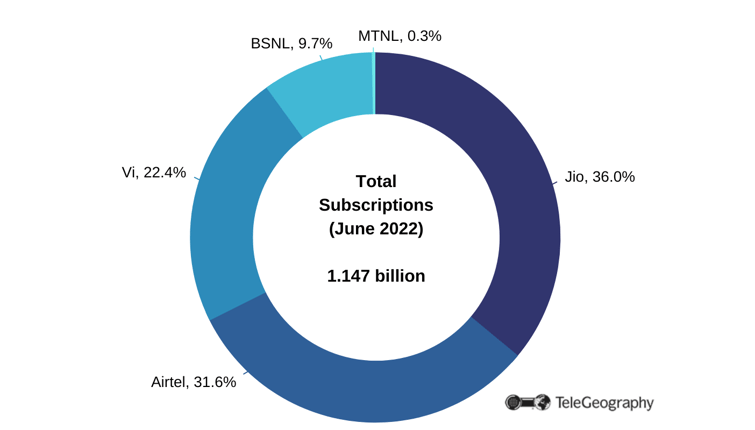 Source: TeleGeography's GlobalComms Database
Smaller rival MTNL was issued with trial spectrum the following month, while state-owned firm BSNL chose not to participate.
It wasn't until June 2022 that the government approved plans for a multi-band spectrum auction comprising more than 72GHz of spectrum across the 600MHz, 700MHz, 800MHz, 900MHz, 1800MHz, 2100MHz, 2300MHz, 3300MHz, and 26GHz bands. Licenses are valid for 20 years, with fees to be paid in annual installments across the full duration.
It was confirmed ahead of the sale the following month that four companies would take part: Jio, Airtel, and Vi, plus transport and utility infrastructure firm Adani Group via a newly established subsidiary, Adani Data Networks.
Successful Sale
The auction was completed at the start of August, raising a total of INR1.5 trillion ($19 billion).
Market leaders Jio and Airtel spent heavily to shore up their 4G spectrum holdings and prepare for their respective 5G launches, while cash-strapped Vi bid more conservatively on 5G airwaves in selected markets. Newcomer Adani acquired mmWave 26GHz frequencies in six regions.
Only the licenses in the 600MHz band received no bids.
Jio was the biggest bidder, paying INR880.78 billion for frequencies in the 700MHz, 800MHz, 1800MHz, 3300MHz, and 26GHz ranges. This included 2x10MHz of 700MHz spectrum in all 22 of the country's telecoms operating zones, which are known as "circles."
Jio says that with its "unmatched" 700MHz spectrum footprint, it will be the only operator providing "pan-India true 5G services with faster speeds, lower latency and massive connectivity."
5G Winners
Results of India's Spectrum Auction Jul/Aug 2022
Operator
Amount Paid
(INR bn)
Total Spectrum Won
(MHz)
Spectrum Bands
and License Coverage
Jio
880.78
25,040
700MHz (22 circles), 800MHz (4 circles), 1800MHz (6 circles), 3300MHz (22 circles), 26GHz (22 circles)
Airtel
430.84
19,868
900MHz (3 circles), 1800MHz (6 circles), 2100MHz (6 circles), 3300MHz (22 circles), 26GHz (22 circles)
Vi
187.84
6,228
3300MHz (17 circles), 26GHz (16 circles)
Adani Group
2.12
400
26GHz (6 circles)
Source: TeleGeography's GlobalComms Database
Airtel, meanwhile, bid INR430.84 billion for frequencies at 900MHz, 1800MHz, 2100MHz, 3300MHz, and 26GHz, with nationwide license footprints in the last two bands.
Gopal Vittal, the firm's CEO, said: "Airtel is delighted with the results of the 5G auction. This spectrum acquisition at the latest auction has been a part of a deliberate strategy to buy the best spectrum assets at a substantially lower relative cost compared to our competition."
Vi agreed to pay INR187.84 billion for 3300MHz and 26GHz concessions in selected circles, while also adding to its 4G spectrum holdings in Andhra Pradesh, Karnataka, and Punjab.
While the three participating MNOs are using their 5G spectrum resources to support commercial network rollouts, Adani has stressed that it has no intention of entering India's consumer 5G mobile market.
Adani has stressed that it has no intention of entering India's consumer 5G mobile market.
It will instead utilize its new airwaves to provide private network solutions and enhanced cyber security for airports, ports and logistics, power generation, transmission, distribution, and various manufacturing operations. In addition, the frequencies will support the group's own 5G network needs.
5G Rollouts
In order to speed up network deployment, in August, the DoT amended the legislation concerning Rights of Way.
The amendment introduced new rules, setting out conditions and fees for the use of street furniture and the installation of small cells and telephone lines. It also established that permission is not required from authorities for the installation of telecom infrastructure over private property as long as written notice is given beforehand.
Airtel quickly confirmed equipment supply agreements with Ericsson, Nokia, and Samsung.
For its part, Jio says it is spending INR2 trillion on its own 5G rollout. In mid-October, it signed deals with Nokia and Ericsson for the deployment of a 5G Standalone network.
The official 5G launch took place on October 1, 2022 at the India Mobile Congress, with Prime Minister Narendra Modi switching on the networks of both Jio and Airtel. Coverage will initially be limited to main cities including Delhi, Mumbai, Kolkata, and Chennai. Nationwide services are not expected until late 2023.
Debt-laden Vi, meanwhile, has been struggling to sign equipment contracts, with a 5G launch date still uncertain.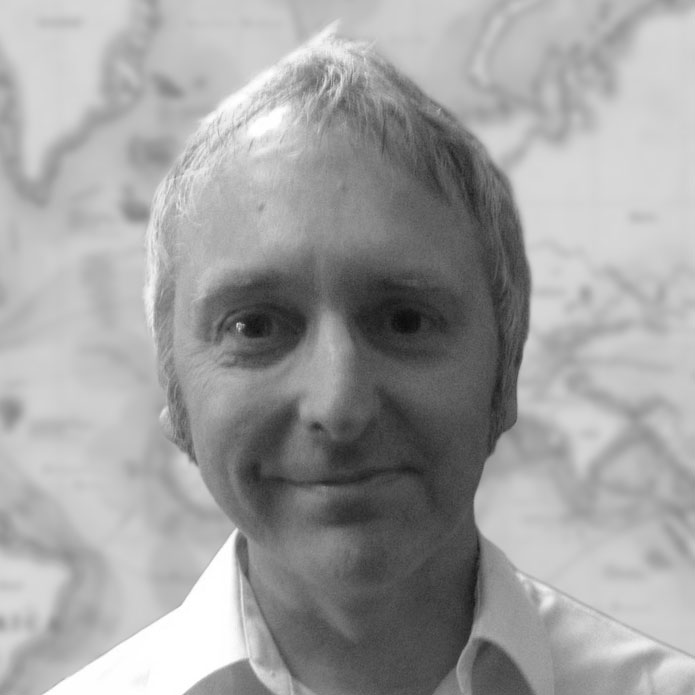 Pete Bell is a Research Analyst for TeleGeography's GlobalComms Database and also contributes to the daily CommsUpdate newsletter. He has a particular interest in wireless broadband and was responsible for TeleGeography's 4G Research Service until it was integrated into GlobalComms.