Until recently, Ethiopia was one of the few telecom markets in the world that was still a monopoly, with no competition to state-owned firm Ethio Telecom.
The situation changed with the award of a new communications license in the first half of 2021.
Market liberalization had been a long time coming; the government pledged to open the market up to competition as far back as 1999, when it outlined plans to authorize a new GSM operator, but it took years for this plan to come to fruition.
It was not until 2019, under a revised proposal published in July that year, that the government revealed it was looking to award a new full-service Unified Telecommunications Service License to Ethio Telecom and similar concessions to a pair of new players.
While 12 groups expressed an interest in the new licenses, only two bids were submitted. One from South Africa-based MTN Group and another from Global Partnership for Ethiopia (GPE), a consortium comprising Kenya's Safaricom, Vodafone Group, Vodacom Group, CDC Group, and Sumitomo Corporation.
In May 2021, it was confirmed that GPE would be awarded one of the licenses for $850 million, but MTN's offer of $600 million was too low and had been rejected.
Arrival of Safaricom
The winning consortium subsequently unveiled plans to launch commercially in April 2022 under the name Safaricom Telecommunications Ethiopia.
It said it would invest around $590 million in the initial start-up phase, with between $1.5 and $2 billion to be spent over its first five years of operation.
Although unable to meet this launch target—in part due to delays finalizing a roaming agreement with Ethio Telecom—Safaricom Ethiopia eventually announced the start of a network pilot in August 2022, before confirming its commercial launch in 11 locations in October that year.
Rising Revenues
Ethiopia Mobile Market Revenue and ARPU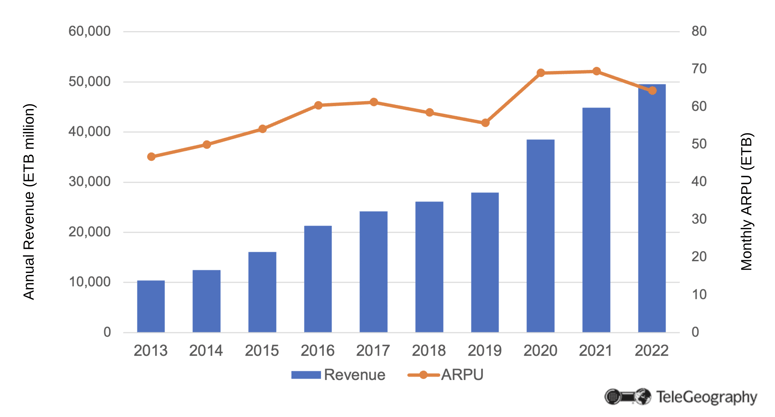 It was an instant hit.
By the end of October 2022, it claimed 740,000 subscriptions and hit 1 million less than a month later. It also had a staggering 5 million subscriptions by August 2023. Market leader Ethio Telecom had an estimated 70 million mobile subscriptions at the same date.
Safaricom's also been busy expanding its network reach. It covered 21 cities by early 2023 and was active in 22 cities and 49 towns by the middle of the year, covering approximately 25% of the country's 105 million population.
In June 2023, World Bank Group members the International Finance Corporation and the Multilateral Investment Guarantee Agency announced plans to make an equity investment in Safaricom Ethiopia, as well as providing loans for the cellco.
Under the deal, the World Bank Group is providing equity, debt, and insurance facilities to support the construction and operation of Safaricom Ethiopia's 4G and 5G mobile networks.
Third License Award Restarted
Meanwhile, the process to award the third new full-service license was re-launched in September 2021, but then postponed three months later.
The regulator, the Ethiopian Communications Authority (ECA), said that it had "received concerns and requests from several prospective bidders to delay the process and issue the RFP at a convenient time in the future."
Applications were eventually invited once again at the end of June 2023. Announcing the development, the ECA said it was inviting "world-class" telecommunications operators to take part in what it called an "exciting opportunity to operate within Ethiopia's rapidly growing economy." The deadline for submissions was October 6, 2023, but the ECA had still to announce any further developments by mid-November.
Ethio Telecom Privatization
While the search for a third mobile operator continues, the government's been looking to sell off a stake in Ethio Telecom. Like the licensing process, however, things have not always gone smoothly.
While it published the RFP for the sale of a 40% stake in the telco in September 2021, the following March the sale was postponed.
The country's Ministry of Finance (MoF) said that the decision to press pause on the process had been taken "given the recent developments and fast-moving macroeconomic changes both globally and from a country perspective."
The tender was restarted in February this year, with the stake on offer having been increased to 45%. The government's interested in receiving "proposals from interested parties who can add value to the company by bringing in best practices in terms of operations, infrastructure management, and next-generation technological capabilities."
No further developments have so far been reported.
Mobile Market Growth
Meanwhile, the Ethiopian mobile market has continued to grow.
At the end of June 2023 there were an estimated 72.2 million mobile subscriptions, up from 64.5 million a year earlier and 54.3 million in mid-2021.
Steady Progress
Ethiopia Mobile Market Growth, 2015-2023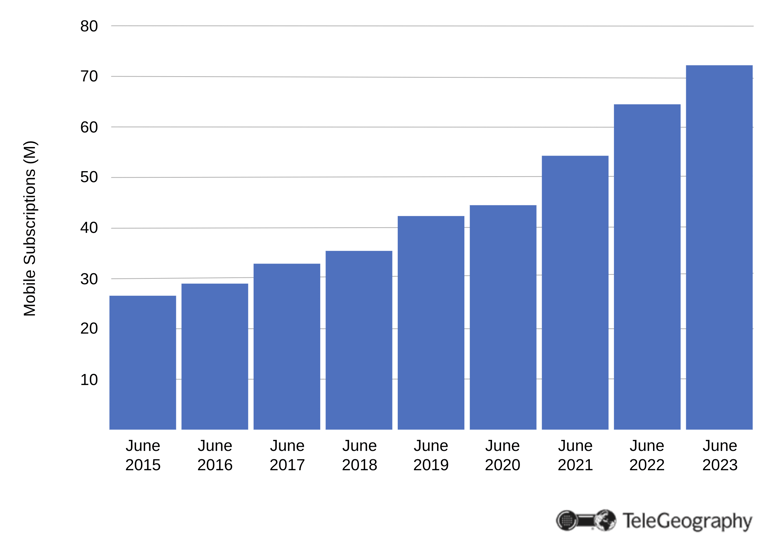 Ethio Telecom isn't taking the arrival of competition lying down.
In September 2023 it launched the country's first 5G network at 145 sites in the capital, Addis Ababa. Later that month it teamed up with Gilat to modernize its portfolio of satellite-based business services and improve satellite backhaul for its mobile networks.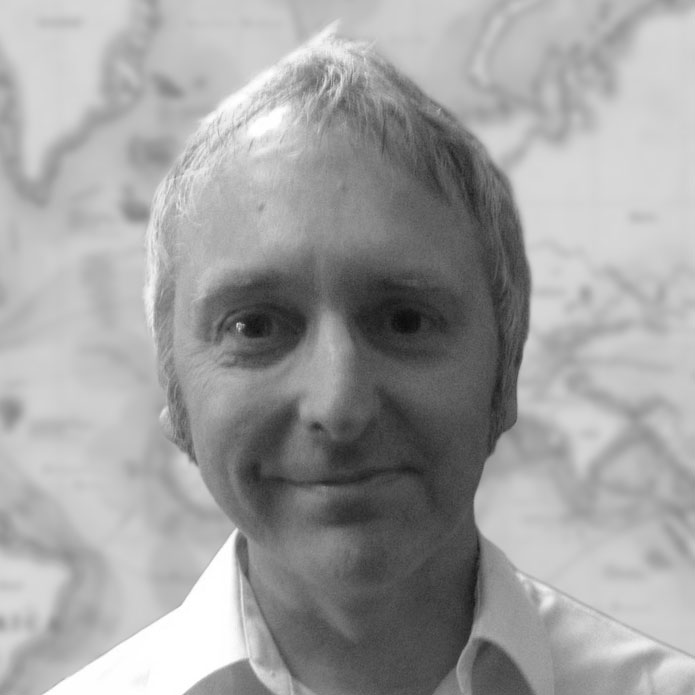 Pete Bell is a Research Analyst for TeleGeography's GlobalComms Database and also contributes to the daily CommsUpdate newsletter. He has a particular interest in wireless broadband and was responsible for TeleGeography's 4G Research Service until it was integrated into GlobalComms.