The Middle East is a mixed bag when it comes to fixed broadband penetration.
Some countries have more than four out of five households subscribing to a high speed fixed or fixed-wireless service. But others lag far behind, with customers relying on cellular networks for their broadband access.
Figures from TeleGeography's GlobalComms Database highlight this wide array of broadband market alignments. Countries such as Israel and Cyprus boast penetration rates around the 90 percent mark, while the equivalent figures for Yemen and Afghanistan are below 3 percent.
Broadband Subscribers and Penetration Rates in the Middle East, Dec-17
Broadband Subs
Household Penetration
Israel

2,313,750

92.2%

Cyprus

385,243

88.9%

UAE

1,347,000

84.5%

Qatar

333,500

82.0%

Bahrain

166,230

70.9%

Lebanon

701,350

56.9%

Turkey

11,600,000

53.0%

Saudi Arabia

2,865,000

51.4%

Oman

348,926

48.5%

Iran

10,600,000

42.1%

Palestinian Territory

357,000

41.7%

Syria

1,056,000

31.8%

Jordan

310,000

18.6%

Kuwait

105,000

18.4%

Iraq

1,015,000

17.4%

Yemen

188,000

2.8%

Afghanistan
1

0,500

0.1%
Source: TeleGeography's GlobalComms Database
In some countries difficult conditions have hampered fixed line rollouts, while others have been hit by war and conflict.
Successful Markets
Israel has the region's most successful market in terms of penetration. The country's largest ISP is fixed line incumbent Bezeq, although it faces strong challenges from the likes of Cellcom, Partner Communications, and HOT Telecommunications. The bulk of the fixed line infrastructure has been deployed by Bezeq (DSL and fiber) and HOT (cable and fiber), with other ISPs connecting mainly via wholesale agreements.
In Cyprus, the dominant provider is Cyprus Telecommunications Authority (Cyta) via its ISP division Cytanet, with around 43 percent of all subscriptions at the end of 2017. It is followed by Cablenet, with 16 percent of the island's 385,000 broadband accounts.
First for Fiber
Statistics released by the FTTH Council of Europe in February 2018 show two Middle East countries at the top of their global rankings in terms of fiber network coverage among nations of at least 200,000 households.
The United Arab Emirates leads the way, with fiber-to-the-home networks passing around 94 percent of all households. The country's two ISPs have poured large sums into their respective fiber rollouts.
The United Arab Emirates (UAE) leads the way, with fiber-to-the-home (FTTH) networks passing around 94 percent of all households. The country's two ISPs, Etisalat and Du, have poured large sums into their respective fiber rollouts, offering connectivity at download speeds of up to 1Gbps.
Qatar is in second place in the worldwide rankings, with around 81 percent of households having access to FTTH networks. A further 9 percent are passed by slightly slower fiber-to-the-building (FTTB) infrastructure, which uses copper to replace fiber in the final links to each end-user premises in multi-tenanted buildings. The broadband market is dominated by state-backed Ooredoo, with Vodafone Qatar also providing fiber-based services in certain urban areas.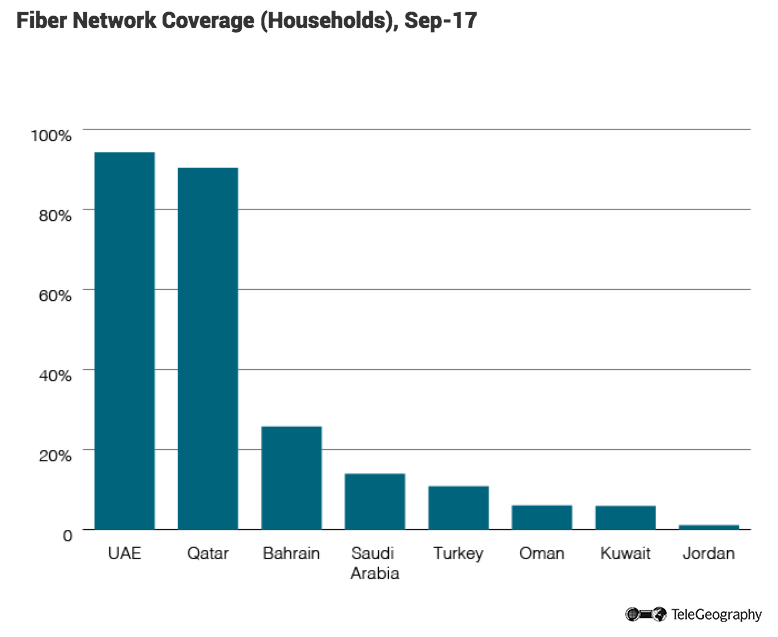 Source: FTTH Council Europe
At the opposite end of the scale, Jordan has only around 1 percent of homes passed by FTTB networks, while countries including Iraq and Lebanon still only have limited fiber infrastructure in place, although rollouts are progressing.
In Lebanon, for instance, the dominant ISP Ogero Telecom is deploying FTTH in the capital, Beirut, and in the centers of other main cities.
Internet Restrictions
In certain markets there have been restrictions placed on broadband services and some applications in an effort to limit the influence of social media. In Iran, for example, until September 2014 most residential users were limited to a peak download speed of just 128kbps.
Meanwhile, in 2012 the country began the construction of its own nationwide intranet, which is designed to host only approved content from domestic sites, with no caps on access speeds. This "national information network" is meant to work alongside the World Wide Web rather than replace it, authorities insist, although the international civil liberties watchdog Freedom House consistently places the country among the worst performers in its annual Freedom on the Net reports. Syria, Saudi Arabia, and Bahrain also made its list of the top 10 most restrictive countries in 2017.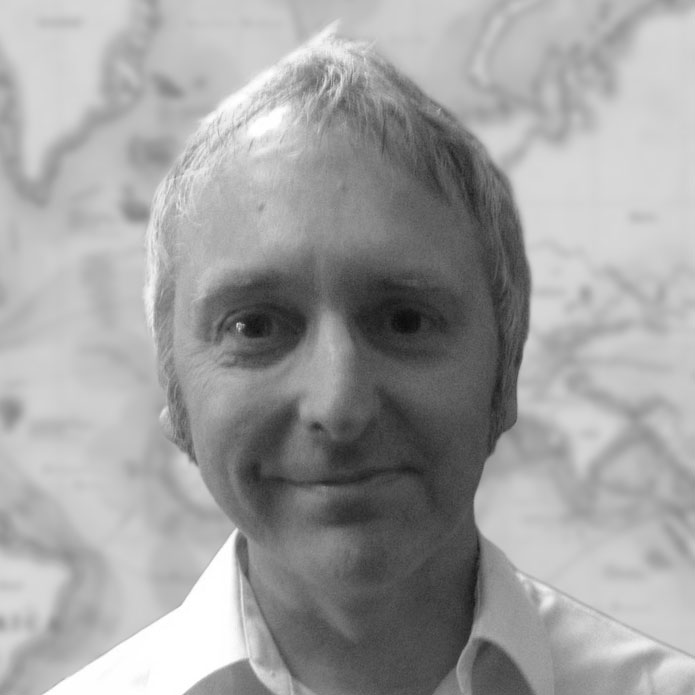 Pete Bell is a Research Analyst for TeleGeography's GlobalComms Database and also contributes to the daily CommsUpdate newsletter. He has a particular interest in wireless broadband and was responsible for TeleGeography's 4G Research Service until it was integrated into GlobalComms.