Subsea EMEA returns to Marseille next month, bringing together leaders from more than 150 companies. Among the submarine cable experts who will be exchanging notes about the future of the market will be our own Tim Stronge.
Tim kindly took the time to talk with me about his Subsea EMEA presentation, which will focus on how bandwidth markets have changed in the last 20 years. He also previewed some of the other conference sessions that he's looking forward to attending. Keep scrolling to catch up on our conversation.
And if a few days networking along an international subsea terminal hub sounds like your kind of work week, use the code SUBSEATELEG10 to receive 10 percent off of your registration.
You're headed to Marseille soon. I understand that you're going to be doing a special presentation about bandwidth markets. Any chance that we could get a sneak peek?
Sure, Jayne. It's the 20th anniversary of the Atlantic Crossing cable. If you can believe it, AC-1 came into service in May of 1998. I plan on covering five ways that bandwidth markets have changed in the two decades since. This is going to include a look at growth prospects from Africa and the Middle East.
And if there ever was an event to talk more about cable routes from Europe, it's this one. My presentation will get into the routes that have become more popular in the years since AC-1's arrival, and, similarly, what routes have fallen out of favor. Marseille is the rising star of EMEA connectivity, so I imagine that our location will play a big part in this discussion.
Finally, I don't think I can get away with a presentation about the evolution of the bandwidth market without acknowledging what's happening with content providers right now. Many have wondered if this is something the industry should be concerned about. I plan on digging into that a bit more.
As the name implies, this gathering is geared toward commercial subsea experts from throughout Europe, the Middle East, and Africa. As a cable expert yourself, I'm wondering if there's any cable news that you're looking to learn more about at this event. Any cables you're keeping your eye on?
The opportunity to get updates on specific cables is what is most interesting to me—because so much of our work is tracking these projects.
More specifically, I'm looking forward to hearing the latest news on PEACE, MAREA, Ireland-France, and EllaLink, among other proposed projects for the EMEA region
On that note, the agenda is pretty packed at this point. Any panels or presentations that are on your radar?
The technical presentations such as "Squeezing Blood from the Sands" are ones I know I'll be sitting in on. How much further can we increase capacity capabilities? That should be a good conversation.
Hearing from others about the role of government is on my list. And it will be interesting to hear the opening remarks from the mayor of Marseille and learn about plans for "Realizing a Digital Single Market" from a representative of the European Commission.
And of course, as is always the case at Capacity events, I'm most looking forward to catching up with old friends from the industry.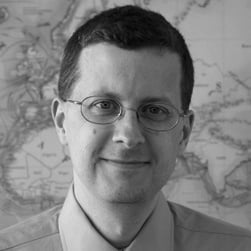 Tim Stronge is VP of Research at TeleGeography. His responsibilities span across many of our research practices including network infrastructure, bandwidth demand modeling, cross-border traffic flows, and telecom services pricing.