China has a new player in the 5G mobile market.
We're talking about China Broadnet—but it's been around for some time, under different guises.
Formed in 2014
China Radio and Television Network Group (China Radio and TV) was established in 2014 as the government's vehicle for unifying the nation's cable TV market.
The state-owned company was intended to become a fourth telecom operator, to compete with the long-standing trio of incumbents, China Telecom, China Mobile, and China Unicom.
Market Overview
China's Mobile Market, March 2022

Total Subscriptions

1.67 billion

Population Penetration

115%

Operator Market Shares

China Mobile

58%

China Telecom

23%

China Unicom

19%
Source: TeleGeography's GlobalComms Database
The telco's creation formed part of the state's Three Network Convergence policy, under which it sought to accelerate the convergence of radio/TV broadcasting, telecommunications, and internet networks.
As part of the network integration program, in June 2019, the Ministry of Industry and Information Technology (MIIT) allocated 100MHz of 4.9GHz frequencies to China Radio and TV.
The company already held 80MHz of 5G-suitable spectrum in the 700MHz band for TV broadcasting services, and in November that year unveiled its plans for launching commercial 5G services in 2020.
The operator said it would use a combination of frequencies in the 700MHz and 4.9GHz bands and would initially focus on broadcasting over the 5G network, branching out into other services later.
In February 2020, China Radio and TV was also granted permission to use the 3.3GHz–3.4GHz range for 5G indoor coverage, along with China Telecom and China Unicom.
The 2020 goal for launch proved too ambitious, however.
5G Plans
Due to its unusual combination of spectrum holdings, China Radio and TV noted that it would need to work closely with industry partners to support ecosystem development.
The operator explained that it intended to launch a 5G-based converged media communications network, using the infrastructure to provide "immersive and interactive broadcast and TV media services."
Under the plan, the telco would utilize the network to cover other areas such as: the provision of mobile communication services; the development of the Internet of Everything industry; the provision of video entertainment services, including augmented reality and virtual reality; and the promotion of public services.
The firm said it would "converge media cloud broadcast control services, including the resources of cable TV networks and overall broadcast platforms, to provide users with new media services."
In terms of network construction, China Radio and TV hoped to cover all of the country's cities, towns, and administrative villages, with a view to extending its footprint to 95% of the population.
China Radio and TV hoped to cover all of the country's cities, towns, and administrative villages, with a view to extending its footprint to 95% of the population.
The firm acknowledged that it lacked the capacity and capital to cover the rollout single-handedly, and would look to complete the work through co-construction and sharing agreements with other providers.
China Mobile Agreement
In May 2020, China Radio and TV inked a collaborative framework deal with China Mobile.
Under the initial agreement, the pair stated that they would jointly invest in the construction of a 700MHz 5G network, which would be used by both firms but maintained by China Mobile. In return for gaining access to the newcomer's 700MHz spectrum, China Mobile agreed to share its 2.6GHz frequencies.
In September 2021, the two companies updated the agreement.
This update specified that China Mobile would bear all construction costs for the 700MHz network and initially own the underlying network assets, but both parties would have the right to use the network. Further, under certain conditions, China Radio and TV may purchase 50% of the equipment and assets—such as base stations and antennas—from China Mobile.
Preparing For Launch
In 2020, China Radio and TV established China Broadcasting Network (CBN) with a registered capital of CNY101.2 billion ($15.1 billion) to act as its mobile service provider.
CBN is 51% owned by China Radio and TV. Its other shareholders include Alibaba Venture Capital, Guangdong Radio Television Network, State Grid Information & Telecom, and Beijing All Media and Culture Group.
In August 2020, CBN and Qualcomm Technologies completed what they claimed to be the world's first large-bandwidth 2×40MHz 5G data call on the 700MHz band.
In August 2020, CBN and Qualcomm Technologies completed what they claimed to be the world's first large-bandwidth 2×40MHz 5G data call on the 700MHz band.
The demonstration achieved download speeds of more than 300Mbps.
In March 2021, CBN—with vendor partners Ericsson and UNISOC—successfully completed a 700MHz 5G test, claiming to have achieved record downlink speeds of over 600Mbps.
Via its partnership with China Mobile, CBN had deployed a total of 200,000 base stations by the end of 2021. In May 2022, senior officials at the company confirmed plans to increase that figure to 480,000 by end-2022.
By that date, the network will provide continuous coverage in areas above townships and villages and extending to rural areas.
At the same time, the operator reported that construction of the core network was complete, along with the comprehensive construction work at the business level of each provincial network. Meanwhile, interconnection with the three major operators was progressing significantly.
A network launch followed toward the end of June, by which time CBN had become China Broadnet. Thanks to its network sharing deal with China Mobile, it is able to offer both 4G and 5G connectivity—though at launch, Broadnet said that services were still "in test phase."
5G Opportunity
While the newcomer goes up against three huge incumbent operators—with 1.66 billion mobile subscriptions between them at the end of May 2022—there is still some room for it to make a splash.
There were 428 million 5G subscriptions at the same date, meaning there is scope for Broadnet to lure 3G and 4G users from the other providers to its new 5G system.
5G Increasingly Important
China Mobile Market Growth by Technology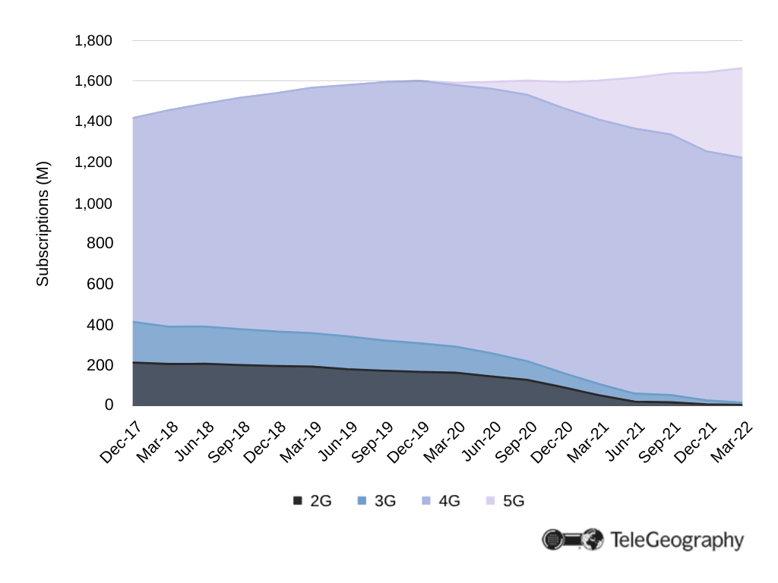 Its use of the 700MHz band is also a bonus, as it offers wider coverage per base station and better indoor signals compared to higher frequency ranges.
A 4G service from Broadnet costs between CNY38 ($5.68) and CNY68 a month, while 5G tariffs range from CNY118 to CNY588 a month, undercutting the prices of the big three operators.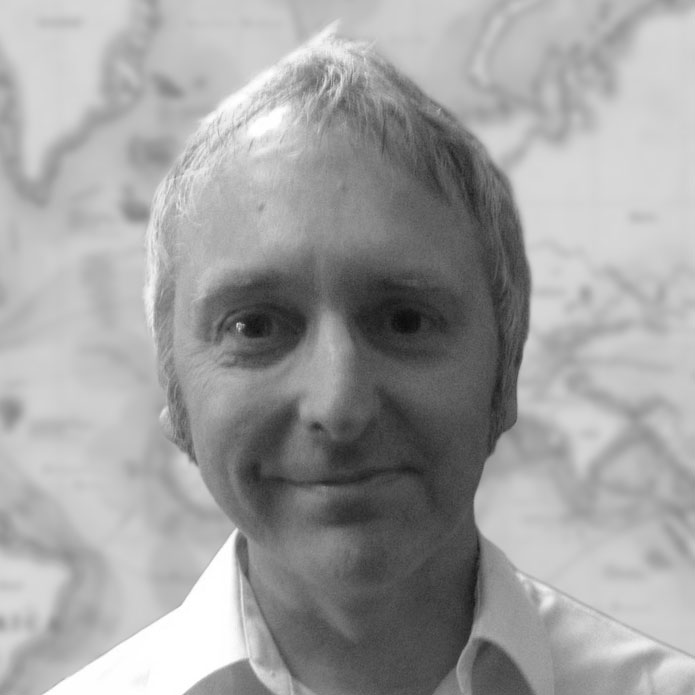 Pete Bell is a Research Analyst for TeleGeography's GlobalComms Database and also contributes to the daily CommsUpdate newsletter. He has a particular interest in wireless broadband and was responsible for TeleGeography's 4G Research Service until it was integrated into GlobalComms.