If you're an enterprise network manager in need of a dedicated cloud connection service, you're in luck; you've got a wide array of service providers and locations to choose from.
You could set up a link directly with the cloud provider, but why not use a third-party—such as a carrier, colocation provider, or connectivity specialist?
The question then changes. Who are you going to choose? And where will you set up your connections? This often depends on the location of your enterprise WAN in relation to the cloud providers' regions or data centers.
In this analysis, we'll explore options available to network managers.
Cloud Connectivity Providers
Extending a corporate network into the cloud through a dedicated connection begins with the physical link.
In addition to a traditional cross connect, colocation providers can connect enterprise WANs to cloud provider networks via a cloud exchange or service fabric. These exchanges work by using an Ethernet switch, much like an internet exchange does for Internet Service Providers.
Unlike a cross-connect between the enterprise router and the cloud provider's router (enterprise-to-one provider), the cloud exchange allows the enterprise to connect—via one virtual link—to all Cloud Service Provider (CSP) members of the cloud exchange (enterprise-to-many providers).
While cloud providers usually offer 1 Gbps or 10 Gbps options over a fiber cross connect, cloud exchange providers can offer the service in smaller increments, usually from 50 Mbps to 500 Mbps.
While cloud providers usually offer 1 Gbps or 10 Gbps options over a fiber cross connect, cloud exchange providers can offer the service in smaller increments, usually from 50 Mbps to 500 Mbps—one of the many perks of a cloud exchange.
Carriers present a number of access technology options for network connection configuration, where the enterprise configures the routing for the circuit. Carriers also typically offer either Layer 2 or managed Layer 3 services, where the service provider configures the routing.
Virtual Local Area Networks (VLANs) are the common configuration for these dedicated connections. The advantage of setting up a VLAN on an interconnect is that the dedicated connection can be partitioned into multiple virtual interfaces. This practice allows the same connection to access both public internet and private cloud services—crucial for mixing public and private cloud services from the same cloud provider.
WAN service providers offering MPLS IP VPN can interconnect a WAN site with the cloud network to make it look like any other branch office.
Carriers
The most common way for an enterprise to set up a dedicated cloud connection is to work through the carrier.
Almost every major international carrier that responded to this year's survey reported that they offer the service either through direct partnership with cloud service providers or by partnering with Network as a Service (NaaS) providers, such as Megaport and Packetfabric. Partnership with data center providers like Equinix—which provides cloud interconnection services—is also very common.
Carriers have an advantage, being able to offer the connection from enterprise sites to the cloud provider edge through traditional WAN services, such as VPN or private lines.
Network as a Service Providers
Enterprise customers have another network transport-oriented option to connect to the cloud.
A new breed of providers—known as NaaS providers—has come to market.
A new breed of providers—known as NaaS providers—has come to market. This group differs from your traditional carrier in that they offer connectivity to cloud on-ramps via a software platform, and customers typically connect to these providers at a colocation facility.
NaaS providers offer a range of transport and cloud interconnection services, from point-to-point transport (to bring the enterprise client to the cloud on-ramps), to hybrid and multi-cloud interconnectivity.
Businesses are not the only customers for NaaS services. It is common for data center operators, internet exchanges, and carriers to use their services as well.
This isn't to say that carriers do not—or will not—have their own cloud connect platforms (e.g. PCCW's Console Connect). However, for the moment, carriers rely heavily on the likes of Megaport, Packetfabric, and BSO (which purchased IXReach in 2019) to help connect their customers to CSP networks.
Colocation and Internet Exchange Providers
Cloud services have helped shift the role of colocation providers as part of the enterprise network.
If an enterprise already has a presence at a colocation center where its CSP has an on-ramp, the enterprise may opt to work directly with the colocation provider to set up a private connection.
Note that colo facilities have always been the de facto interconnection points for carriers. Now, they are becoming the central exchange point between enterprises and cloud service providers. Enterprises have also used colo facilities to outsource their infrastructure, lowering capital expenses for corporate data center builds.
Enterprises that establish their own PoPs in colocation facilities are able to take advantage of a rich ecosystem of providers. This, in turn, can improve their connectivity to cloud provider networks. Data centers and internet exchanges both offer their own connection services to CSPs, and can help the enterprise connect directly via a dedicated connection or through a virtual connection to their own cloud exchanges.
Equinix was the first colocation provider to offer cloud exchange services. And, based on the carriers taking part in our survey, it is by far the most prevalent colocation provider where dedicated connections occur—accounting for more than half of on-ramp locations in Q2 2022.
Driving Equinix's dominance in this space is the company's cloud exchange service (which later morphed to form part of its Equinix Fabric platform). Launched in 2014, Equinix Cloud Exchange offers services in about 50 of its markets. Other companies offering similar cloud connect services include Digital Realty (Interxion), and Coresite.
Top Colocation Providers Offering On-Ramp Services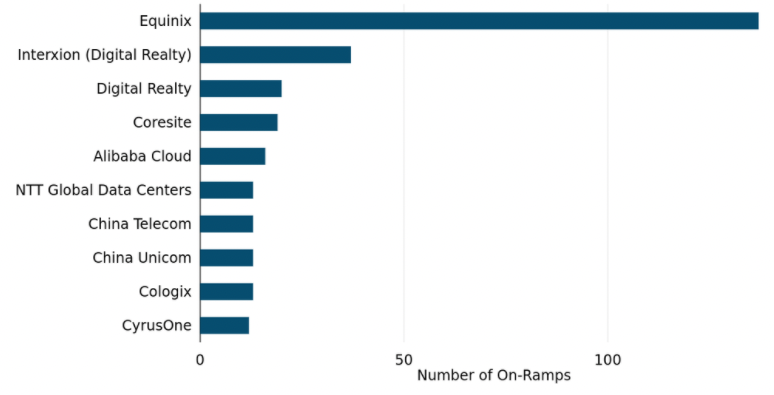 Notes: Data represent the number of on-ramp offerings at colocation facilities. Data include available information from Alibaba, AWS, Google Cloud, IBM, Microsoft Azure, and Oracle Cloud. Interxion is a Digital Realty company. Data as of Q1 2022. Source: TeleGeography, © 2022 TeleGeography
You can explore all of TeleGeography's WAN content over here.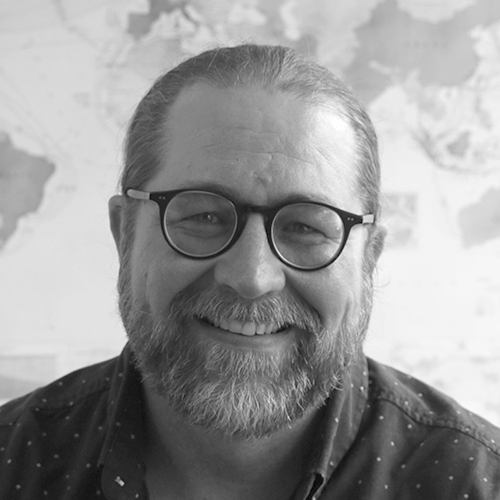 Greg is Senior Manager, Enterprise Research at TeleGeography. He's spent the last decade and a half at TeleGeography developing many of our pricing products and reports about enterprise networks. He is a frequent speaker at conferences about corporate wide area networks and enterprise telecom services. He also hosts our podcast, TeleGeography Explains the Internet.