Mobile data usage continues to boom worldwide.
Here's just one example. Following Super Bowl LIV in Miami, AT&T reported that users in the stadium consumed 10.2TB of mobile data during the game. This is enough to stream high-definition video for almost two months straight.
To feed this massive appetite for bandwidth, the cellco said it invested more than $85 million throughout the Miami area ahead of the big game. This investment went toward improving coverage and capacity via both temporary and permanent network upgrades.
Rival operator Verizon posted even higher usage figures, with customers in and around the Miami stadium consuming a record 21.5TB of data. The total has risen dramatically over the past few years, almost doubling the 11TB Verizon recorded during the Super Bowl in 2017.
The U.S. isn't alone. Mobile data—and related network upgrades—are on the rise around the globe. To track the increase in these data volumes, we've added a new section to our GlobalComms Database.
Here are just a few of the highlights.
Finland Top of the Pile
By far the biggest market in mobile data consumption is Finland. Users racked up an average 34.3GB per month in the first half of 2019. The Scandinavian country's wireless operators have consistently been frontrunners in implementing new generations of mobile technology, no doubt helped by the presence of heavyweight vendor Nokia.
Finland's Lead in Data Consumption is Undeniable
Selected Mobile Data Volumes Per Capita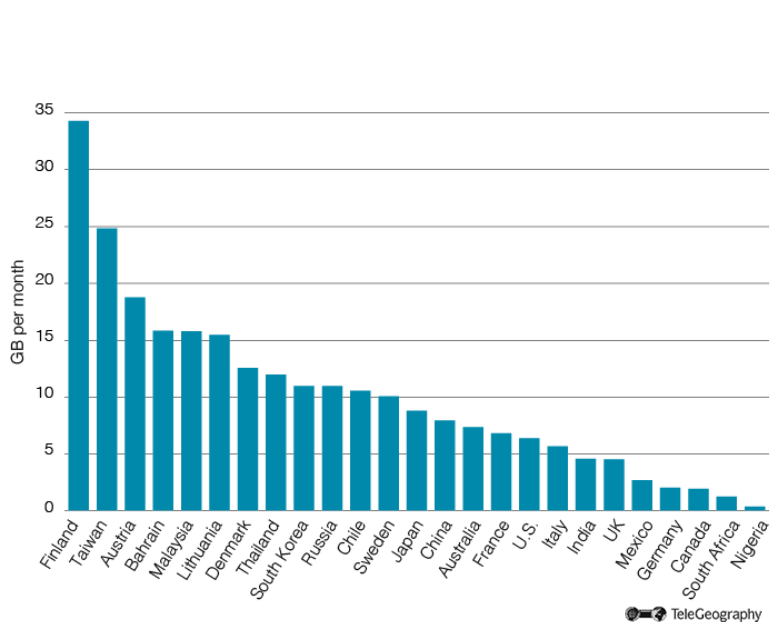 Local cellcos have invested heavily in infrastructure, which means they have the network coverage and capacity to allow them to push data-centric tariffs. In many developed markets, users are restricted by monthly bandwidth quotas and unlimited plans are costly.
But in Finland, high usage is actively encouraged.
Unlimited data plans have become the norm, with pricing based on network data rates rather than bandwidth consumed.
Mobile market leader Elisa, for example, has plans that range from 1Mbps peak speed for €9.90 ($10.70) a month, 10Mbps for €24.90, or a 5G tariff that comes with download rates up to 1Gbps at €49.90 a month.
All of these packages include unlimited mobile data.
Taiwan Comes in Second
The market with the next highest usage is Taiwan, although at 24.8GB per capita it's almost 10GB per month down on Finland's average.
As in Finland, operators in Taiwan have been quick to adopt new technologies.
Indeed, the rapid nationwide rollout of 4G equipment and associated subscriber take-up meant local cellcos were able to shut down their 3G data networks at the end of 2018, following the closure of 2G systems in September 2017. However, 3G networks remain active for voice services via circuit-switched fallback (CSFB) technology.
This means all mobile data usage in Taiwan is now via 4G. The completion of the government's spectrum auction earlier this year and the imminent launch of 5G services will undoubtedly provide another boost to mobile data consumption.
Austria Ahead of Germany
There are lots of regional stories lurking in our mobile data—including several unlikely narratives.
Take Austria and Germany. Austria comes out third in our global rankings. It had a median of around 18.8GB per capita per month in the third quarter of 2019. Neighboring Germany, however, is well down the list, with an average of just 2.0GB per person per month in full-year 2018.
There are big differences in end-user tariffs between the two countries, even for companies within the same group.
At Deutsche Telekom's T-Mobile Austria unit, for example, the cheapest unlimited data tariff starts at €45 a month for a service that offers download rates of up to 150Mbps and uploads up to 50Mbps. Its sister company T-Mobile Germany, meanwhile, offers its cheapest unlimited data plan for €84.95 a month.
One cause for the variation in tariffs has been the differing cost of spectrum between the two countries. For a forthcoming sale of frequencies in the 700MHz, 1500MHz, and 2100MHz bands, the Austrian regulator RTR has set a reserve price of €239 million.
This is compared to a reserve price of €1.5 billion in Germany's sale of 2100MHz and 3.7GHz licenses last year.
Some sources suggest that operators in Germany are still living with the effects of massive prices paid for 3G spectrum in 2000. Operators paid over €50 billion for licenses, while cellcos in many other EU nations snatched up frequencies at a much lower cost per user.
Some sources suggest that operators in Germany are still living with the effects of massive prices paid for 3G spectrum in 2000. Operators paid over €50 billion for licenses, while cellcos in many other EU nations snatched up frequencies at a much lower cost per user.
With a reduced outlay for spectrum, operators in countries like Austria have more capital free to fund network rollouts. And they have less of a need to recoup expensive license fees via higher tariffs for end-users.
What's also interesting is that although the two countries have very different data usage patterns, average revenue per user (ARPU) in Germany and Austria is almost identical.
Germany and Austria Close in ARPU, Distant in Usage
Mobile Data Usage Versus ARPU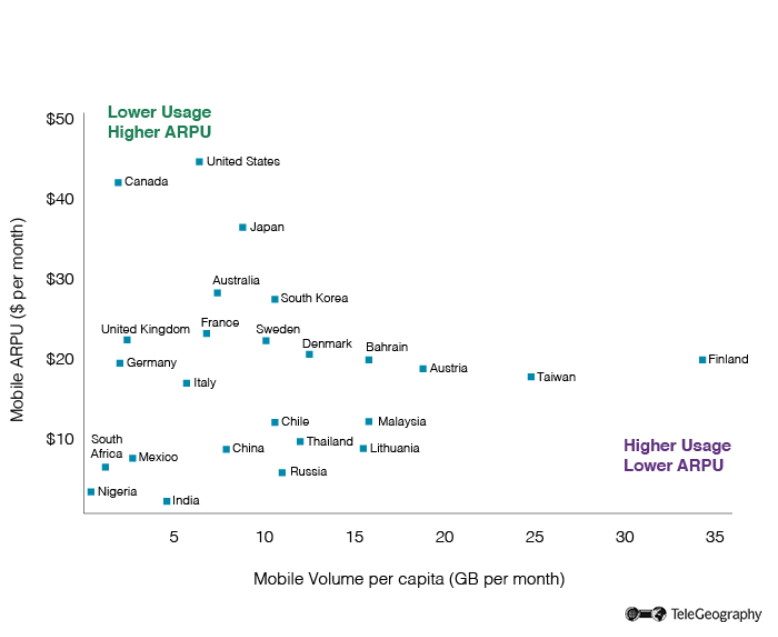 Changes in Canada
Another major market that finds itself well down the list of average mobile data usage is Canada, which had an average consumption of 1.9GB per capita per month during 2018. As with Germany, prices there are relatively high.
But things are changing.
Prime Minister Justin Trudeau's Liberal Party ran for re-election in October 2019 with a pledge to lower wireless tariffs by 25%, in a move that they said would save the average family of four almost C$1,000 a year.
One operator—Telus—has responded by introducing its True North Affordability pledge, under which it's cutting the prices of charges to below government targets.
The country's big three cellcos—Rogers, Bell, and Telus—introduced their first unlimited data plans mid-2019. The cheapest unlimited data tariff at Telus now costs C$75 ($56.70) a month, although download rates are restricted to just 512kbps after 10GB of usage.
A plan that allows unrestricted data up to 50GB per month costs C$125, but again, speeds fall to 512kbps after the data cap is reached.
Fixed Usage Versus Mobile
Another factor contributing to the relatively low consumption of mobile data in Canada is the wide availability and relatively lower cost of high speed fixed services, meaning wireless networks are mainly used for data access away from the home. In markets with poor availability of fixed broadband, however, mobile data networks become the main form of access, leading to increased consumption.
In markets with poor availability of fixed broadband, however, mobile data networks become the main form of access, leading to increased consumption.
Again looking at Telus, a fiber-based tariff offering unlimited monthly bandwidth at speeds of up to 150Mbps costs C$75. Unlike the similarly-priced mobile plan from the same operator, download rates are not slashed after a certain bandwidth limit is reached.
Highlighting the difference between wireline and wireless technologies, fixed-line networks in Canada accounted for an average of 76GB per user per month during 2018, well above the mobile figure.
Growth in India
The launch of Reliance Jio in September 2016 had a major impact on mobile data usage in India.
Prior to Jio's arrival, the bulk of data was carried over 3G networks, but the newcomer's introductory promotion offering free services over its new 4G system proved an immediate hit with consumers. It signed up 72 million customers within three months of its launch, increasing to 160 million just one year later.
Jio Boosts Data Use
India Mobile Data Usage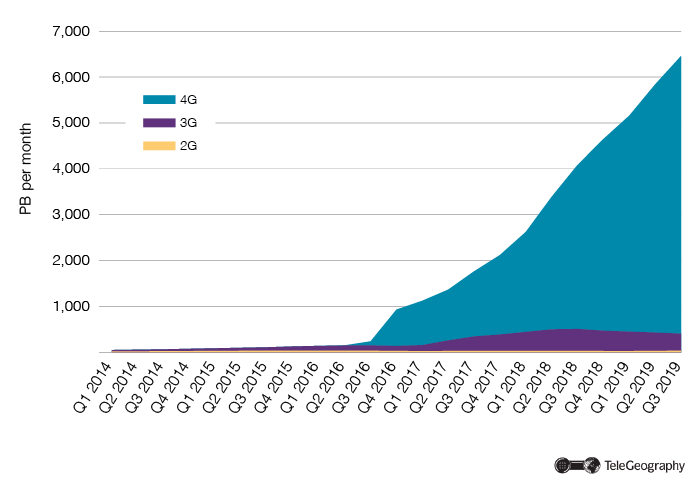 Even after the end of this promotion, Jio encouraged data consumption through low-cost tariffs and a suite of apps pushing content like video and music.
As a result, mobile data usage in India has rocketed, with total traffic over 4G networks jumping from 88PB per month in Q3 2016 to 6,048PB per month three years later.
The effects have been even more widely felt because of the relatively low usage of fixed broadband services. The country is home to over a billion mobile users—more than half of which are 4G customers—while there are fewer than 20 million fixed broadband subscribers.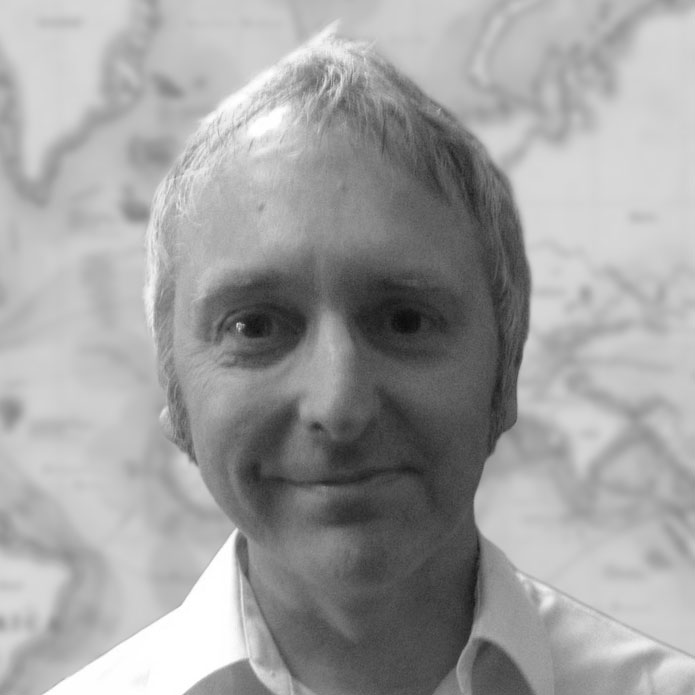 Pete Bell is a Research Analyst for TeleGeography's GlobalComms Database and also contributes to the daily CommsUpdate newsletter. He has a particular interest in wireless broadband and was responsible for TeleGeography's 4G Research Service until it was integrated into GlobalComms.