Fans of our map-centric e-book Mapping Communication are in luck.
Thanks to the kind sponsorship from the team at AquaComms, we've updated the 2018 edition with our telecom map creations from the last three years.
Thanks to these updates, you can look back at last year's submarine cable map—which returned us to our antique map roots. Or you can revisit our candy-colored 2019 effort.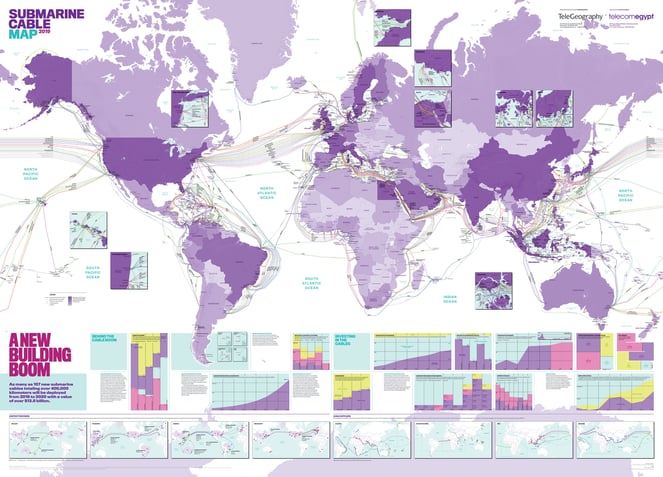 Our 2019 Submarine Cable Map—with a color palette rivaling a box of Necco conversation hearts—was appropriately released on Valentine's Day 2019.
We've also upgraded this map catalog with our latest Global Internet Maps and new regional selections.
Our regional maps have taken us to all corners of the globe in the last 20 years. We've used them to explore telecommunications in the Middle East and track new cable projects in Africa.
In 2019 we developed a modern Latin American entry to that catalog. This new edition zeroes in on cable activity throughout South America, Central America, and the Caribbean.
To take a closer look at these map projects and others, you can download Mapping Communication here.
And we'd like to thank our generous sponsor AquaComms for making this refreshed e-book possible.