Our first new map of 2023 is here! Meet the brand new Africa Telecommunications Map.
This edition depicts 72 cable systems connected to Africa that are currently active or under construction.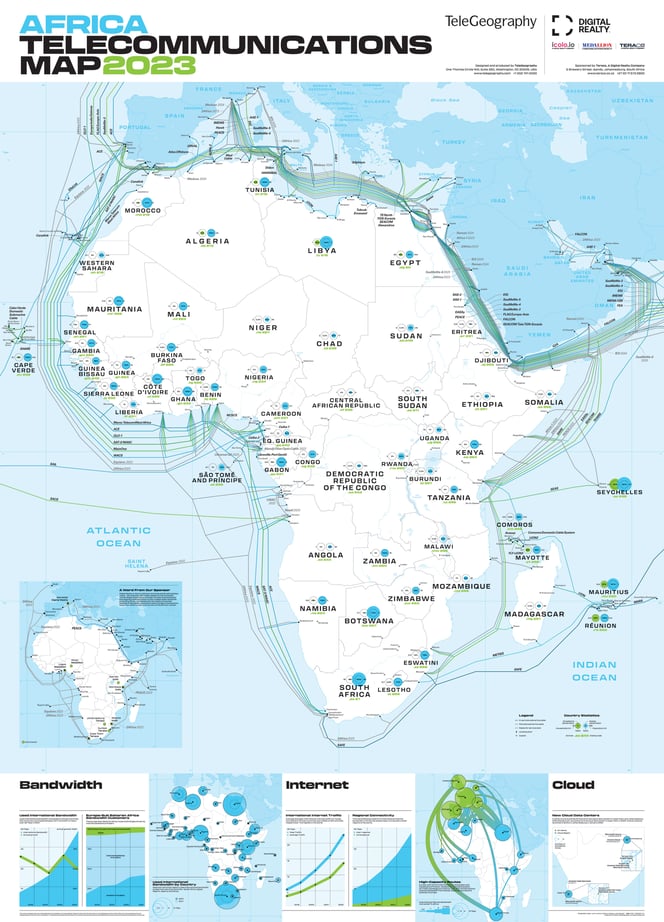 Infographics on this map cover used bandwidth, internet capacity, and new investment in cloud data centers. Broadband and mobile penetration rates for each country are also included on the main projection. Here are some fast facts:
Used International Bandwidth: Well over half of the region's used international bandwidthcomes from only five countries—South Africa, Egypt, Nigeria, Algeria, and Kenya.
High-Capacity Routes: Europe, with its rich interconnection ecosystem and inexpensive IP transit, remains the dominant location for traffic exchange out of Africa. Fully 80% of international internet bandwidth from African countries connects to facilities in Europe.
New Cloud Data Centers: In 2019, Azure launched Africa's first two cloud data centers in Cape Town and Johannesburg. AWS followed suit, launching its first cloud data center in Cape Town in 2020. Oracle recently launched a facility in Johannesburg in January 2022.
Enjoying this map?
Physical copies are available in our map store. And you can still score 25% off last year's edition when you download this presentation.
We'd like to thank our generous sponsor Digital Realty, as well as icolo.io, Medallion, and Teraco, for making the 2023 Africa Telecommunications Map possible.