Great news. TeleGeography's 2020 Middle East Telecommunications Map, sponsored by GBI, is now available for purchase.
Our 2020 edition depicts 54 active and three planned submarine cable systems. Per usual, this map is printed on Yupo, a high quality synthetic material.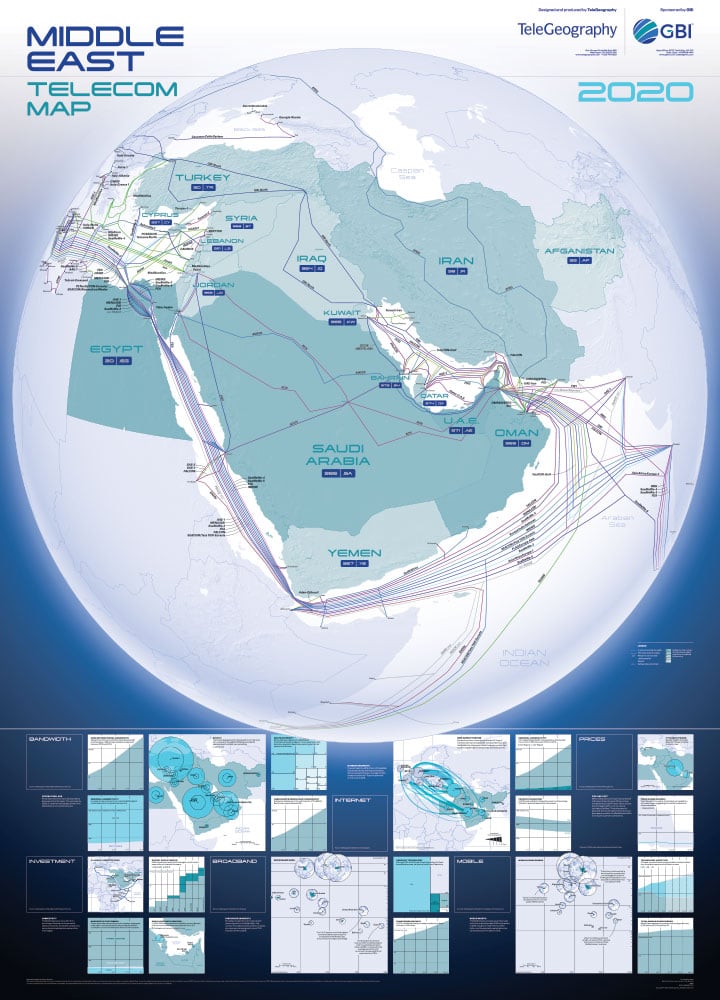 Inset infographics provide even more data, covering prices, bandwidth, and subscriber metrics. You can also look forward to graphics on:
Regional Connectivity:

European hubs continue to serve as the Middle East's preferred location for global connectivity.

Traffic Utilization: In 2019, peak utilization ticked downward, while average utilization remained essentially unchanged.

Users by Technology: Although DSL is still the dominant technology for fixed broadband access, its share of total lines is declining.

Recent Deployments: Cable investment varies in the region; it hasn't been uniform in the last five years.

New Cloud Data Centers: In 2019, AWS announced new availability zones in Bahrain and Azure announced two new regions in the U.A.E.
To learn more or place an order, click here.
We would like to thank our generous sponsor GBI for making this map possible.