As cloud adoption becomes increasingly necessary for multinational enterprises, backend networks are becoming more complex.
The introduction of X-as-a-Service products and the need for multi-cloud environments have pushed WAN managers to make changes to their current ecosystems and adopt new technologies.
Let's look at how network professionals are integrating the cloud and Networking-as-a-Service (NaaS) into their enterprise networks.
We'll analyze survey results on Infrastructure-as-a-Service (IaaS) adoption, IaaS partner choices, data center landscapes, where companies are connecting to their cloud service providers (CSPs), and NaaS adoption.
Infrastructure-as-a-Service
This year, when we asked about IaaS providers, all survey participants responded that they used at least one IaaS provider.
WAN managers have a plethora of IaaS providers to choose from, including Amazon Web Services, Azure, Google, and others. AWS had the first-to-market advantage in IaaS services. This year, however, we found that WAN managers most frequently chose Microsoft Azure as an IaaS provider (97%).
IaaS Providers used with Enterprise WANs (2022)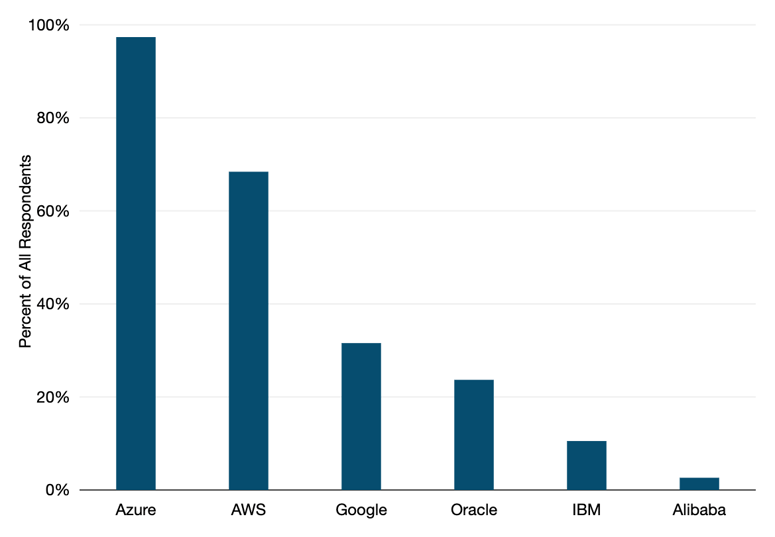 Notes: Each bar represents the percentage of all respondents in 2022 that indicated they are using the listed IaaS partners. Source: © 2023 TeleGeography
Following Azure, Amazon Web Services (AWS) made up 68% of respondents. A third of respondents chose Google while 24% chose Oracle as their provider.
IaaS Connection Methods
While the public internet is often considered the default method for reaching the cloud, companies have many options depending on their capacity, performance, or security requirements.
We asked WAN managers to select all the ways that they connected to cloud service providers. We took our definitions for various cloud connectivity services from TeleGeography's Cloud and WAN Infrastructure report.
Where are your data centers located? (2022)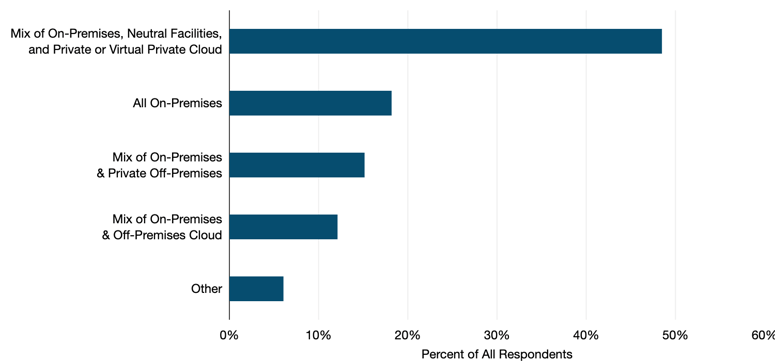 Notes: Each bar represents the average percentage across all respondents in 2022 using the listed mix of data center locations. Source: © 2023 TeleGeography
Almost half of our respondents said their data centers were located at a mix of on-premises, neutral facilities, and private or virtual private cloud environments.

Respondents who reported using all on-premise data centers jumped from 11% in 2019 to 18% in 2022.

Nearly a third of respondents were using either private or off-premise cloud servers with some mix of on-premise servers.
Networking-as-a-Service
This is the first year we asked about enterprises' familiarity and approach to NaaS. NaaS allows enterprises to consume network infrastructure through a subscription model like cloud services to meet business needs and optimize network performance on an on-demand basis.
The central idea of NaaS is that enterprises can consume network services as needed rather than through a long-term contractual agreement. Key to this are portals where enterprises can log on and allocate network connections down to even an hourly basis in some cases. Rather than weeks or months to spin up this service, it is generally available immediately upon ordering.
This is inherently limited to the core network and data center traffic, as bandwidth-on-demand would rarely be available down to a local corporate site. Backbone networks are over-provisioned sufficiently to accommodate just-in-time networks, but this is very rarely going to be the case for last mile connections.
So NaaS is mostly a service to connect things like data centers, large call centers, disaster recovery sites, and other resources located where fiber assets are widely available–not to spin up service to permanent branch offices or local corporate sites.
However, as last mile solutions like FTTx and 5G service become more available, there are potential use cases for NaaS at locations such as pop-up events or even temporary sites.
This year, we found that while NaaS products are available on the market, few enterprises have purchased them.
This year, we found that while NaaS products are available on the market, few enterprises have purchased them. While some are in the research phase, most are still ultimately unfamiliar with these products.
NaaS Stage of Adoption (2022)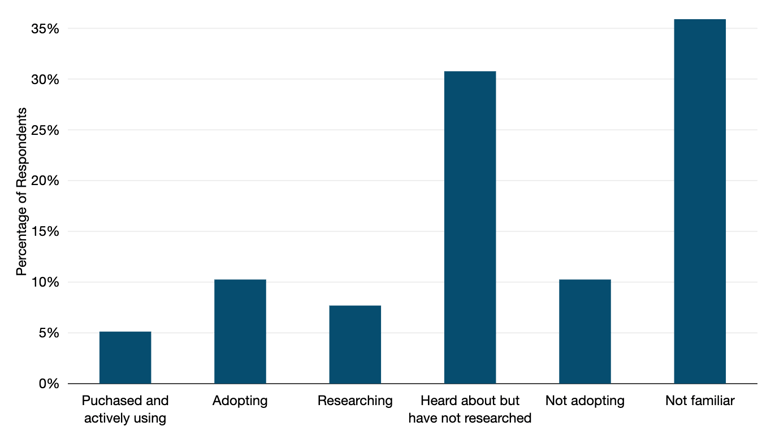 Notes: Each bar demonstrates the percentage of all valid respondents in 2022 who are in each stage NaaS/middle mile solutions adoption. Source: © 2023 TeleGeography
A minority of respondents–only 5%–have purchased and are actively using NaaS solutions.

Three in ten respondents have heard of NaaS/middle mile but have yet to research them, while almost 40% of respondents were not familiar with these solutions at all.

One in ten respondents has researched NaaS/middle mile and decided not to use them.
In the coming years, we expect to see an uptick in the adoption of NaaS as the next major development in the WAN market. This is especially true as enterprises continue to move away from on-prem data centers and put more business and workloads in the cloud.
Being able to shift around resources on an as-needed basis—rather than vastly over-provisioning for uneven workloads—is key to digital transformation.
---
This analysis was pulled from our latest WAN Manager Survey—which now includes data collected throughout 2022.
Download the full executive summary to keep reading.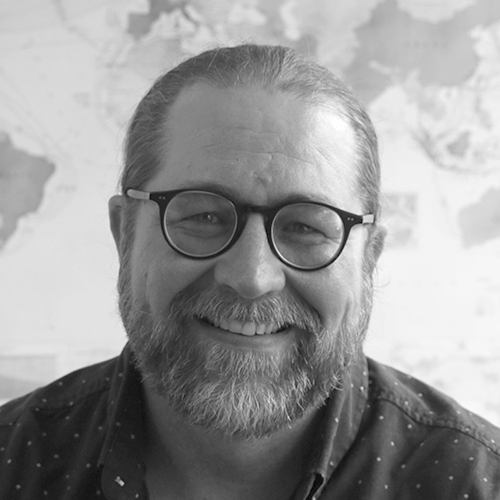 Greg is Senior Manager, Enterprise Research at TeleGeography. He's spent the last decade and a half at TeleGeography developing many of our pricing products and reports about enterprise networks. He is a frequent speaker at conferences about corporate wide area networks and enterprise telecom services. He also hosts the WAN Manager Podcast.