Lots of submarine cable chatter this week around the announcement of 2Africa, the latest cable from owners Facebook, Vodafone, MTN Group, China Mobile, WIOCC, Orange, Telecom Egypt, and Saudi Telecom.
We pulled several stories about the Facebook-backed cable, what it means for connectivity in the region, and how much folks expect it to cost. Keep scrolling for more.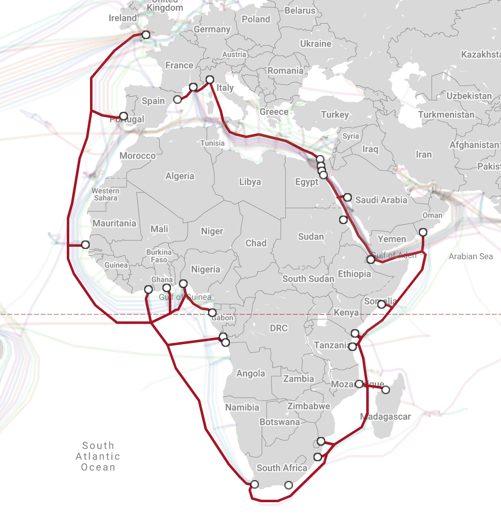 Click to view in TeleGeography's interactive submarine cable map.
We also have several articles on data centers, cable intrigue on the high seas, and the rare positive forecast for the voice market. All this and more in our monthly list of recommended reads.
Facebook, Telecos to Build Huge Subsea Cable for Africa and Middle East
Companies are coming together to build a massive cable around the African continent. The 2Africa project is reported to have cables that will stretch 37,000 km, interconnecting Europe, the Middle East (via Saudi Arabia), and 21 landings in 16 countries in Africa.
This TechCrunch article has more on the project, including insight on Facebook's efforts to bring more people online.
Facebook is Building an Underwater Cable Around Africa to Bolster the Continent's Internet Access
More on the Africa2 project here. Let's talk cost. While we have yet to see a budget, there are reports that it'll total just under $1 billion.
A Deep-Diving Sub. A Deadly Fire. And Russia's Secret Undersea Agenda.
A Russian submarine. A fire. Naval power struggles in the Arctic! A plan to cut submarine cables?
No, this is not the dust jacket for a newly-discovered Tom Clancy novel. These are the high points of a New York Times story about an accident that took place 250 miles north of the Arctic Circle last year—and one that might have undersea cable implications.
The COVID-19 Impact on Data Centers
Our own Jon Hjembo spoke with data center experts across the market to understand how they're working through the COVID-19 pandemic. They gave us insight on how the situation is affecting demand, operations, supply, and new construction.
Will Changing Consumer Habits Give the Voice Market a Boost?
Think you've got something that should be on our monthly reading list? Tweet it to us @TeleGeography.