Sweden's Telia Company is one step closer to concentrating operations on its core Scandinavia and Baltic units. A recent agreement cemented the plan to offload its stake in Turkcell.
Turkcell Sale
Telia agreed to sell its 47.1% stake in Turkcell Holding, which owns 51% of Turkish mobile market leader Turkcell, to state-owned Turkey Wealth Fund (TWF) for $530 million. Closing of the deal—subject to regulatory approvals and an annual general meeting of Turkcell—is expected later in 2020.
The transaction includes a full settlement of all shareholder disputes and litigations connected to Turkcell and Turkcell Holding. Telia's CEO Allison Kirkby said, "Through this divestment, we unwind a long-lasting legal deadlock; we reduce risk, improve leverage, and increase liquidity, which will generate better shareholder returns in our core markets."
She added, "Turkcell has grown into a strong company, which has generated substantial returns for its owners."
Telia Scales Back, But Not in Scandinavia
Telia offers a range of mobile, fixed-line, broadband, and pay-TV services in Sweden, Finland, Denmark, Norway, Estonia, Latvia, and Lithuania.
Telia remains active in Moldova and Afghanistan. However, it's looking for a buyer for its 100% interest in Moldova's Moldcell and its 12.25% stake in Afghanistan's Roshan.
The group also includes Telia Carrier, the third-largest global IP transit provider in terms of European IP transit.
Eurasia Exit Hit Revenues in 2016
Telia Financial Performance 2014-2019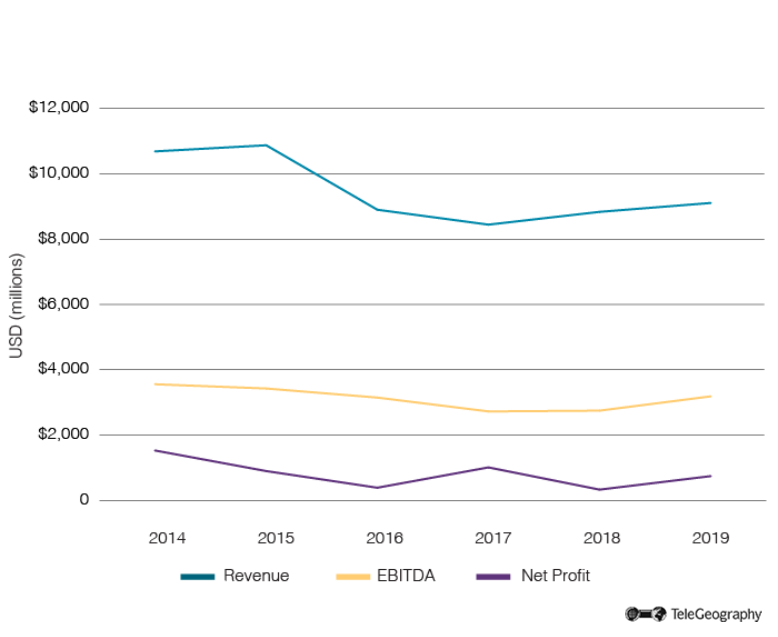 Other holdings that Telia has divested include Megafon in Russia, where it sold its last shares in October 2017, and businesses from its former Eurasia unit. This included operations in Kazakhstan, Uzbekistan, Azerbaijan, Tajikistan, and Georgia, plus Yoigo in Spain and Ncell of Nepal.
In Scandinavia, however, Telia is keen to maintain growth by acquiring or merging with local rivals. In February 2015 the group finalized the acquisition of Tele2 Norway. A year later it bought Swedish fiber network operator Telecom3 Fibernat.
In Scandinavia, however, Telia is keen to maintain growth by acquiring or merging with local rivals. In February 2015 the group finalized the acquisition of Tele2 Norway. A year later it bought Swedish fiber network operator Telecom3 Fibernat. In October 2018 Telia Company confirmed the completion of its takeover of Norwegian operators TDC Norway and GET.
Less successfully, Telia and major rival Telenor signed an agreement to merge their respective Danish businesses in December 2014, but encountered regulatory resistance from the EC on anti-competitive grounds and abandoned the joint proposal in September 2015.
In its core Scandinavian and Baltic markets Telia had 14.38 million mobile customers (excluding M2M connections) at the end of 2019, down from 14.66 million a year earlier. Fixed broadband subscriptions rose from 2.92 million to 2.93 million over the same period and fixed voice customers fell by 19.0% to 1.50 million.
Telia Company is 38% owned by the Swedish government, whilst the next largest shareholder is U.S.-based investment firm BlackRock with a 3.2% interest. The remainder is distributed, with no other company owning over 3%.
State Ups Interest in Turkcell
At Turkcell, meanwhile, new investor TWF has signed contracts with the telco's three largest shareholders: Cukurova Group (run by Turkcell's founder Mehmet Emin Karamehmet), Telia, and LetterOne. It's also signed with Ziraat Bank and related parties, which will enable it to take a 26.2% stake in Turkcell. This includes Telia's 24% indirect stake and other shares, making it the company's biggest shareholder.
The sovereign wealth fund stated that Turkcell's board structure will be "more stable and transparent" after the transactions, which will see an end to disputes dating back to 2005. Turkcell will remain listed on both Borsa Istanbul and New York stock exchanges, with 49% of its shares currently in free float.
TWF CEO Zafer Sonmez said: "As consumers and businesses increase their reliance on data, connectivity, and technology in the post-pandemic world, Turkcell has an incredible potential to capitalize on this trend."
Steady Growth at Turkcell
Turkcell Financial Performance 2014-2019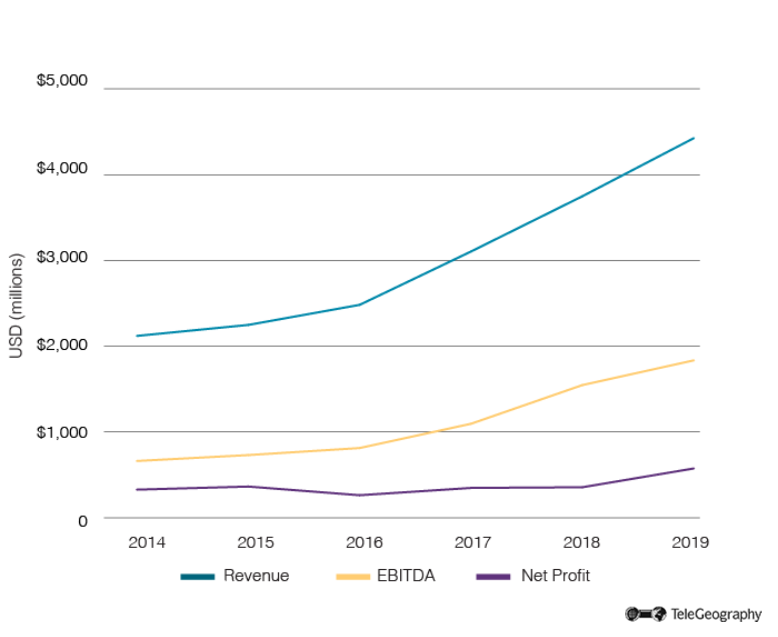 Alongside its domestic mobile operations, Turkcell is also the country's second-largest fixed broadband provider via its wholly-owned Superonline division. It also has operating subsidiaries in Ukraine (Lifecell), Belarus (BeST), Northern Cyprus (KKTCell), and Germany (Lifecell Europe).
Turkcell's latest international deals have mainly involved its Lifecell-branded digital (OTT) services platform, which it leased to multinational operator Digicel Group (aiming to offer the platform in over 30 countries), Nepalese cellco CG Telecom, and Albania's ALBtelecom, following an initial digital partnership with ex-subsidiary Moldcell.
Turkcell's domestic subscriber base stood at 35.7 million at the end of 2019 (including mobile, M2M, fixed broadband, and IPTV). This was down from 36.7 million a year earlier, largely due to a recent Turkish mobile pre-paid user registration deadline. It reported a consolidated customer total of 46.7 million at the same date, down from 48.9 million 12 months previously, including the four overseas subsidiaries.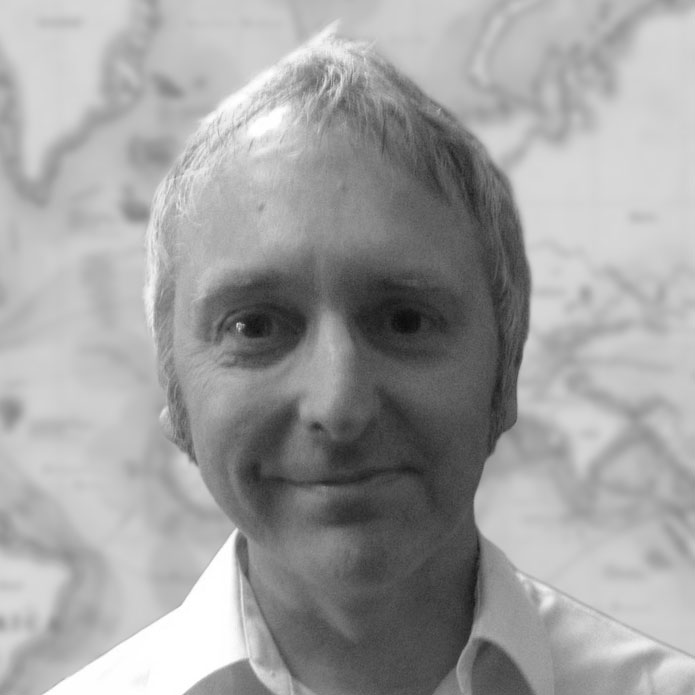 Pete Bell is a Research Analyst for TeleGeography's GlobalComms Database and also contributes to the daily CommsUpdate newsletter. He has a particular interest in wireless broadband and was responsible for TeleGeography's 4G Research Service until it was integrated into GlobalComms.