The second most populous nation in the world, India has the second largest mobile market behind China. By March 2017, India was home to 1.17 billion mobile subscribers, up from 1.03 billion 12 months earlier and 969.89 million in March 2015.
Despite this, cellular penetration is comparatively low at around 90 percent at Q1 2017. This is just under the typical 93 percent among countries with a similar per-capita GDP, but well below the regional average of 100 percent.
Disruptive Newcomer
In September 2016 India's mobile market was rocked by the launch of disruptive newcomer Reliance Jio Infocomm, which initiated a potentially devastating price war and forced the rapid acceleration of the sector's evolution.
Backed by deep-pocketed petrochemical giant Reliance Industries Limited, Jio's entrance has had a dramatic–and not entirely positive–impact on the sector, speeding up the deployment of high speed mobile data networks and driving down costs for end users, but also placing financial pressure on already struggling businesses, spurring a wave of consolidation.
Price War
While the threat of Jio's launch had a strong impact on encouraging investment and expansion, the price war sparked by the cellco's actual inauguration has had a worse impact on the market.
The 4G-only provider kicked off services in early September 2016 with a promotional offer providing customers with free unlimited services until December 31, 2016.
The promo was subsequently extended to March 31, 2017.
The controversial offer led the cellco to become embroiled in a number of legal challenges with the incumbents, but also forced its rivals to lower their own prices to keep their subscribers. As a result, industry-wide monthly ARPUs fell by roughly a third. They dropped from around INR120 ($1.90)—a rate that was stable at that point since mid-2014—to INR82.7 ($1.30) by March 2017.
Unsurprisingly, the sharp drop in ARPUs had a similarly negative effect on the sector's revenues, and in March 2017 the Telecom Regulatory Authority of India reported that turnover from the telecom industry (including the fixed segment) had fallen by INR100 billion between June 2016 and March 2017.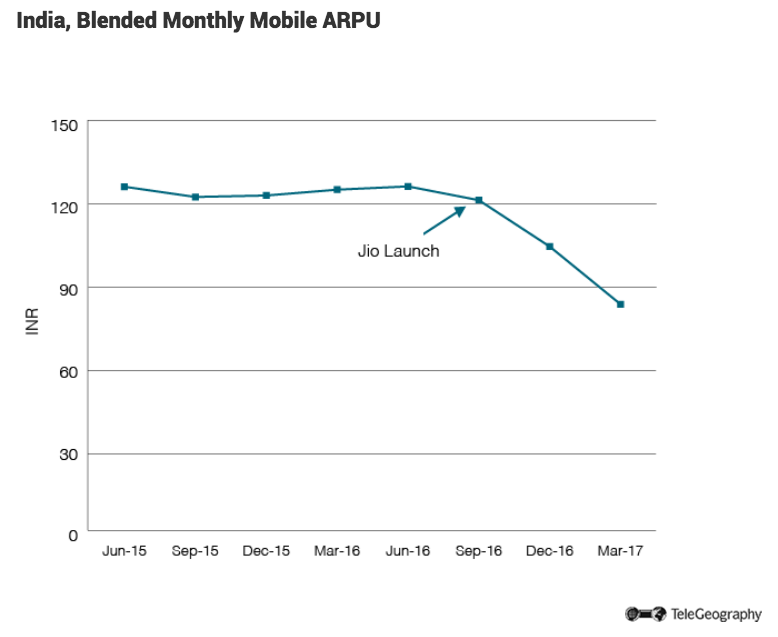 Less Impact on Subscriptions
By the end of the 2016, Jio had signed up more than 70 million subscribers, with that figure rising to just over 108 million by March 31, 2017. Curiously, the company's explosive growth has had a negligible impact on the overall take-up rates of the existing cellcos, although new subscriptions for 3G and 4G services did slow down somewhat.
Curiously, the company's explosive growth has had a negligible impact on the overall take-up rates of the existing cellcos, although new subscriptions for 3G and 4G services did slow down somewhat.
The largest operators continued to expand their user bases at roughly the same pace as prior to Jio's arrival, while the already-struggling smaller providers saw a slight downturn.
The trend suggests that many of Jio's subscribers had signed up to their services alongside plans with other providers to capitalize on the free services while they were available.
As such, the long-term viability of Jio's strategy and its capacity to continue growing its subscriber base once it starts charging for services has been called into question. Indeed, the TRAI's data for April and May 2017 showed a slight slowdown in Jio's growth, the cellco signing up 4 million and 5 million net new users in each month respectively, compared to 12 million and 6 million in February and March.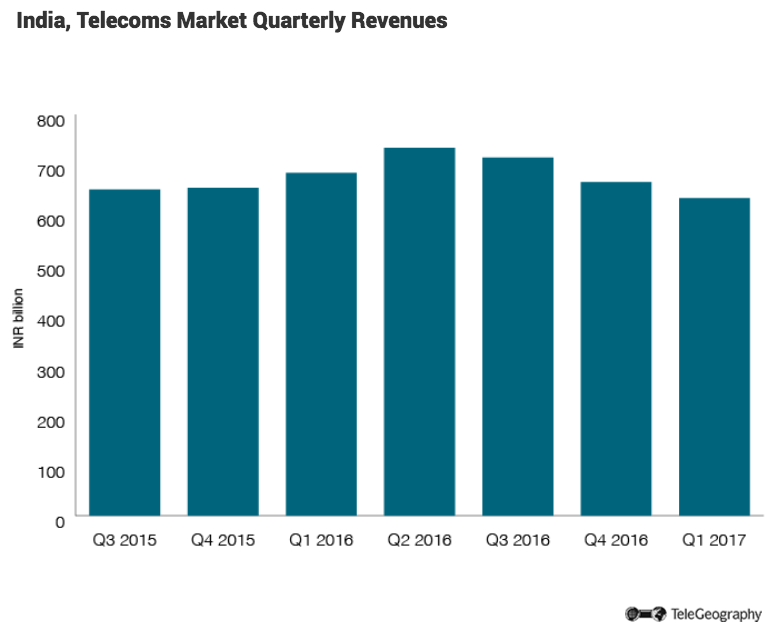 Consolidation
The Indian mobile market is also undergoing a period of consolidation, initiated when the regulator opened the way for spectrum trading and sharing in September 2015.
The market is set to shrink from around a dozen players to as few as five, with ongoing deals involving Telenor and Airtel, Vodafone and Idea, plus Aircel and RCOM, while there is also potential for tie-ups between Airtel and TTSL, as well as MTNL and BSNL. This will intensify the pressure on newcomer Jio as it seeks to ensure that its early success was not a flash in the pan.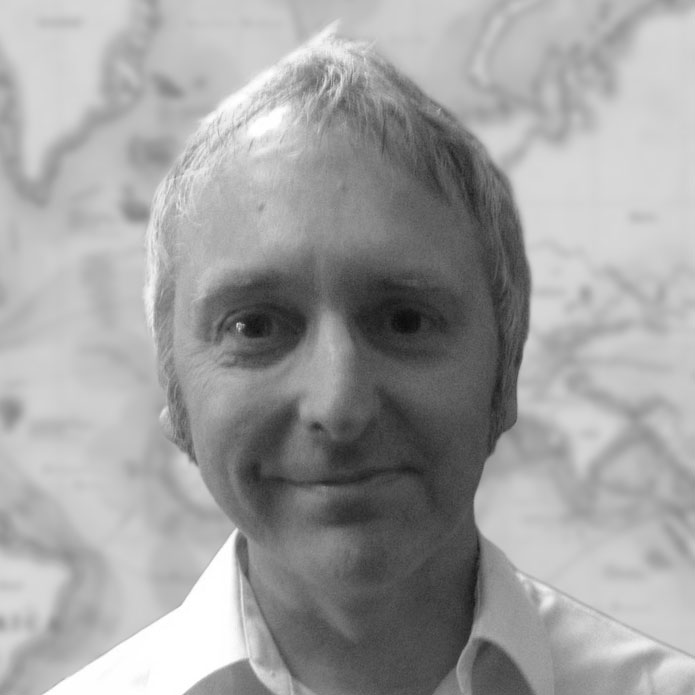 Pete Bell is a Research Analyst for TeleGeography's GlobalComms Database and also contributes to the daily CommsUpdate newsletter. He has a particular interest in wireless broadband and was responsible for TeleGeography's 4G Research Service until it was integrated into GlobalComms.