December 2019 marked the tenth anniversary of the world's first commercial LTE network launch. Scandinavian telco Telia paved the way in Stockholm and Oslo way back in 2009.
As for the decade that followed? Let's take a closer look.
Slow Start
Following that initial launch, 4G subscriber take-up and usage remained low. During the first year of operation, Telia's LTE network in its home market of Sweden accounted for just 2% of its overall mobile data traffic.
It was only when Telia introduced the first 4G-capable Apple iPhone model in October 2013 that usage soared. LTE networks accounted for almost half of its Swedish mobile data traffic in 2014; by full-year 2018 that figure had nearly doubled to 92%.
The Spread of 4G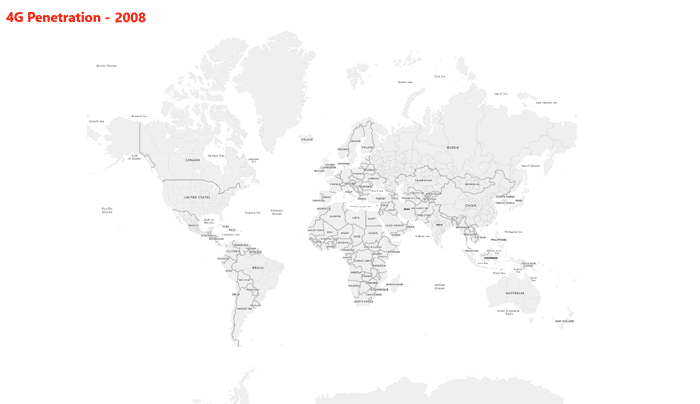 In customer terms, too, the early years of 4G saw subdued take-up.
Globally, there were just 120,000 4G users by the end of 2010, a year after the technology's first launch. While this increased to 8.8 million 12 months later, LTE still accounted for less than 0.2% of all mobile subscribers worldwide at that time.
4G Take-Up Quickens
It wasn't until 2014 that global user numbers really began to grow, boosted by the first LTE launches in India in 2012 and China the year after. By the end of 2015, 4G networks accounted for around 15% of all cellular subscriptions. This had climbed to 53% by end-2019.
There were an estimated 4.15 billion 4G subscribers worldwide at the end of 2019. By comparison, the first decade of 3G services saw the technology bring in only around a quarter of that figure.
Ten Years of LTE
4G Launches and Subscribers, 2009-2019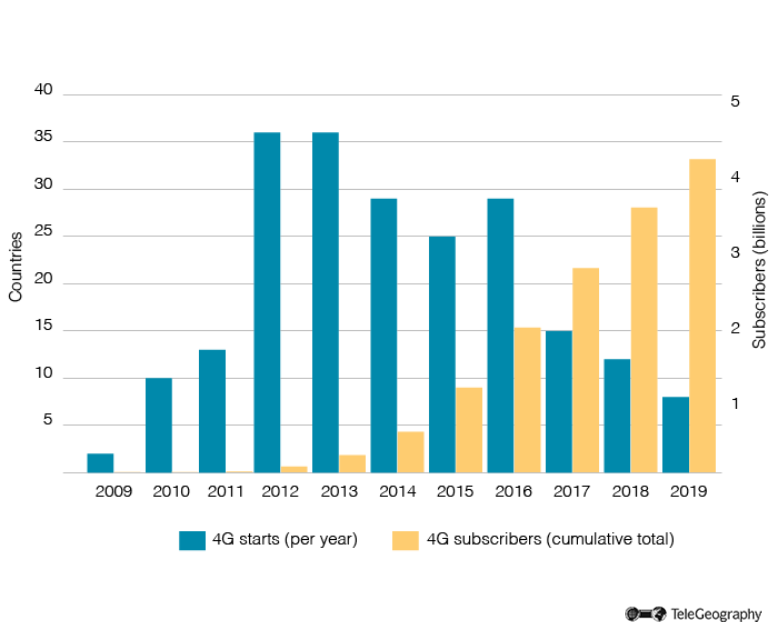 TeleGeography's GlobalComms Forecast Service expects 4G to reach a peak of around 5.1 billion users and 60% of the overall wireless market by 2022, when subscriber numbers drop off and 5G grows in popularity.
China Drives Growth
By far the world's largest 4G market in subscriber volume is China.
The country was home to 1.3 billion LTE users at the end of 2019, well ahead of the next largest nation–India–which had around 580 million. The U.S. sat in third place, with roughly 316 million, while the next four markets–Brazil, Indonesia, Japan, and Russia–each claimed between 100 million and 150 million 4G subscribers.
Notable 4G Start Dates
2009
Norway, Sweden
2010
Germany, Japan, U.S.
2011
Australia, Canada, S. Korea
2012
Brazil, France, India, Russia, S. Africa
2013
China, Malaysia, Spain
2014
Argentina, Indonesia, Kenya
2015
Cameroon, Ethiopia
2016
Ghana, Turkey, Vietnam
2017
Egypt, Syria
2018
Bangladesh, Ukraine
2019
Cuba, Niger
When we looked at 4G services in China back in August 2016, the country was already showing impressive subscriber growth. Earlier that year, LTE had passed 2G and 3G as the most popular technology in terms of user numbers.
By the end of 2019, 4G accounted for over four-fifths of all mobile subscriptions in the country, with China Mobile claiming roughly 60% of the overall market.
4G Blackspots
There are still a small number of markets without LTE networks, where users are restricted to 2G and 3G connectivity.
These include Central African Republic, Cocos Islands, Eritrea, Mauritania, North Korea, Saint Pierre and Miquelon, Sao Tome & Principe, South Sudan, and Yemen.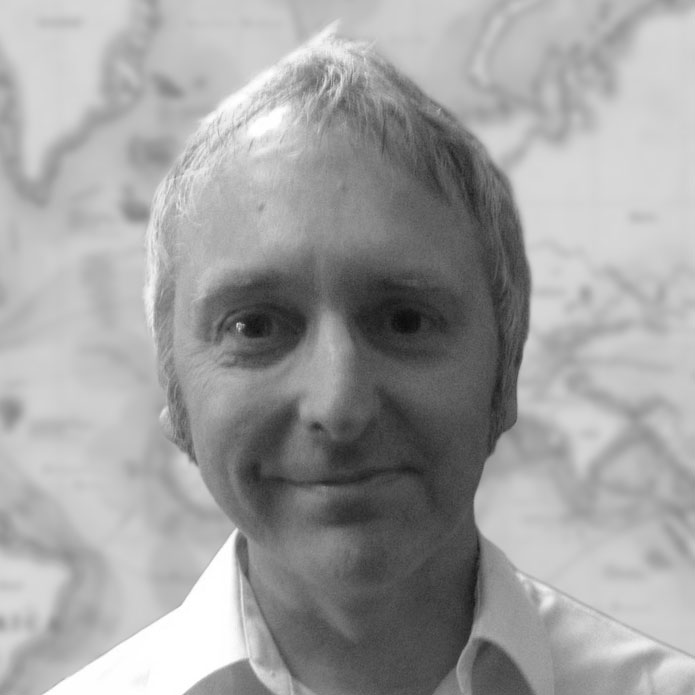 Pete Bell is a Research Analyst for TeleGeography's GlobalComms Database and also contributes to the daily CommsUpdate newsletter. He has a particular interest in wireless broadband and was responsible for TeleGeography's 4G Research Service until it was integrated into GlobalComms.