Due to the ongoing conflict, Ukrainian operators are suffering cyberattacks and physical network damage.
Below, we take a look at who those operators are and their relative positions in the country's telecom market.
Mobile Sector Ups and Downs
Prior to the Russian invasion, Ukraine's mobile sector was already experiencing:
Widespread economic decline. Economic recovery was proceeding at a slow pace in 2018 and 2019 before being hit by COVID-19 in 2020.
Russia's takeover of Crimea. All Ukrainian operators ceased operations in the peninsula by February 2015.
Operational disruption. This began back in 2014, due to military actions in eastern Ukraine.
Changing Picture
Ukraine Mobile Subscriptions, 2010–2021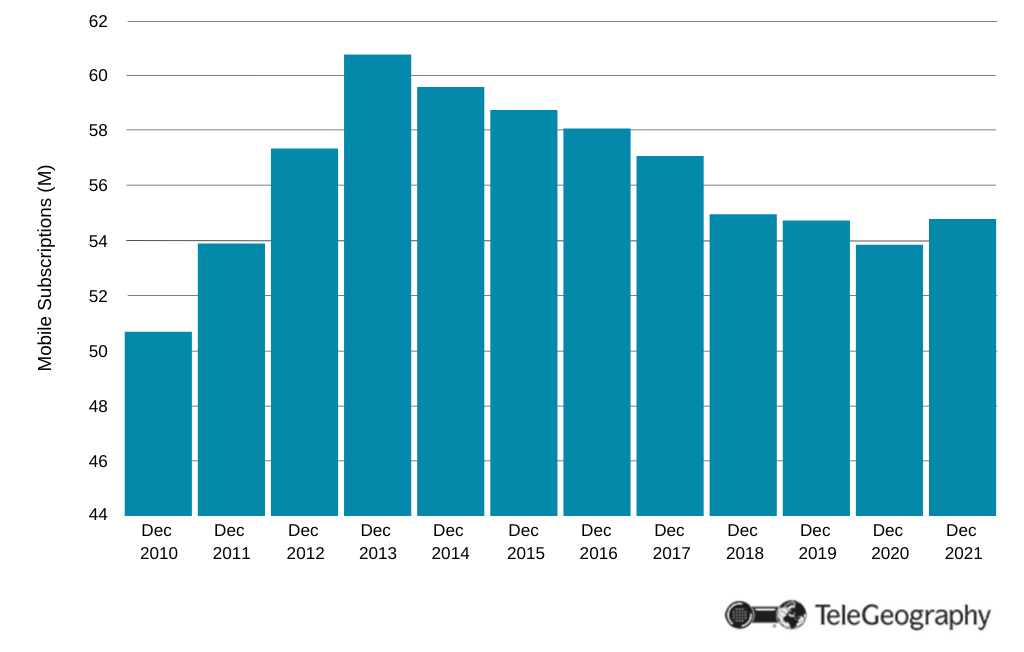 At the end of 2021, there were an estimated 54.8 million mobile subscriptions in Ukraine. This number was up from the previous year's 53.9 million, but below the market peak of 60.8 million, reached in 2013.
The market was growing rapidly prior to 2014, when pro-Russia forces took control in Crimea and a separatist uprising took place in the eastern regions of Donetsk and Luhansk.
Number-One Kyivstar
At the end of 2021, the mobile market's largest provider by subscriptions was Kyivstar, with almost 48% of all users. The firm is a wholly-owned subsidiary of Amsterdam-based, Russian-backed VEON (formerly VimpelCom).
Kyivstar was awarded a GSM concession in March 1997 and launched commercial mobile services in December the same year. Its early years were served in the shadow of Ukrainian Mobile Communications (UMC, subsequently MTS, now Vodafone Ukraine), and the rivals swapped number-one and number-two market positions several times throughout 2001–2005.
Since the end of 2005, Kyivstar has clung to the lead in terms of subscriptions.
Competitive Market
Ukraine Mobile Operators, Dec 2021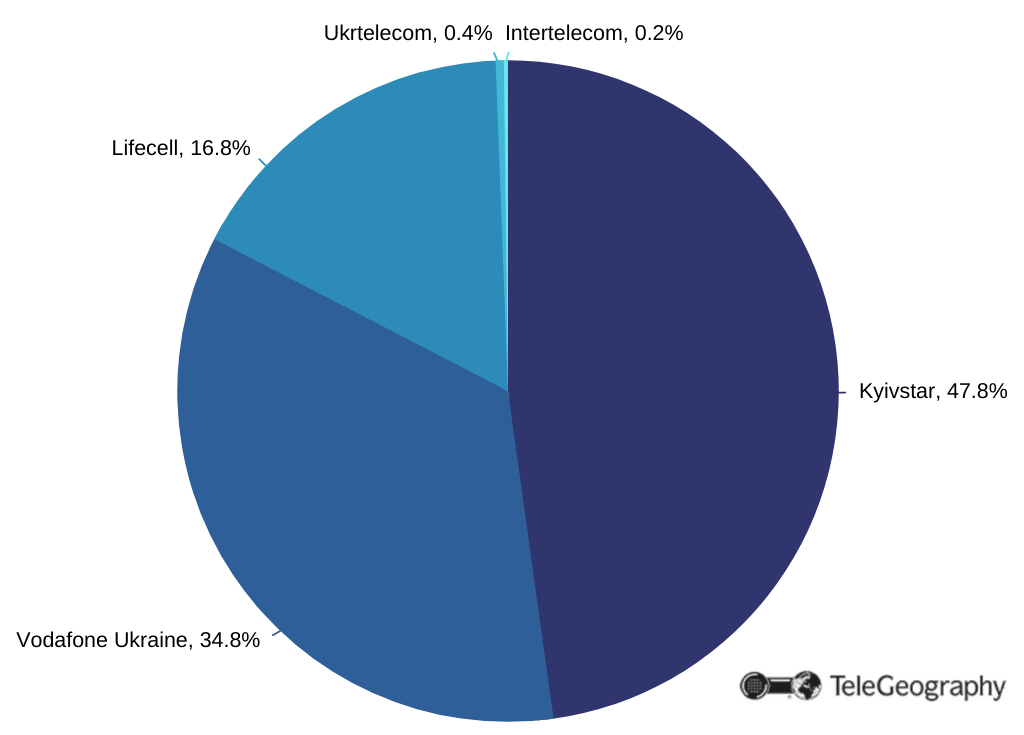 Second-place UMC launched the country's first mobile network—based on analogue NMT—in 1993. Its digital GSM 900MHz and 1800MHz services followed in September 1997 and July 2000, respectively.
The MTS brand of Russia's Mobile TeleSystems was established in Ukraine in 2007, but in October 2015, the cellco expanded a non-equity strategic partnership with the UK's Vodafone Group—in effect since 2008—by rebranding as Vodafone Ukraine.
MTS exited toward the end of 2019, when Vodafone Ukraine was bought by Azerbaijani company Bakcell, which is itself owned by Neqsol Holding.
The third-largest player is Lifecell, a subsidiary of Turkcell. The market is rounded out by Ukrtelecom and Intertelecom, which only claimed around 0.6% of all subscriptions combined on December 31, 2021.
Fixed Broadband
Unlike the mobile market, Ukraine's fixed broadband segment has seen fairly steady growth over the past few years, expanding from 3.66 million subscriptions at the end of 2010 to an estimated 6.79 million by the end of 2021.
Recent Growth
Ukraine Fixed Broadband Subscriptions, 2010–2021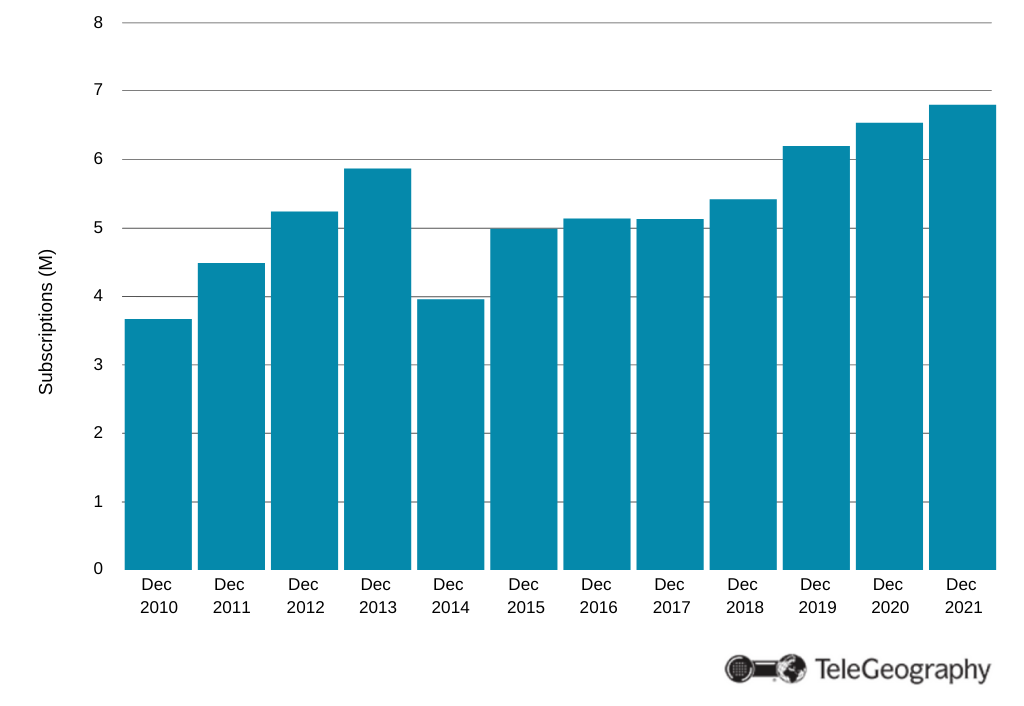 The market witnessed strong take-up prior to the events of 2014 in Crimea and eastern Ukraine, but growth has resumed since then.
While the sector is dominated by a few big players, it is very fragmented, with regional and local ISPs numbering in the thousands.
While the sector is dominated by a few big players, it is very fragmented, with regional and local ISPs numbering in the thousands.
Former state-owned monopoly PSTN provider Ukrtelecom was the largest fixed broadband provider by subscriptions until the second half of 2020, when Kyivstar overtook it. At the end of 2021, Kyivstar claimed almost 18% of the retail market in user terms, ahead of Ukrtelecom's 15%.
Number-one mobile provider Kyivstar has been offering DSL-based internet access since 2003 and fiber-based services since 2010. The firm has also deployed fiber infrastructure in 125 cities.
Ukrtelecom was privatized in 2011, with a 92.9% stake acquired by Austrian-owned firm Epic Telecom Invest. It sold its interest two years later to System Capital Management (SCM), a conglomerate belonging to Ukraine's richest citizen, Rinat Akhmetov.
Ukrtelecom has offered DSL connectivity since 2005 and fiber access since 2015. At the end of 2021, it had deployed fixed broadband infrastructure in more than 3,400 villages, towns, suburbs, and urban areas.
The third-largest fixed ISP—with roughly 13% of retail subscriptions at the end of 2021—is cableco Volia.
Volia underwent a change of ownership in 2021 when acquired by smaller rival Datagroup, which is backed by local private equity group Horizon Capital. For the time being, the two companies continue to operate under their separate brands.
Sandwiched between Volia and Datagroup in terms of market share is Triolan, which was created in 2008 by a group of Ukrainian businessmen. It operates broadband cable TV networks in 11 cities.
Rounding out the larger players in the fixed broadband segment is Vodafone Ukraine, which acquired ISP Vega from SCM in September 2021. At the time of the purchase, Vodafone claimed that it was looking to create a fully-converged fixed and mobile operation.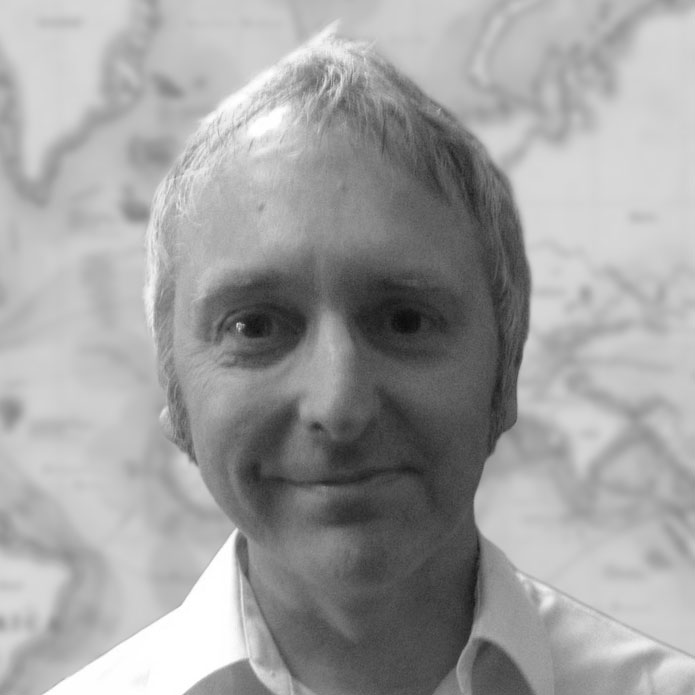 Pete Bell is a Research Analyst for TeleGeography's GlobalComms Database and also contributes to the daily CommsUpdate newsletter. He has a particular interest in wireless broadband and was responsible for TeleGeography's 4G Research Service until it was integrated into GlobalComms.