As global enterprises become more reliant on cloud—and start to break away or reduce their traditional MPLS circuits—the "middle mile" of the internet is coming into focus.
Today, I want to examine the use cases that vendors hope to address through middle mile network services. (And their basic value proposition.)
Here are a few ways to frame use cases for middle mile network services:
Connectivity
I want to rely on internet for all connectivity, but I want to optimize my traffic flow performance
I just want discrete circuits connecting my network locations
I prefer flexible commercial terms and agile deployments vs. telcos, but I'm willing to manage my own network elements on the circuits, and I want to specify the route's path as much as possible
I want all of the above and want to let the vendor manage it
I have a presence in a major colocation facility, and I want to optimize the connectivity options there
I operate an ASN, and I want to exploit peering opportunities
Cloud
I want to optimize my connectivity to multiple major IaaS providers (AWS, Azure, Google) with direct connects
I'm more about SaaS over the internet, but I need to remove as much internet performance and security risk as possible
I want to assure diverse connections to my cloud providers
Emerging Markets, Remote Locations
I need to overcome challenges to connectivity in my remote locations and emerging markets
I need to connect to China
The Middle Mile Proposition
Before we parse out the different approaches to optimizing the middle mile, let's consider the common themes among providers focused on the service.
Cloud Connectivity
The overriding theme is cloud connectivity. There are two fundamental ways to connect to the cloud:
Directly, using an interface between an enterprise WAN and a CSP on-ramp
Indirectly, over the internet
Middle mile providers use both means.
Some establish many direct connections with the primary CSPs to provide multi-cloud connectivity to customers from a distributed network of PoPs. Others grab customer internet traffic at the nearest PoP and carry it on a private network or otherwise manage the routing to ensure optimal transmission.
Distinction From Telcos
Another core attribute of middle mile providers is their distinction from telco WAN service and alignment with usage-based CSP billing models.
Factors vary by specific service and strategy, but include:
More flexible, short-term transactions than annual terms
Simplified, transparent, usage-based, or flat rate pricing by region
Agile provisioning with shorter turnaround times than traditional VPNs and private lines
Procurement and administration via user-friendly portals
Thorough monitoring and transparent visibility into network performance
More accessible customer service and support
To deliver on these promises, middle mile providers have established purpose-built networks and service infrastructures, including some of the initial commercial realizations of software-defined networking.
They're less burdened by harmonization and retrofitting with legacy infrastructure and product support than telcos. They have ample capacity available to source from the wholesale market with competitive pricing. This provides provisioning agility and visibility with greater ease and lower cost than telcos.
The Caveats
Despite positioning against telcos, middle mile operators face their own challenges.
These operators don't have the comprehensive reach of global telcos. Customers have to get to their networks. And middle mile optimization doesn't absolve the need for last mile connectivity.
In this sense, a middle mile operator has the same dilemma as a telco linking off-net customer premises to a PoP—reliance on another telco. For those willing to take it on, local access management can be a compelling service offering.
Key to the telco proposition sketched below is integration of the access network.
Incumbents have nearly universal access lines with enterprise facilities in their regions. They also have long-tenured, large-scale management systems to procure access from peers. This can be especially valuable in emerging markets, where effective partnerships with local license holders are not easy to forge.
Role in the Middle Mile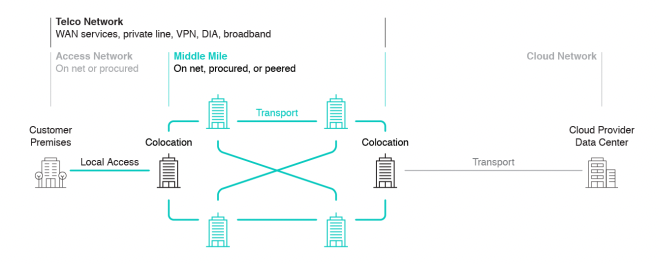 Source: TeleGeography © 2021 PriMetrica, Inc.
Beyond local access, telcos have developed infrastructure throughout the middle mile. Despite opportunities for differentiation from them, telcos remain capable—and the incumbent option.
For those that also operate major internet backbones, their broadband service is effectively on-net and emulates the strengths of a private network option. A dedicated internet access service might take on much of the performance of MPLS—since that's what it runs over in the core.
You can explore all of TeleGeography's WAN content over here.
And catch our 2021 overview of all things middle mile over here.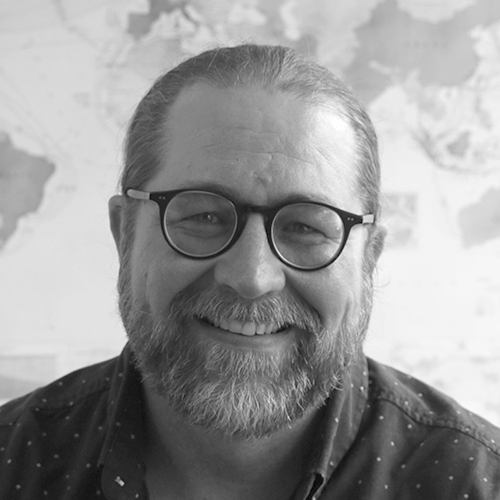 Greg is Senior Manager, Enterprise Research at TeleGeography. He's spent the last decade and a half at TeleGeography developing many of our pricing products and reports about enterprise networks. He is a frequent speaker at conferences about corporate wide area networks and enterprise telecom services. He also hosts our podcast, TeleGeography Explains the Internet.