Business broadband is no longer a connection of last resort. In fact, it is an integral part of WAN architecture.
Unlike pricey network connectivity services like MPLS and DIA, business broadband is a cost-effective option for enterprises that push more traffic to the public internet and utilize SaaS applications.
When considering broadband, enterprises can choose from a variety of access types that best suit their needs, but the two main options are:
Fixed-line
Wireless
Thanks to our Business Broadband Pricing Data, we've got the full scoop on broadband service providers, plans, and prices. So let's peer deeper into what's behind door number two: wireless broadband.
Wireless Across Regions
Most regions boast fiber as the majority access type in 2021. On average, fiber plans account for 47% of regional plans.
A notable exception would be the U.S. & Canada, where fiber plans represent only about a quarter of the region's plans. Here, wireless plans dominate the region's access (41%). This makes sense because low population density and large land area—common for suburban or rural connectivity in the U.S. and Canada—are known barriers to fixed-line infrastructure development.
However, we anticipate this trend to change in the U.S. over the next few years.
As of early 2021, the U.S. government passed a stimulus package that allocates funding to improve broadband access and affordability. And a recently passed infrastructure bill will help fund broadband network expansion projects, particularly in areas where 25 Mbps download and 3 Mbps upload speeds are available.
Regional Mix of Access Types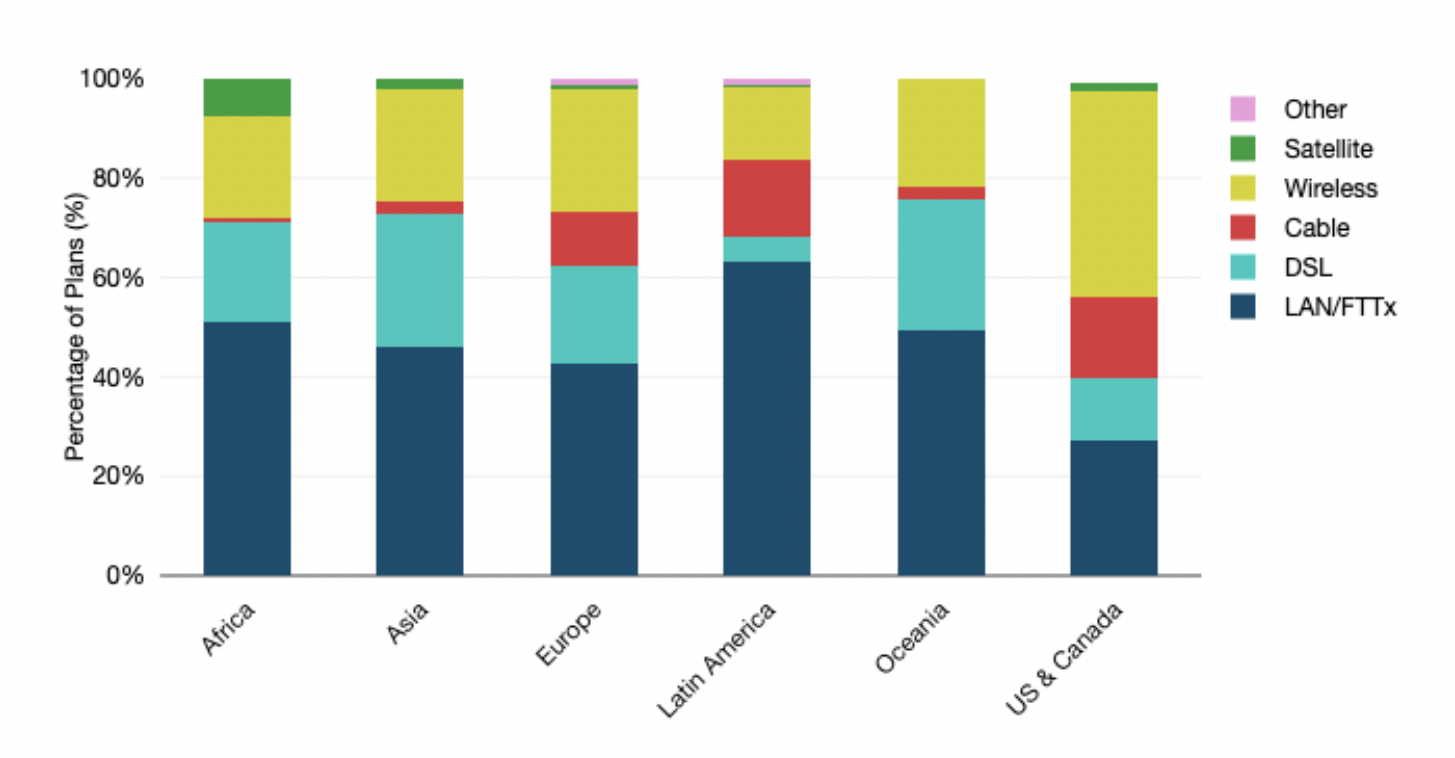 Notes: Columns represent the percentage of broadband plans with the specified region for the given access type in Q2 2021. Source: TeleGeography © 2021 PriMetrica, Inc.
Additionally, in Europe, 25% of all plans in the region are wireless. Although Europe is known to have a strong, robust infrastructure, there are parts of the region that lack broadband coverage or access to higher speeds. As a result, multiple funding projects exist to expand wireless and fixed broadband infrastructure (i.e., The European Commission's Connecting Europe Broadband Fund).
Wireless for Business Broadband
Wireless broadband makes up a significant amount of plans that we have in our database, accounting for 25% of plans across all regions. Wireless however, is usually used as a backup, temporary connectivity, or when no wirelines service is available.
According to our 2021 WAN Manager Survey, across all respondents, on average, 9% of WAN sites had wireless.
Although fixed-line access dominates in most regions around the world, wireless access does have its benefits. It allows connectivity in places that are expensive or difficult to reach with fixed-line infrastructure, offers increased mobility and flexibility, and is less vulnerable to certain fixed-line infrastructure failure modes like cable cuts.
The below figure breaks down the proportion of wireless plans by technology globally for 2018 and 2021. It's important to note that there are many types of wireless technology that carriers offer outside of 3G, 4G, and 5G. For example, some carriers use terrestrial or digital fixed wireless technology to provide internet access to their users. For the purpose of our research, we had collected data on the more commonly used forms of wireless technologies that we observed globally.
The "Other" (green) category in the below chart indicates all of the wireless plans across the world where ISPs did not specify the exact wireless technology that is offered to their customers.
Although the "Other'' represents a significant proportion of wireless plans globally in 2021, in this scenario, it illustrates that there are markets around the world that do not provide next-generation wireless technology. For instance, most of these plans were found in Asia and the U.S. and Canada.
Global Overview of Wireless Plans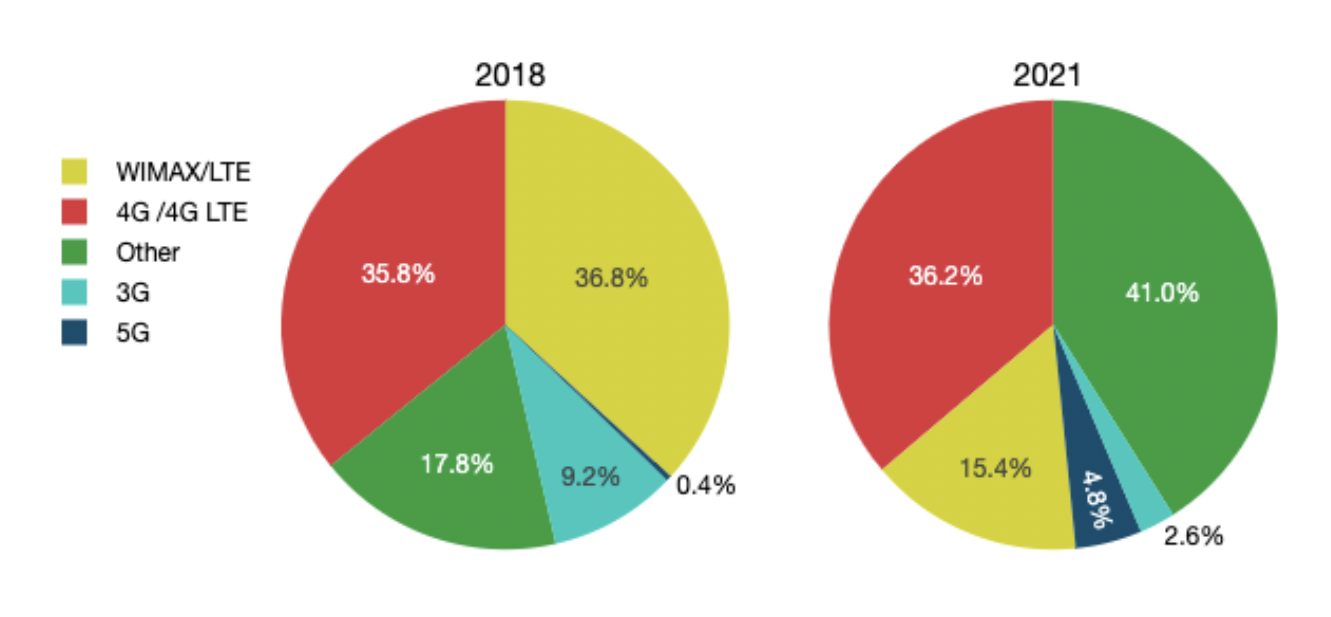 Notes: Circles represent the percentage of wireless plans with the specified access type for the given year in Q2 2021. Source: TeleGeography © 2021 PriMetrica, Inc.
4G/4G LTE (red) plans continue to maintain a stronghold on the market at a total of 36% of all wireless plans. Meanwhile, the availability of WIMAX/LTE plans (yellow) have decreased to about 15% in 2021. The same can be said for 3G plans (light blue) as we see the number of available plans go from 9% in 2018 to less than 3% in 2021.
The downward trend of 3G and WIMAX/LTE plans is likely due to wireless carriers shutting off their slower networks and utilizing their resources and infrastructure for the rollout of advanced services like 5G.
We observed a growth in the availability of 5G as more carriers gain access to the technology, further suggesting the presence of this trend. In 2018, the percentage of 5G plans (dark blue) was only 0.4% while in 2021, 5G represents about 5% of all wireless plans globally.
You can explore all of TeleGeography's WAN content over here.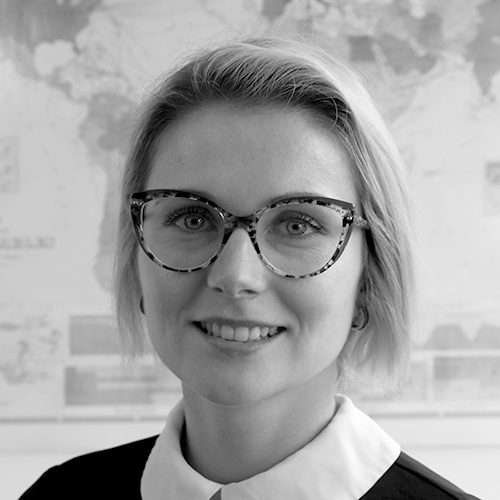 Nataliya Coll is a Senior Research Analyst at TeleGeography. As part of the pricing team, she contributes wholesale and enterprise product analysis. Nataliya focuses on European and Eurasia markets.