Our 2018 Global Internet Map is hot off the press.
This technicolor edition tracks global capacity, traffic, and pricing data, as well as global user figures and the most-connected ISPs. Keep scrolling to see for yourself.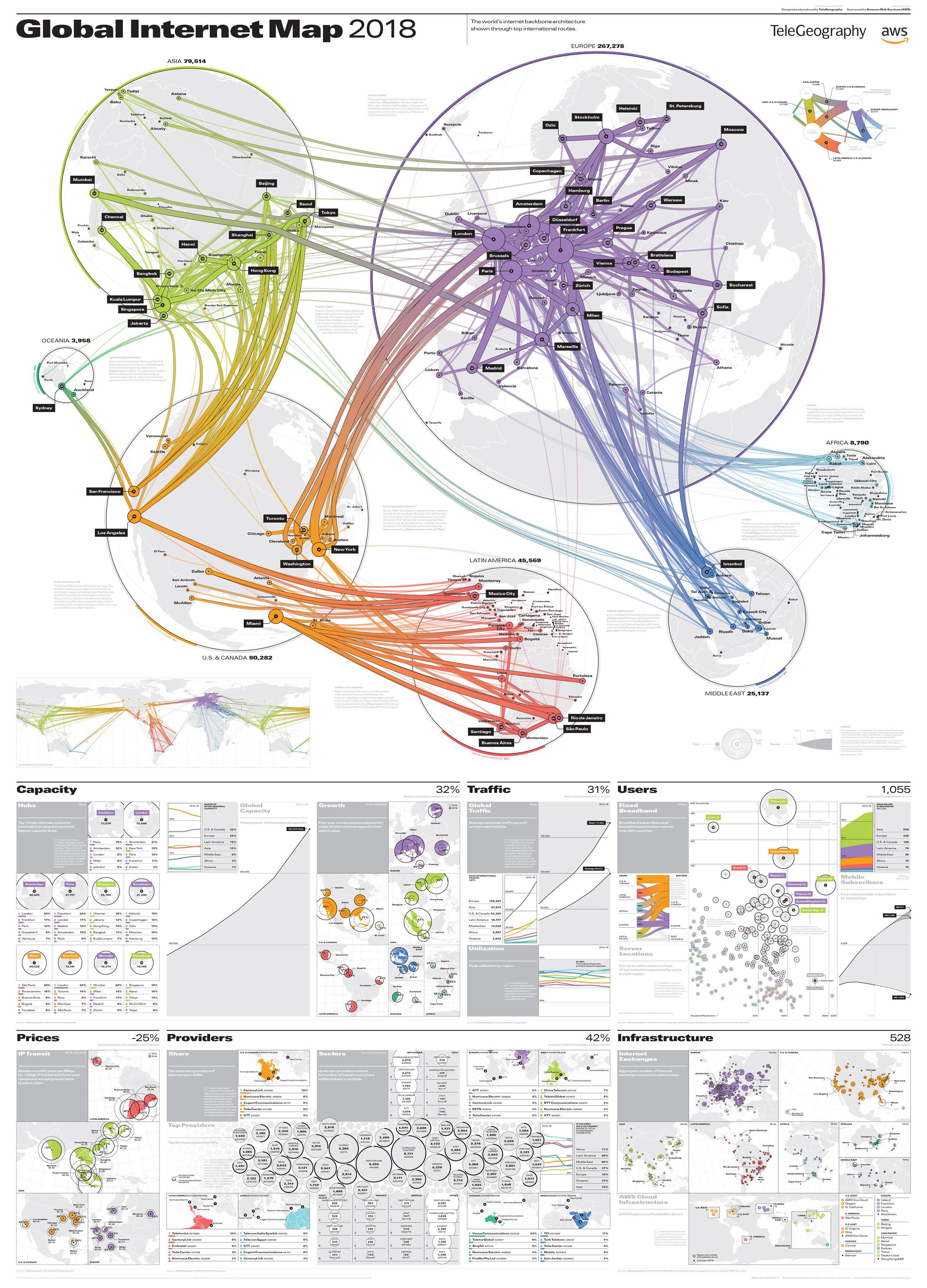 The 2018 map includes:
Main Projection
Intra- and inter-regional internet bandwidth
Metro-to-metro area internet bandwidth
Metro area internet bandwidth
Top 50 metro areas ranked
Capacity
Hubs: Top 10 hub cities (as ranked by international capacity) and their highest capacity links.
Global Capacity: Total growth of international capacity.
Growth: Five-year compound annual growth rates of international capacity from select cities.
Traffic
Global Traffic: Average and peak traffic growth on international links.
Utilization: Peak utilization by region.
Users
Fixed Broadband: Broadband subscribers and household penetration rates in over 200 countries.
Server Locations: Server location as percentage of top websites requested by users in each region.
Mobile Subscribers: Forecasted mobile subscribers by technology.
Prices
IP

Transit: Median monthly price per Mbps for 10GigE IP transit and three-year compound annual growth rates in select cities.
Providers
Top Providers: Top 50 most connected ISPs.
Share: Top upstream providers of downstream ASNs.
Sectors: Upstream providers ranked by number of transit customers within industry verticals.
Infrastructure
Internet Exchanges: Aggregate number of internet exchanges present in select cities.

AWS

Cloud Infrastructure:

AWS

Regions and Availability Zones.
---
Special thanks to our sponsor Amazon Web Services for making this map possible.