South Korea's cellular sector is the scene of intense, cutthroat competition between its three mobile network operators (MNOs): SK Telecom (SKT), KT Corp, and LG Uplus. Advanced technology rollouts have been a key battleground for the trio.
There were 70.2 million active wireless subscribers at the end of September 2020, up from 68.9 million at the start of the year. SKT controls 45% of users, while KT Corp accounts for 32% and LG Uplus captures the remaining 23%.
Older Technologies in Decline
The rise of 4G and 5G-based services has led to the gradual demise of 2G, with a full shutdown expected from the last remaining provider, LG Uplus, in the first half of 2021.
CDMA2000 systems were previously operated by KT Corp (closed in 2012) and SKT (closed July 2020). By the end of September 2020, there were only around 580,000 customers left using 2G systems.
The LG Uplus CDMA2000 network is now used solely for voice services. According to figures from the country's Ministry of Science and ICT, August 2020 was the first month to register zero data usage on those 2G networks.
2G Usage Falls to Zero
South Korea – Monthly Mobile Data Traffic in TB
| | | | | | | | | | |
| --- | --- | --- | --- | --- | --- | --- | --- | --- | --- |
| | Dec-12 | Dec-13 | Dec-14 | Dec-15 | Dec-16 | Dec-17 | Dec-18 | Dec-19 | Sep-20 |
| 2G | 9 | 7 | 6 | 7 | 7 | 4 | 2 | 1 | 0 |
| 3G | 19,702 | 11,289 | 5,578 | 2,161 | 1,030 | 578 | 632 | 180 | 60 |
| 4G | 28,252 | 61,762 | 113,814 | 172,935 | 253,602 | 314,570 | 404,022 | 458,575 | 436,093 |
| 5G | 0 | 0 | 0 | 0 | 0 | 0 | 0 | 121,444 | 226,786 |
| TOTAL | 47,963 | 73,058 | 119,398 | 175,103 | 254,639 | 315,152 | 404,656 | 580,200 | 662,939 |
3G technology has also been usurped by newer and faster networks.
There were 6.1 million subscribers still using 3G handsets as of September 2020, down from 7.5 million at end-2019 and 9.6 million a year before that.
Meanwhile, 3G networks accounted for just 60TB of traffic during August 2020, having dropped from 180TB in December 2019 and 632TB in December 2018.
Spread of 4G
Fourth-generation services were the chief focus for the nation's cellular operators for many years. Both SKT and LG Uplus commercialized 4G LTE services in July 2011, with KT becoming the last of the nation's cellcos to introduce LTE in January 2012. The trio all claimed "nationwide" LTE footprints by mid-2013.
As attention turned to the deployment of higher speeds via more advanced technology, SKT claimed a world-first commercial LTE-A service via smartphone in July 2013. LG Uplus was not far behind, introducing the technology later that month. KT rounded out the deployment announcements in September 2013.
All three cellcos secured additional wireless frequencies in September 2013, prompting a new focus on boosting downlink rates via carrier aggregation. Further advances in the speeds offered to subscribers have come in more recent years, with SKT notably announcing the commercialization of both five-band carrier aggregation (5C) and 4×4 MIMO in June 2017, before combining those two technologies in March 2019, to boost downlink speeds to 1.2Gbps.
5G Subs Growing Steadily
Tech Split of South Korea Wireless Subscriptions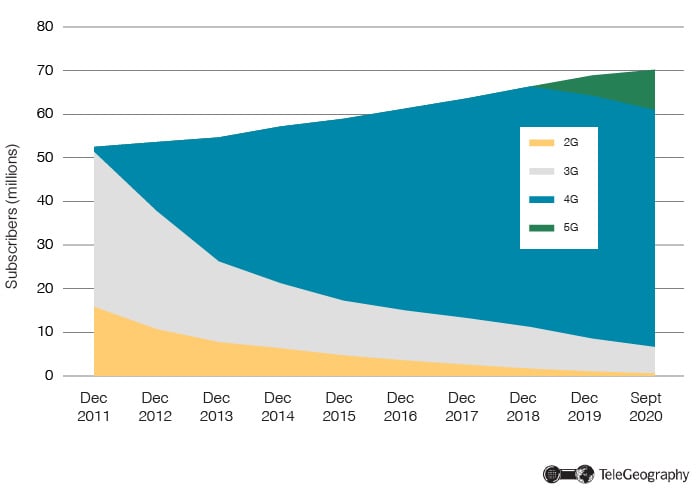 4G networks still accounted for the bulk of mobile data traffic as of September 2020, but it won't be long before 5G takes over as the dominant technology for data. There was 436,093 TB of data carried by LTE networks in September 2020, down from 458,575 TB in December 2019.
LTE customer numbers peaked in 2019, with 4G handset users now contributing 77% of all cellular lines in the country, down from 81% at the start of the year.
5G Takes Over
Keen to maintain its position as a technology pioneer, in 2014 the South Korean government pledged KRW1.6 trillion ($1.5 billion) for the development and rollout of commercial 5G services by end-2020.
All three MNOs proved keen to board the 5G train early, inking numerous deals with vendors linked to 5G collaboration, with KT, in particular, seeking to press forward, trialing 5G services at the PyeongChang Winter Olympics in February 2018.
KT, SKT, and LG Uplus all acquired 5G-suitable spectrum at auction in June 2018, intensifying the drive toward a commercial launch, and the trio switched on their respective 5G networks in December 2018, although initially offering connectivity to enterprise users only. Consumer 5G service launches followed in April 2019, with all three players simultaneously opening their 5G networks to residential and small business users.
Early network coverage was limited to major cities, and while coverage has been expanded by all three MNOs, the focus has remained on the country's more densely populated areas. Of note, however, in July 2020 SKT, KT, and LG Uplus promised a significant investment in the development of the country's 5G infrastructure. The trio agreed to invest a combined KRW25.7 trillion through 2022 with a view to establishing nationwide 5G footprints.
To support the investment being made by the country's MNOs in their 5G infrastructure, the government is understood to have promised tax support in the form of tax credits and other reductions.
The work by the cellcos is paying dividends, as 5G continues to attract growing numbers of users. It also accounts for an increasing slice of mobile data traffic. Despite only making up 13% of the market in user terms as of September 2020, 5G handsets were already contributing more than 34% of monthly traffic, with 226,786 TB used that month.
Things have not been all rosy, however. It's taken KT Corp and SKT almost two years since the launch of 5G in December 2018 to introduce their first mid-tier tariff plans, with consumers complaining about expensive charges for a service that's still limited in availability. LG Uplus introduced a mid-tier tariff in March 2020, but only for customers registering online.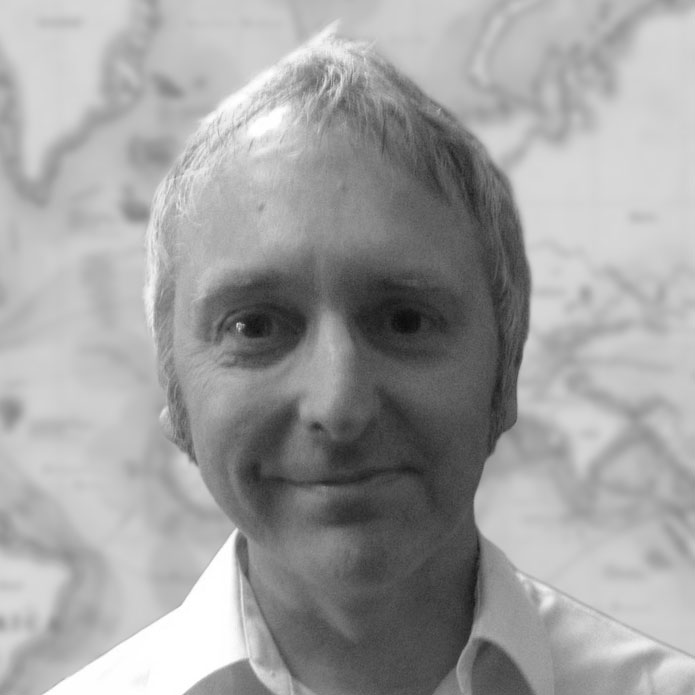 Pete Bell is a Research Analyst for TeleGeography's GlobalComms Database and also contributes to the daily CommsUpdate newsletter. He has a particular interest in wireless broadband and was responsible for TeleGeography's 4G Research Service until it was integrated into GlobalComms.