To all of our readers in and around Florida: this is a friendly reminder that Subsea Americas 2018 will be here before you know it.
As always, you can bet on two days of conversation about the Americas' submarine cable market. The agenda covers strategic and technical insights that span across financing, construction, maintenance, and cable upgrades.
It's happening December 3-4 at the Westin Fort Lauderdale.
Our own Cynthia Sandoval-Swegal will be giving conference-goers a market update on regional pricing trends on day one.
She was kind enough to give us a preview of what she'll be talking about, as well as the big topics that she expects everyone will be discussing in Fort Lauderdale.
What's the big story this year? Any guesses as to what everyone is going to be talking about at Subsea Americas 2018?

For the last two-to-three years Brazil has been the main focus on investments in the regions. The wave is still far form over, with BRUSA expected to come into service soon—and both ARBR and MALBEC—which will connect Argentina and Brazil, presumably making progress.
That being said, I think a big part of the conversation will be around the push for route diversity and seeking to connect remote areas in the Americas. Part of it will still be anchored in Brazil, namely systems seeking to connect Africa and Europe with Latin America, like the SABR, SAIL, and EllaLink systems.
Additionally, increasing focus to the Pacific has also been brought by the need for route diversification, aging systems, and increasing demand, like the AURORA and Curie systems.
Finally, the Caribbean will get a new cable, Deep Blue, which will add redundancy and competition to the sub-region.
It seems like we're always talking about new cable projects when it comes to the Americas. Is that the case again this year?

Absolutely. I think we have seen other regions around the world that have experienced this sort of "cable boom" in the past.
Latin America has many aging systems and still struggles with connectivity in many countries, especially those land-locked. As I was saying before, route diversity is becoming increasingly a point of interest for the region, as in a push for more intra-regional connectivity.

Your presentation is specifically about pricing trends in the region. What are some of the trends you're looking forward to digging into?

The main story continues to be the acceleration of price erosion.
New systems and increased competition, especially in major Latin American markets, have brought erosion on transport prices to 40 percent compounded over the past three years. Similarly, intra-regional prices—which in the past remained at a significant premium compared to capacity to the U.S.—have also declined significantly, as demand for intra-regional connectivity has increased.

The regional IP transit market is displaying similar trends, where prices have declined significantly—over 30 percent compounded annually since 2015.
Prices have declined largely due to the decrease in transport costs, but also due to increased competition, with many new players entering various markets across the hemisphere. Moreover, the traditional pipe and port model is shifting, a result of more localized traffic and lower local port prices.
Cynthia's presentation is set for Monday, December 3 at 4:45 p.m. Don't miss it. More good news: TeleGeography readers can get 10% off their registration with the code TGSUBA18.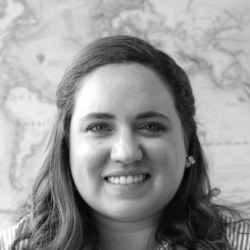 Cynthia Sandoval-Swegal is an analyst at TeleGeography, specializing in market and pricing analysis of wholesale and enterprise network services in Latin America. Her research covers trends in private lines, IP transit, MPLS, Ethernet, DIA, and SD-WAN services. Additionally, she manages TeleGeography 's Business Broadband Research Service.