Bandwidth prices remain on the descent, driven downward by increasing competition and new transmission technologies and network topologies that lower unit costs.
Median monthly lease prices across a selection of critical routes declined an average of 26 percent from 2016 to 2017, and 30 percent compounded annually from 2014 to 2017.
Among these core routes, 10 Gbps wavelength prices on Miami-São Paulo exhibited the steepest rate of price erosion at 41 percent compounded annually. The route, which has seen significant investment over the past few years, was priced three times the trans-Atlantic in 2017, compared to 7.9 times in 2013. Weighted median 10 Gbps prices on the London-New York and Los Angeles-Tokyo routes fell 19 and 29 percent compounded annually, respectively, during the period.
Weighted Median 10 Gbps Wavelength Price Trends on Major International Routes, 2014–2017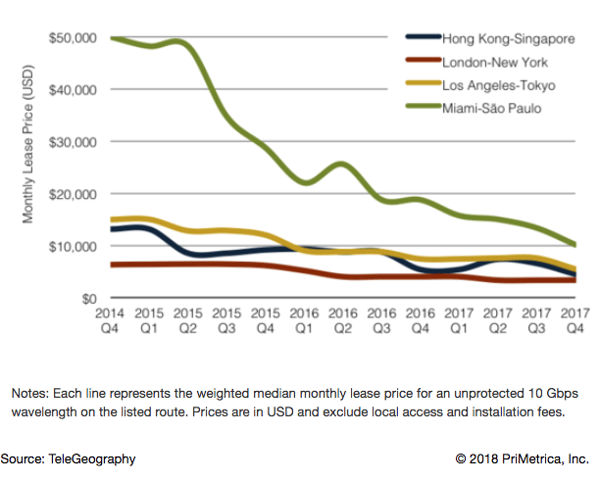 Network operators continue to adopt 100 Gbps circuits for wholesale transactions, and the price relationship between 100 Gbps and 10 Gbps has evolved accordingly.
In Q4 2017, the average carrier multiple of 100 Gbps over 10 Gbps service among key routes was 5.4, down from 6.4 in 2015. The difference between the median 10 and 100 Gbps price ranged from 4.1 times on the shorter connection between London and New York to 6.0 times on the terrestrial link between Chicago and New York.
Capacity multiples for 100 Gbps skew low when sellers compete aggressively for 100 Gbps business but not for 10 Gbps. That is, a low 100 Gbps to 10 Gbps multiple can arise both from a relatively low 100 Gbps price or a high 10 Gbps price. As price multiples fall, the share of 100 Gbps circuit sales continues to increase and the service now comprises a substantial portion of sales in a number of markets.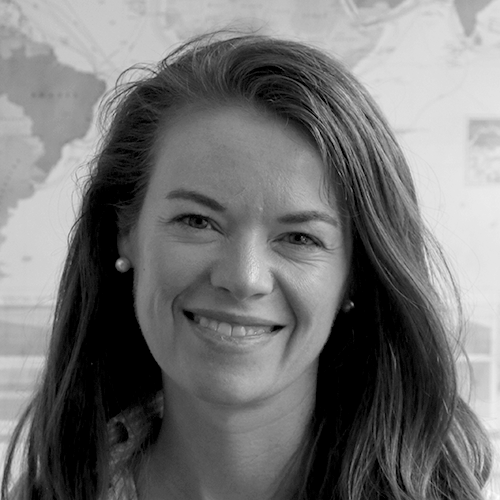 Senior Research Manager Brianna Boudreau joined TeleGeography in 2008. She specializes in pricing and market analysis for wholesale and enterprise network services with a regional focus on Asia and Oceania. While at TeleGeography, Brianna has helped develop and launch several new lines of research, including our Cloud and WAN Infrastructure service and the SD-WAN Research Service.