BorgWarner is one of the world's leading automotive parts manufacturers, supplying just about every car maker you can think of: Ford, Audi, BMW, they're all there. The company, which reported sales of over $8 billion in 2015, has aggressive plans for growth over the next few years, and needed a corporate network that was up to the job.
As Mark Williams, the company's senior manager, global networks, security and mobility explained at the WAN Summit in New York, the WAN needed to be transformed to a "business enabled network," one that would deliver more bandwidth, better resilience, reduce the points of failure, while operating at a reduced cost of ownership. Not a trivial project by any means.
Williams told attendees that BorgWarner, which operates out of 74 locations in 19 countries around the world, was running an MPLS network with a back-up connection at each of its sites. Costs were high, customer support was poor, and bringing new sites on board was challenging. Sites would ask for upgrades because they needed more bandwidth, but as Williams put it, "we never upgraded the secondary connection, so when a site failed we had problems. In manufacturing you have raw materials coming in, inventory on the floor, product ready to go out, and if you don't have your link up and running, those things become broken and your phone rings off the hook."
A Single All Encompasing RFP
Williams decided BorgWarner couldn't transform the network on its own. He is a big advocate of using partners, commenting, "we did a full RFP: I said give me a project management company that can manage this transformation for me and I baked the whole project management of our transformation from our old provider to our new provider into the contract."
The first step the project managers took was to understand what the business required of the network and might need in the future. Using this needs and wants analysis, they decided that a software-defined hybrid network, delivering a primary network over MPLS for mission-critical traffic with a secondary network using broadband and the public internet for lower priority traffic was the optimal solution. Williams wanted Ethernet handoffs everywhere, supporting SIP, voice, video and data, and it needed a round-the-clock managed service with in-country support. Policy based routing would balance the traffic between the primary and secondary networks to optimize capacity and minimize cost, and it needed a partner who could help it accelerate and optimize this traffic.
Partnerships Where it Matters
It picked AT&T to act as its global telecom partner, providing a fully managed service. Williams says AT&T has met the company's expectations every step along the way. Transformation of the 70 plus sites took about 18 months, and while the migration at the first site didn't run entirely smoothly—"we stumbled a bit," according to Williams—there was virtually no downtime at any of the subsequent migrations. The company chose Riverbed technology to accelerate and optimize traffic across the network. Orange Business Services manages the overall networking services for BorgWarner, with Williams lauding it as one of the best networking service providers he's ever dealt with.
The company has achieved all it hoped for and more out of the move to a software defined WAN. Bandwidth has increased dramatically and costs have reduced by over 40%. Optimization has meant that the company has reduced the amount of traffic on its network by about 47% to 31Tb a month. Its datacenter team can now run back-ups whenever they want, as there is so much capacity on the secondary network, there is never the possibility that this will have an impact on business-critical applications. BorgWarner can also offload its non-critical internet traffic onto its secondary network. Video conferencing on-demand is now possible and Borg Warner's CEO is now able to make the quarterly company-wide video broadcasts he always wanted to make, wherever he is at the moment, from around the globe.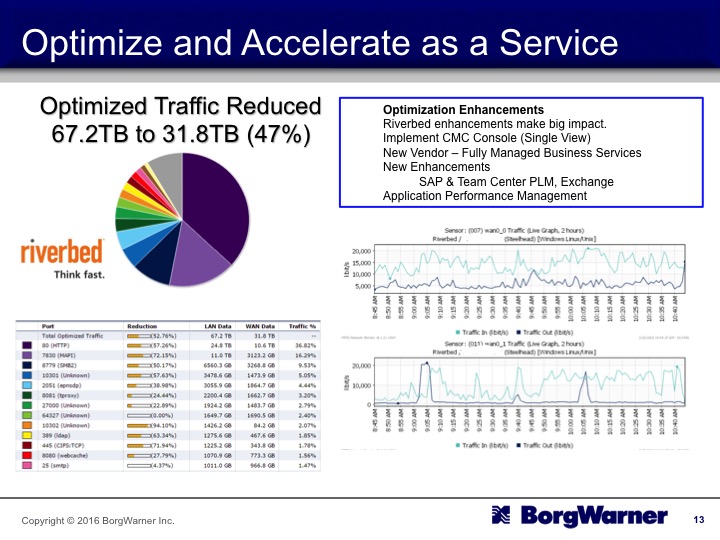 The Next Chapter
For the future, the company is looking to move its operations to the cloud and so it needs to be able to predict application performance. Security is, of course, a big concern, and adapting its security architecture for the cloud is probably the biggest hurdle for the company to overcome, according to Williams. This was an ambitious global project, and it's to everyone's credit that the transformation went as smoothly as it did. BorgWarner is now set up for future growth with a scalable network that can meet its performance requirements.
There are a few things we can learn from Mark William's experience.
Software defined networking gives you access to a multitude of cost effective options. For BorgWarner, it has facilitated the deployment of its Unified Communications, bandwidth on demand, and made predictive application performance within reach. It also improved network resilience and reduced failure points.
Don't ignore optimization technologies. Not only do optimizatimization technologies increase throughput, they will deliver choice and flexibility in your traffic management. Optimization technologies can also have a significant direct effect on the bottom line.
Choice of telecom partners is fundamental. BorgWarner is global in its scope and needed service providers that could meet the needs of the business at this scale. To that end, instead of working with multiple, potentially lower cost regional carriers, BorgWarner chose a single global partner, AT&T as the primary network provider worldwide. Similarly, on the networking services side, BorgWarner chose a single provider, Orange Business Services.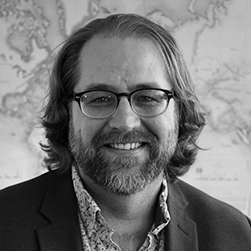 Greg is Senior Manager, Enterprise Research at TeleGeography. He's spent the last decade and a half at TeleGeography developing many of our pricing products and reports about enterprise networks. He is a frequent speaker at conferences about corporate wide area networks and enterprise telecom services. He also hosts the WAN Manager Podcast.