More workplaces worldwide are moving to the cloud. And that means that cloud data centers are making their debut in new regions.
As we've written before, for many companies, public internet connections to cloud services are sufficient. But those looking for better performance may peer with cloud service providers (CSPs) through their network service provider or directly with the CSP.
When it comes to workplaces with business-critical applications in the cloud, cloud services can't be left susceptible to the performance of the public internet. For these enterprises, CSPs and their carrier and colocation partners offer dedicated links to CSP networks.
These links effectively extend an enterprise's network into the cloud provider's network, bypassing the public internet.
A Shortcut to the Cloud
Global Cloud On-Ramp Locations, 2019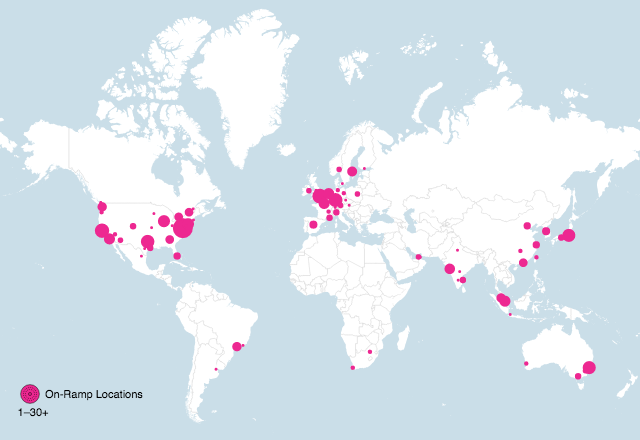 Notes: Data only include IaaS cloud provider on-ramp information from Alibaba, AWS, Google Cloud, IBM, Microsoft Azure, Oracle Cloud, and OVH. Data as of Q1 2019.

While enterprises can set up a link directly with the cloud provider, more frequently a third-party—such as a carrier, colocation provider, or connectivity specialist—is used. Selection of a provider often depends on the location of the enterprise WAN in relation to the cloud providers' zones or data centers.
If a company has routers located within the same colocation facility as the cloud provider, it can often work directly with the cloud service provider to facilitate the direct connection between the networks.
The Asia & Pacific region is home to 118 availability zones (cloud data centers). The United States and Canada are close behind with 94. Together these regions account for 72% of the world's cloud data centers, with Europe housing 25%, and Latin America just 3%.
Asia is a Leader in Cloud Data Centers
Cloud Provider Zones by Region, 2019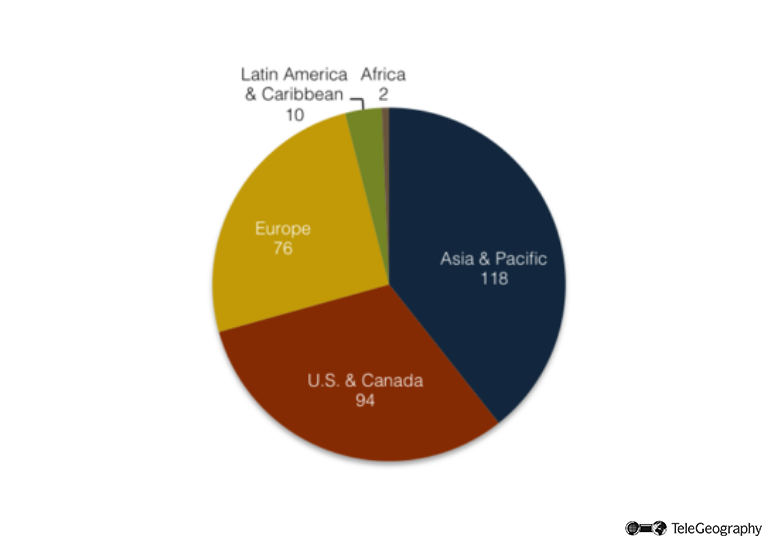 But 2018 saw continued growth, with major cloud providers constructing and bringing online lots of new data centers. Google remained one of the most prolific builders, sharing the spotlight with Alibaba. Both companies added three new regions with Alibaba adding 12 new zones and Google 11.
New planned regions for 2019 are starting to appear outside of major developed regions. Azure just launched–and AWS announced—new data centers in South Africa.
New planned regions for 2019 are starting to appear outside of major developed regions. Azure just launched–and AWS announced—new data centers in South Africa.
Both companies also have planned builds in the Middle East. AWS announced new zones in Bahrain in 2019; Azure similarly announced two planned "regions"—equivalent to AWS' and Google's availability zones—in the U.A.E.
New Cloud Data Centers Abound
Service Availability Zones by Country, 2019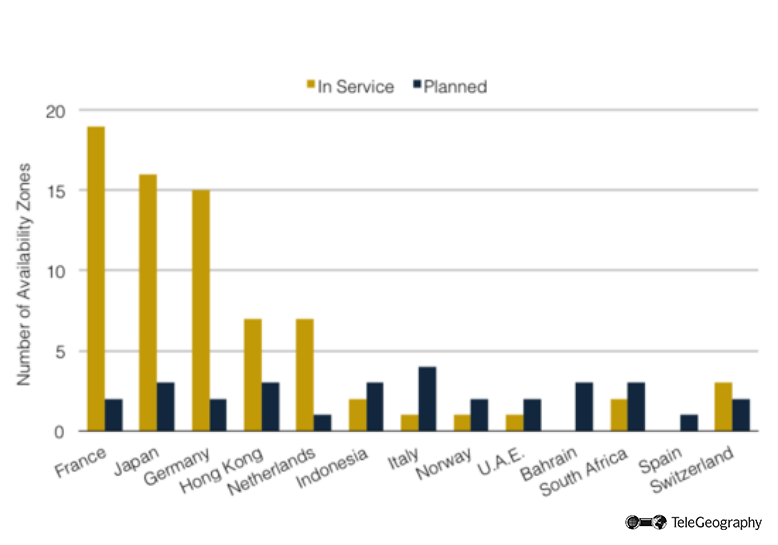 Notes: Data represent only IaaS providers and does not include software as a service SaaS providers. Data only include the data center information from
AWS
, Google Cloud, Microsoft Azure, and
OVH
. Zones are defined as discrete data centers or data center sites. Azure
regions
are equivalent to
AWS
' and Google's
availability zones
in this figure.
Google also announced plans for a new region Indonesia, where Alibaba just opened a new region in 2018.
Europe has most planned growth in 2019, with 17 new zones planned, primarily in Switzerland. Google launched three European zones in early 2019; Azure has two planned.
Asia will add 14, half spread across Hong Kong, Japan, and Indonesia. The other half will be in the Middle East—specifically Bahrain and the U.A.E.
The U.S. will only add two zones in 2019. There are none planned for Latin America.
South Africa and Switzerland have the most planned zones for 2019-2020 with five apiece.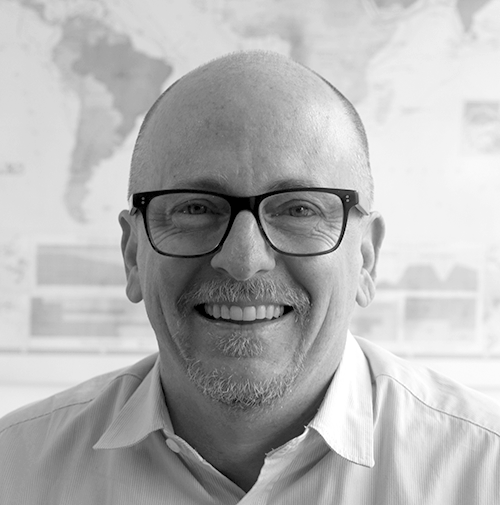 Patrick Christian is a Senior Research Manager with TeleGeography. He heads the Cloud and WAN Research Service. He also focuses on African and European markets specializing in international bandwidth markets and internet infrastructure, WAN services, terrestrial and submarine cable systems, and international voice traffic analysis.