Every network must rely on other networks to reach parts of the internet that it does not itself serve; there is no such thing as a ubiquitous internet backbone provider.
So how do providers stack up against one another in terms of connectivity?
TeleGeography's Global Internet Geography includes such rankings of provider connectivity. This analysis is based on BGP routing tables, which govern how packets are delivered to their destinations across myriad networks as defined by autonomous system numbers (ASNs).
We use many different metrics to understand how providers compare to one another. One of the simplest metrics is the number of other networks connected by a provider. By that measure, Hurricane Electric overtook Level 3 to become the most-connected provider in 2017.
Below are four additional facts about how other providers fare, the many factors that boost a provider's ranking, and enterprise market superlatives.
The Acquisition Factor
Organic growth (or decline) in connectivity actually created more change than corporate mergers did during the 2016/2017 period.
Of the noteworthy mergers, Vocus' acquisition of fellow Australian ISP NextGen in Q3 2016 bumped up Vocus' IP address share modestly. GTT's Q2 2017 purchase of Hibernia Networks also helped bring in an additional 290 connections to GTT.
We look forward to seeing how CenturyLink's purchase of Level 3 affects the rankings in our next update to Global Internet Geography.
Connections to Downstream Broadband ISPs
Beyond examining overall connectivity, Global Internet Geography compares upstream provider connections to downstream broadband ISPs, weighting connections by the number of downstream broadband ISPs' subscribers.
If you're an ISP or content provider looking to reach broadband subscribers in another country, your best options for connectivity may not be the obvious ones.
Most carriers that rank highly in connecting downstream ASNs of all forms also rank highly in connecting downstream broadband ISPs. However, this analysis highlights other connectivity patterns. For example, Tata ranked as the second-largest upstream provider to broadband ISPs, yet it ranked only 11th largest in the world among downstream ASNs of all types.
The Power of the Incumbent Carrier
We've also found that the incumbent carrier has a strong overall reach given its entrenched position as primary ISP, yet holds only a small upstream share of competing broadband ISPs' connectivity.
For example, Swisscom had an overall 53 percent reach to IP addresses in Switzerland, but had only a 0.03 percent upstream share of IP addresses from other Swiss broadband ISPs.
Market Presence
TeleGeography also analyzes which upstream ISPs provide service to Fortune 500 companies, as well as enterprises grouped by industry vertical.
Traditional measures of upstream connectivity often serve as poor predictors of which ISPs have a strong presence in the enterprise market. AT&T lags behind several other internet providers in terms of ISP customers connected, but it harbors a large number of enterprise customers. Conversely, Hurricane Electric and Telia Carrier had proportionately fewer enterprise customers than AT&T, but played a strong role of backbone provider to other ISPs.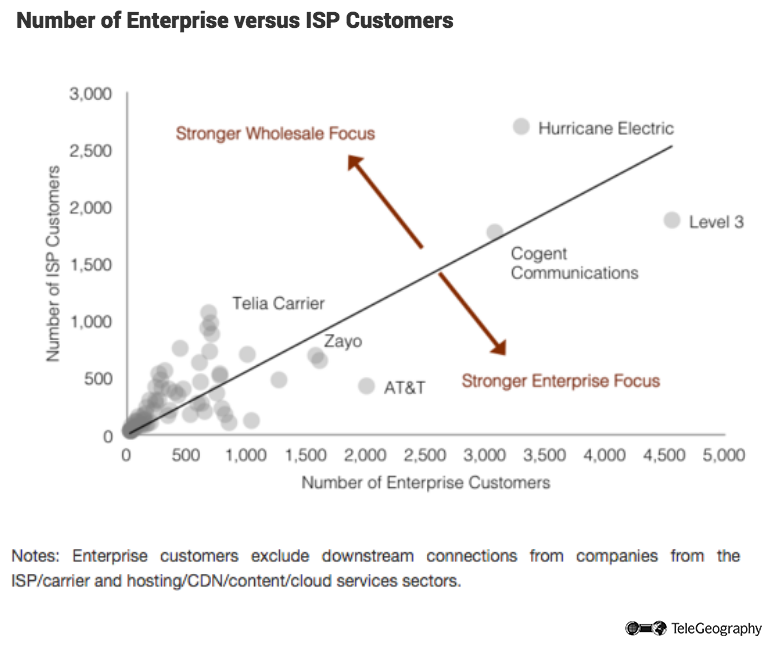 In past years, Level 3 straddled the line between "Stronger Enterprise Focus" and "Stronger Wholesale Focus," but its 2014 acquisition of TW Telecom and its many enterprise customers has pushed Level 3 firmly into the enterprise side of the chart. The new CenturyLink/Level 3 likely will have a strong standing with both types of customers.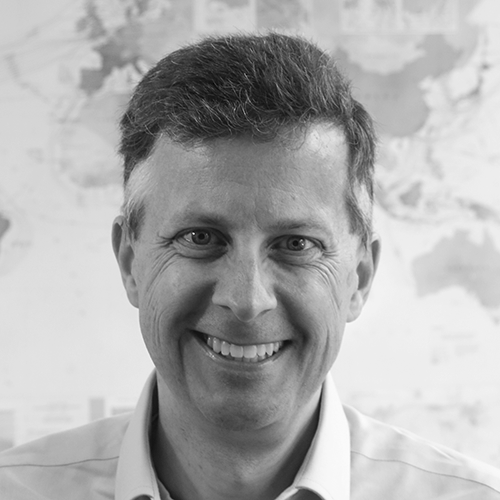 Tim Stronge is VP of Research at TeleGeography. His responsibilities span across many of our research practices including network infrastructure, bandwidth demand modeling, cross-border traffic flows, and telecom services pricing.