Sensata Technologies is one of those ultra successful, market leading companies you seldom hear much about. With annual revenues topping $3 billion, Sensata manufactures sensor products which go into cars, aircraft, air-conditioning systems, mobile phones and more. Sensata began updating its wide area network across its 50 plus sites around the world about 18 months ago, in order to maximize the gains from the introduction of technologies like unified communications services. Mark DeLorenzo, Sensata's senior director of technology services, was on hand at the WAN Summit New York earlier this year to explain the company's approach.
An MPLS Backbone
Sensata manufactures over 17,000 different products and ships 1.3 billion units a year. Most of the company's revenues come from the automotive sector–products including emission control sensors, tire pressure monitors, and diesel generation systems. According to DeLorenzo, its presence in the US is relatively small, with only about 40% of revenues coming from the US. While headquartered in the Netherlands, Sensata's manufacturing takes place in Bulgaria, Mexico, China, Malaysia, and Japan. It's an Oracle shop, running a single global ERP system.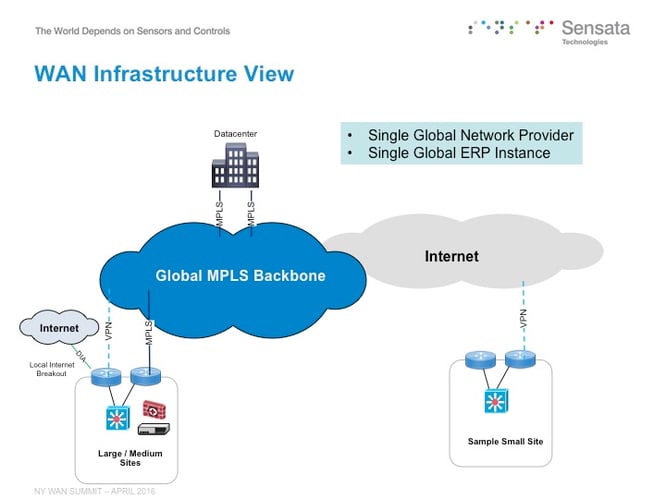 DeLorenzo explained that Sensata had a global MPLS based network infrastructure running across about 70 locations. Its large and medium sites were connected with its MPLS backbone, while its smaller sites were connected via a VPN to the public internet. "We could see the challenges with this environment. We can see the volume of data growing significantly and with our M&A activity [Sensata has been typically acquiring one or two companies a year], we could see the network growing. We needed to drive cloud services, as well as document sharing and collaboration," he said.
Planning for Growth
So Sensata's technology services team saw that a software defined hybrid network model would position the network more effectively for growth. They saw it would also give them the opportunity to implement an asset light model and host unified communications services—including Cisco telepresence, WebEx, enterprise voice and video—with consistent policy management in a much more cost efficient way.
The team, working with Sensata's network provider NTT and integrator Virtela, took the first step of identifying and analyzing the key areas of benefit and selling these benefits to the rest of business. Their analysis revealed that Sensata could reduce travel costs if they leveraged desktop video and enforced room-based video around the world. Furthermore, they found that they could drive efficiencies in their real estate decision making with a hot desk policy. They would also be able to remove end of life hardware and software, decommission their legacy voice platform and reduce mobile voice and conferencing costs. They could improve functionality and productivity with the use of softphones. "As we acquire companies, we'll get quicker and lower cost integration, as well as higher service levels and performance," explained DeLorenzo.
Early Signs of Success
This evaluation of the benefits was undoubtedly helpful in getting key stakeholders engaged in the WAN upgrade. In the end, there was a "lot of time spent up front on commonality of standards, a lot of work with stakeholders..." The upgrade to a hybrid environment is still ongoing but the implementation, thus far, is already bearing fruit.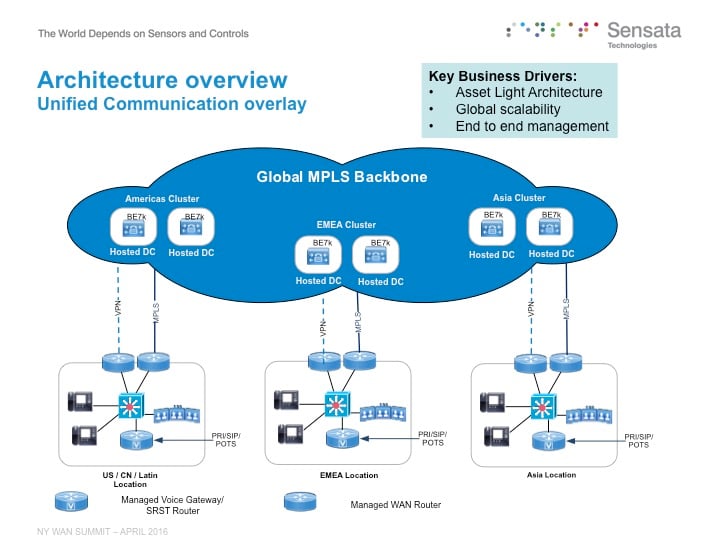 DeLorenzo says the company has already tripled the size of its network. Telepresence, which was previously deployed on MPLS in 30 locations around the world, is now managed across the network, with company headquarters and manufacturing sites leveraged through MPLS and other sites through the internet. There's a hybrid approach for voice as well. The company operates four classes of service to differentiate traffic across the network:
COS1 is typically for voice and ERP traffic
COS2 is for video traffic
COS3 is for most other traffic
COS4 is for differentiated other traffic
Cost efficiencies are already apparent, and there is good performance across the WAN. Global travellers are getting a consistent user experience wherever they are in the world, provisioning times are getting quicker and costs are getting lower.
Two Takeaways
What are the useful takeaways here? The benefits that Sensata has derived so far from its SD-WAN are very much what we have come to hope for and expect. But I think the company's approach to its implementation is worth noting:
There was a clear vision of the business and IT benefits of an SD-WAN, and a similarly clear vision of how they would be achieved, all backed up with comprehensive and convincing analysis.
Likewise, Sensata's trust in its networking partners, NTT and Virtela, has been constant: NTT and Virtela's global capabilities have helped to drive consistency and the company continues to rely heavily on them as the SD WAN roll-out completes.
I think this is a great example of the immense value of clear communication and thorough preparation needed for a change, as both have been fundamental in setting up the project for success.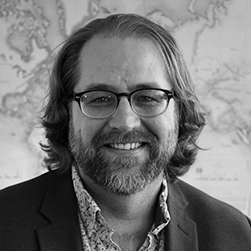 Greg is Senior Manager, Enterprise Research at TeleGeography. He's spent the last decade and a half at TeleGeography developing many of our pricing products and reports about enterprise networks. He is a frequent speaker at conferences about corporate wide area networks and enterprise telecom services. He also hosts the WAN Manager Podcast.