At the end of 2016 there were 923 million fixed broadband subscribers globally.
While facing competition from high speed mobile data services, growth rates have fallen from almost 40 percent in 2005 to 8 percent in 2016. However, there's room for expansion in the fixed sector.
North America Tops Rankings
Regionally, U.S. and Canada ranked highest with a household penetration of 89 percent, followed by western Europe at 82 percent. Eastern Europe (50%) also remains ahead of the worldwide average.
Despite the Asia Pacific region having a lower penetration rate than Latin America in 2008, the former's growth since that time means it's now ahead (44% vs. 41%).
Wired broadband remains scarce in Africa where cellular technologies are preferred. At the end of 2016 there were 14 million fixed broadband subscribers in Africa, creating a penetration rate of just 6 percent.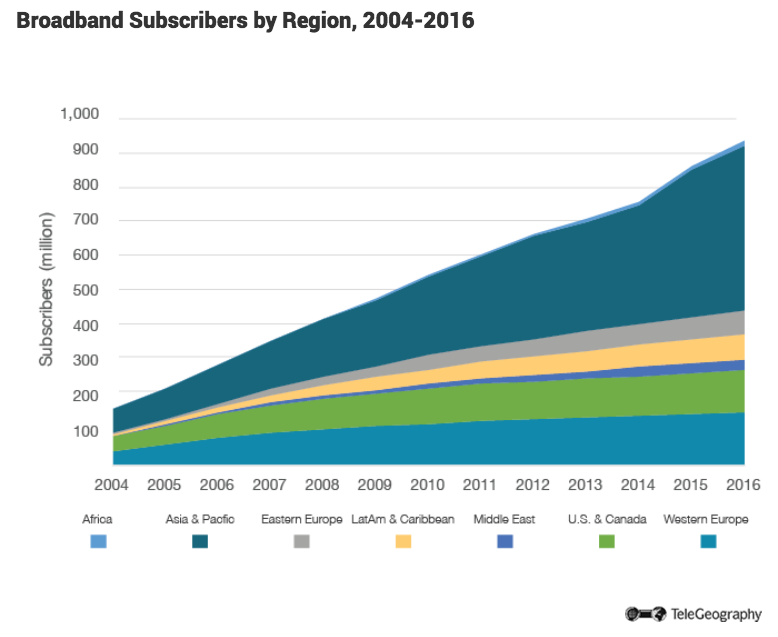 Chinese Growth
According to figures from TeleGeography's GlobalComms Forecast Service, China is by far the largest single market. Having surpassed the U.S. in Q1 2008, China's broadband subscriber base was almost triple that of the U.S. at the end of 2016.
Elsewhere, markets in western Europe, Japan, and South Korea are leading the charge toward ubiquitous broadband. However, in 2016 strong growth was also seen in emerging markets like Vietnam (19% growth year-on-year), Thailand (also 19%), and Egypt (17%).
Markets in western Europe, Japan, and South Korea are leading the charge toward ubiquitous broadband.
Fiber Takes Over From DSL
It is increasingly a fiber/LAN world, with the technology claiming 45 percent of global broadband subscribers, up from 37 percent in 2015, 26 percent in 2014, 22 percent in 2013, 18 percent in 2012, 14 percent in 2011, and 13 percent in 2010. DSL's share is steadily decreasing, accounting for 30 percent at the end of 2016.
Cable modem service is the market leader in North America, with partial success in some other countries (Brazil, Mexico, and certain eastern European markets) as cablecos aggressively grow their broadband businesses wherever they're allowed to do so.
In the fixed-wireless space, WiMAX's impact is small and getting smaller, although this is being offset by growth from fixed-wireless TD-LTE. Fixed-wireless subscribers amount to only 5 percent of all fixed broadband subscribers.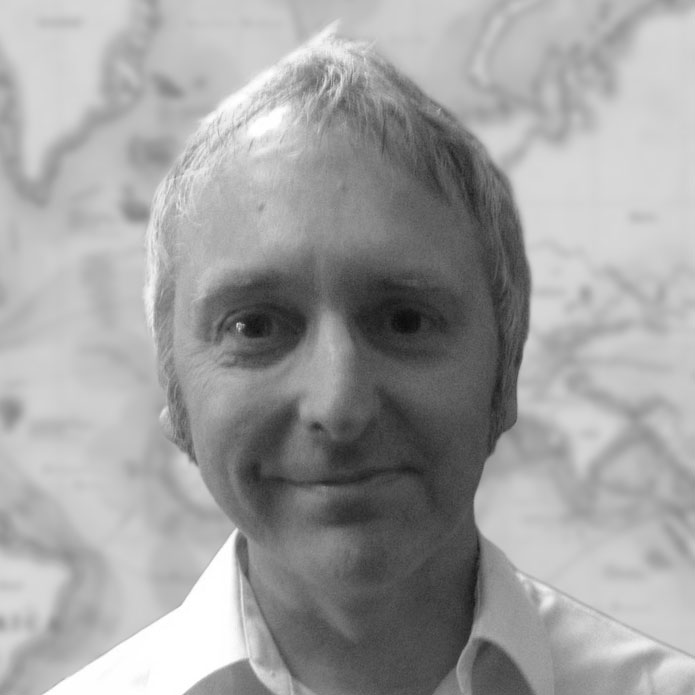 Pete Bell is a Research Analyst for TeleGeography's GlobalComms Database and also contributes to the daily CommsUpdate newsletter. He has a particular interest in wireless broadband and was responsible for TeleGeography's 4G Research Service until it was integrated into GlobalComms.