Software defined wide area networking (SD-WAN) can be a game changer for global enterprises that have increasing bandwidth requirements with limited budgets. Or for those that frequently open new locations and need a scaleable solution that applies consistent policies across their ever-expanding network.
This was a key message in a presentation made by Sen Chokkan, senior manager of network engineering for VWR, at WAN Summit New York. With SD-WAN, new sites can be added to the network in a fraction of the time required by MPLS connectivity. SD-WAN can also help growing companies meet escalating bandwidth demands without increasing the WAN budget.
VWR has nearly 180 locations worldwide and acquires 10 to 15 companies per year, giving Chokkan substantial insight into the challenges of migrating from MPLS to SD-WAN across a growing network footprint. He shared some of this know-how, including the importance of identifying your application profile, effective communication between internal non-technical stakeholders, determining how to route between SD-WAN and non-SD-WAN sites, and much more.
Shifting some traffic to SD-WAN from MPLS has also helped VWR connectivity costs drop from more than $4.3 million in 2013 to just under $1.7 million in 2016.
One idea that IT executives may want to borrow is the novel system that Chokkan and his team devised to categorize locations as platinum, gold, or silver, based on their application and connectivity requirements. The VWR team in turn created an SD-WAN implementation blueprint for each category, routing traffic and applications over the appropriate service.
SD-WAN Drivers and Benefits
"After we announce an acquisition, my job is to bring them on," Chokkan told WAN Summit attendees.
Greater use of SD-WAN and internet based transport technologies have helped Chokkan meet management expectations about how quickly new sites can be turned. Turning on MPLS can take up to six months, Chokkan said, but other technologies such as DIA can be turned up much more quickly.
"Critical business requirements should dictate technology."
Utilizing SD-WAN to shift some traffic from MPLS to the internet has also helped VWR connectivity costs drop from more than $4.3 million in 2013 to just under $1.7 million in 2016, even though bandwidth use has been increasing 10 percent a month. Some locations now have 100 times the bandwidth they had previously, but budgets are being maintained.
Chokkan noted, however, that VWR continues to use MPLS and other types of connectivity depending on the specific needs at an individual location. Other connectivity options used include Ethernet service, managed internet, and direct internet access.
"Critical business requirements should dictate technology," said Chokkan.
By enabling VWR to afford higher-bandwidth connections, the shift toward SD-WAN also has helped eliminate a headache that Chokkan previously faced regularly. Non-technical employees with less understanding of the reasons MPLS was more expensive than home internet often argued that their productivity at the office was hampered.
"I have 100 megabits at home but you are restricting me to five megabits," they would complain.
The shift toward SD-WAN also has helped VWR save costs by enabling new network architectures. Previously, traffic destined for the cloud from some locations would have been routed over MPLS to a data center and patched out. Now it goes directly to the cloud. Considering that 60 percent of VWR's traffic now goes to the cloud, it's easy to see how this switch generates significant savings while providing faster access to data center applications.
Today's architecture calls for a typical location to use SD-WAN to route internet and cloud traffic over an internet connection, while using MPLS for connectivity to the corporate data center.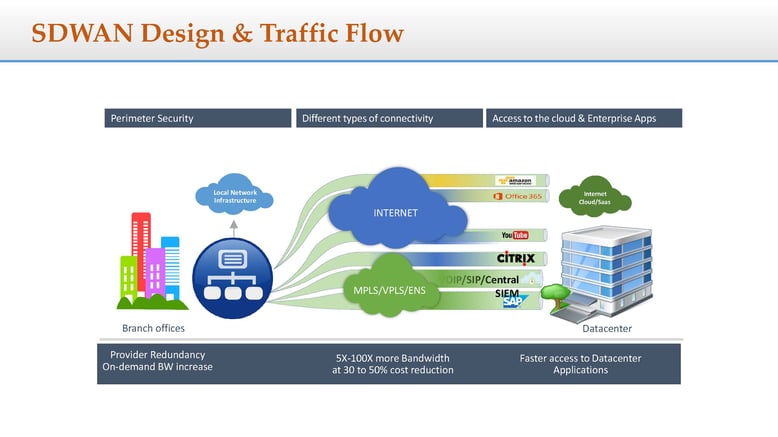 Other benefits of SD-WAN that Chokkan cited included easier network segmentation and the ability to keep active customer calls during WAN circuit failures—an important capability, considering that VWR has about 2,000 call center agents on the phone at any time.
Lessons Learned
Chokkan learned several important lessons about migrating from MPLS to SD-WAN, which he shared with attendees:
Understand what applications are used. When bringing on new locations, VWR talks with company stakeholders to determine their needs. Based on their input, Chokkan and his team categorize the new location as platinum, gold, or silver. That categorization then drives connectivity choices.
A platinum location is one requiring "five nines" connectivity, indicating that connectivity is available 99.999 percent of the time. Some of these locations might not use SD-WAN, or if they do, they get two SD-WAN devices and at least two service providers, while a silver location might only have a single device. Classification also determines the service level agreement for an individual location.
Focus on people. This recommendation comes into play in two areas that Chokkan referenced. One involves effectively presenting the benefits of the network shift to internal stakeholders. As Chokkan put it, "I don't think technical managers do a good job in communicating what this means to the business, to the senior leadership." Avoid confusing non-technical people by avoiding buzzwords and acronyms such as "virtualization" or "SD-WAN;" instead focus on how the migration will benefit the business, Chokkan advised.
Another area where a focus on people can be important is in selecting people within the IT organization to work on SD-WAN. Chokkan suggests looking for people who are enthusiastic about the technology and coaching them as needed.
Other Takeaways:
Train your support team and employees at network operation centers about SD-WAN
Make sure appropriate security requirements are met
Ensure proper network segmentation through consultation with individual sites
Understand the needs of individual sites to determine the appropriate network architecture (full mesh or hub and spoke)
Look for providers who can offer better SLAs and support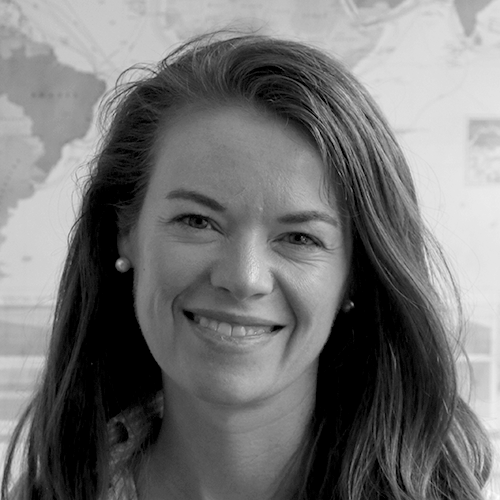 Senior Research Manager Brianna Boudreau joined TeleGeography in 2008. She specializes in pricing and market analysis for wholesale and enterprise network services with a regional focus on Asia and Oceania. While at TeleGeography, Brianna has helped develop and launch several new lines of research, including our Cloud and WAN Infrastructure service and the SD-WAN Research Service.