If you're not familiar with TeleGeography's Cloud Infrastructure Map—a free tool that tracks cloud data centers and on-ramps both built and planned—now is a great time to get acquainted.
Why, you ask? When our team updated the Cloud and WAN Research Service for 2023, the Cloud Infrastructure Map also got a refresh.
Keep reading to get the lowdown on our latest version and why you ought to be using it.
Cloud Region Launch Timeline
2019–2024

Source: © 2023 TeleGeography

After a three-year dip, the pace of cloud region expansion seems to be picking back up, with more than 37 planned regions for 2023. If you add in regions planned for 2024 and beyond, there are currently plans to launch close to 50 new cloud regions.
There are currently plans to launch close to 50 new cloud regions.
Azure leads the pack, contributing 20 new cloud regions. Google, AWS, and Oracle are also on the bandwagon, announcing plans for 10, eight, and seven additional new regions, respectively. Rounding out the pack, Huawei has plans for two new regions.
This brings the current landscape—as of June 2023—up to:
285 cloud regions
696 cloud on-ramps
122 local zones and low latency locations
There's a lot to keep track of—which is where the map comes in.
About the Cloud Infrastructure Map
This resource shows where cloud interconnection services are present, now offering a top-level view of cloud regions, local zones, and on-ramps across eight major cloud service providers. Users can filter results by cloud provider or individual cloud service.
Visit cloudinfrastructuremap.com to explore cloud regions, locate cloud on-ramps, and uncover local zones.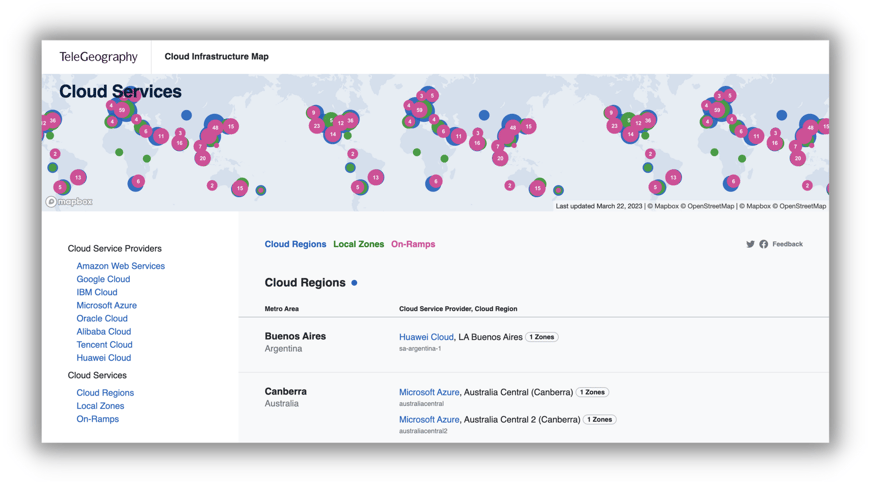 And that's just the free version. Cloud and WAN Research Service subscribers also have access to:
Data center operators' cloud exchanges and on-ramps
Global internet exchange point cloud exchanges and on-ramps
Network service providers' WAN services and dedicated cloud connections locations
Download the executive summary of this unique research tool over here.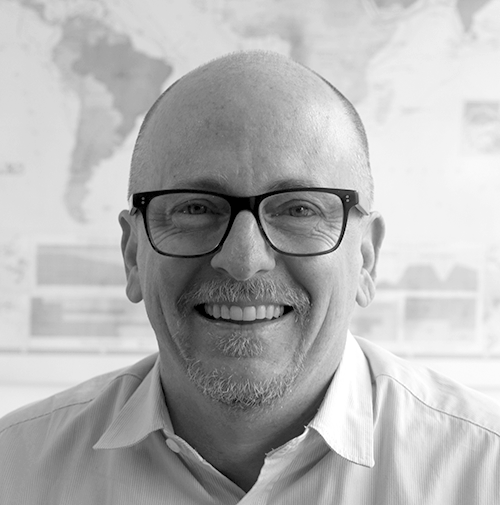 Patrick Christian is a Senior Research Manager with TeleGeography. He heads the Cloud and WAN Research Service. He also focuses on African and European markets specializing in international bandwidth markets and internet infrastructure, WAN services, terrestrial and submarine cable systems, and international voice traffic analysis.