Have you gotten your 2018 submarine cable map yet? If so, you might have noticed that we're tracking a whopping 366 submarine cable systems this time around.
There's been lots of conversation about the recent boom in submarine cable construction. This flurry of activity becomes clearer when our annual map is viewed over time.
Today we're putting five years' worth of maps back-to-back to visualize an evolving undersea network. (And to reminisce about some of our favorite designs, if I'm being honest.) Give each map a click for a larger interactive view.
2013 | An Antique Exploration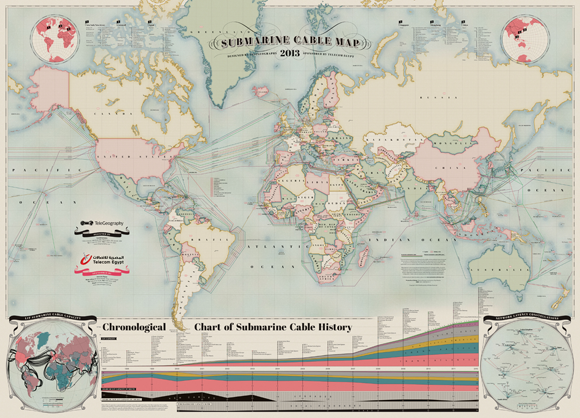 Five years ago our map detailed 232 lit cables and 12 that were anticipated to come online before 2014. The final design charted submarine cable history, chronicling network latency and submarine cable capacity.
2014 | Protectors of the Internet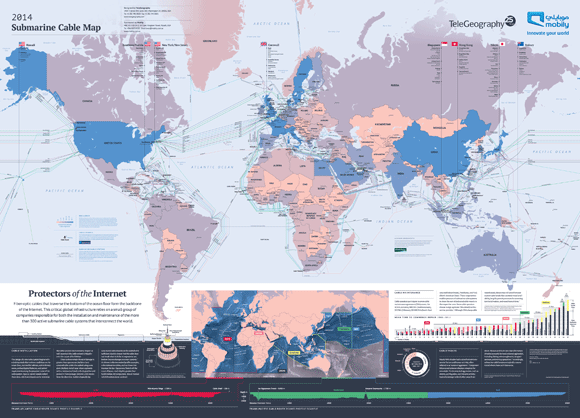 In 2014 we depicted 285 cable systems that were currently active or due to enter service by 2015, as well as the location of 44 cable laying vessels. The "Protectors of the Internet" theme incorporated coverage of the companies that actually lay and maintain cables, with detailed information on cable faults and repairs, including the number of breaks and mean time to commence repair by country.
2015 | Sub Cables and Sea Monsters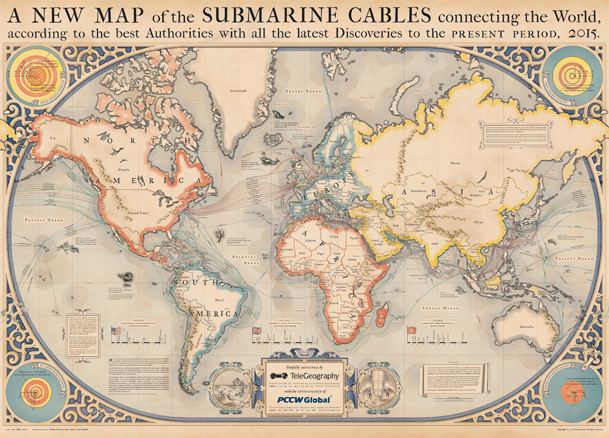 The next year we encountered a few sea monsters alongside our annual lineup of submarine cables. We charted 299 cables that were active, under construction, or would be funded by the end of 2015. (Vox even made a great undersea cable explainer using this map!)
2016 | 321 Cable Systems Strong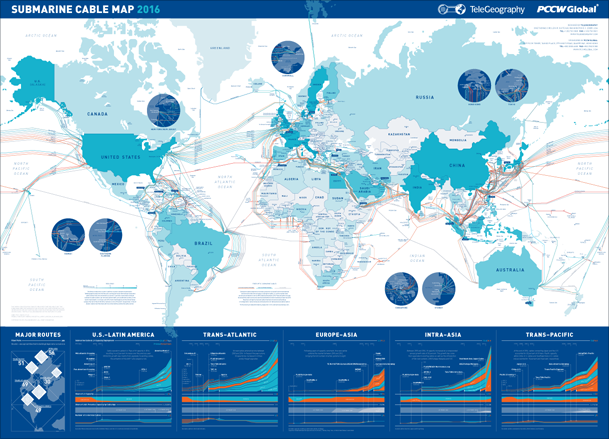 I guess you could call 2016 our Blue Period. We like to think of it as the year our map documented 321 cable systems. This edition also included inset maps and infographics that are as data-rich as they are beautiful. (And hey! You can still buy a copy of this bad boy here.)
2017 | The Adventurer's Map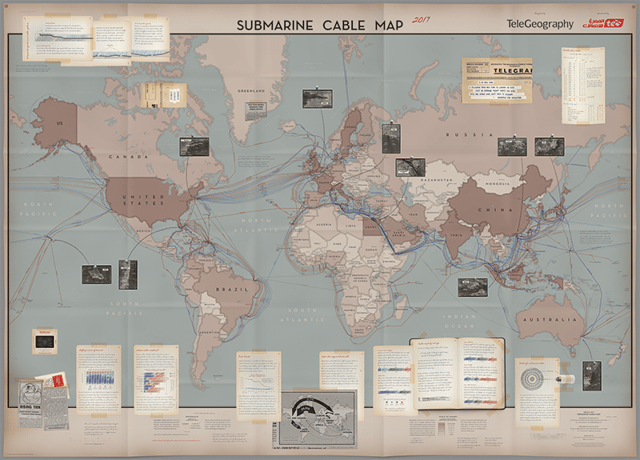 We wouldn't blame you if you wanted to play the Indiana Jones theme in the background while you gaze at our 2017 map. This edition borrowed design ideas from your favorite fictional archaeologist, including submarine cable facts as a collection of artifacts, journal entries, and hand-drawn sketches befitting of Indiana Jones.
This adventurer edition is also available for purchase here.
2018 | Detailing 366 Systems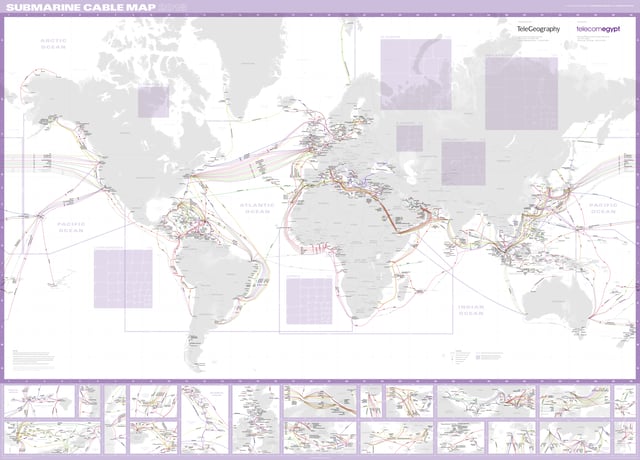 Our latest and greatest submarine cable map tracks 366 submarine cable systems and 1,006 landing stations that are currently active, under construction, or expected to be fully-funded by the end of 2020.
This purple projection has more detail than any map we've ever constructed before, charting fiber pairs, resiliency, and much more. Get 'em while they're hot.