Fixed-line telephone markets in many European countries were originally served by a single national operator—but not the U.K. Most of the United Kingdom became a monopoly for BT, whose origins go back to 1846 and the world's first commercial communications operator: the Electric Telegraph Company.
The telegraph system was nationalized in 1870 and its responsibilities were taken over by the General Post Office (GPO) until the formation of British Telecommunications—now BT—in 1981.
While a number of local authorities created their own municipal telephone companies, all except one were subsequently absorbed into the GPO.
Local Monopoly
The city of Hull, on the east coast of England, decided to go its own way. In 1904 the local authority, Hull Corporation, formed the Hull Telephone Department. In 1911 it bought the exclusive telephony rights for the Borough of Hull from the GPO.
The company held a monopoly over the bulk of fixed-line services in the city until 1983 and over local telephony until 1998. The firm was renamed Kingston Communications in 1987; 20 years later it became KCOM.
One instantly recognizable difference between Hull and the rest of the country was the public telephone boxes. While the GPO and BT installed the well-known red boxes, those in Hull were white.
One instantly recognizable difference between Hull and the rest of the country was the public telephone boxes. While the GPO and BT installed the well-known red boxes, those in Hull were white.
National Infrastructure
Until early 1999, KCOM held a PTO license covering only a 120 square mile area around its hometown, but in March of that year, a new concession was issued allowing it to expand operations across the UK.
As a result, KCOM started to offer national enterprise services. This was in addition to consumer services in Hull and East Yorkshire.
It sold off its network infrastructure outside of Hull in 2015 to pure-fiber provider CityFibre for a total consideration of £90 million. This deal included approximately 1,100km of metro network assets in 24 towns and cities, as well as a 1,100km long-distance network connecting 22 towns and cities, linking to data centers and wholesale internet peering points in London.
Under the terms of the deal, CityFibre agreed to provide KCOM with access to the acquired infrastructure for up to 15 years, subject to a minimum term of five years and a minimum revenue of £5 million per annum for those five years.
Falling Revenues
KCOM Financial Results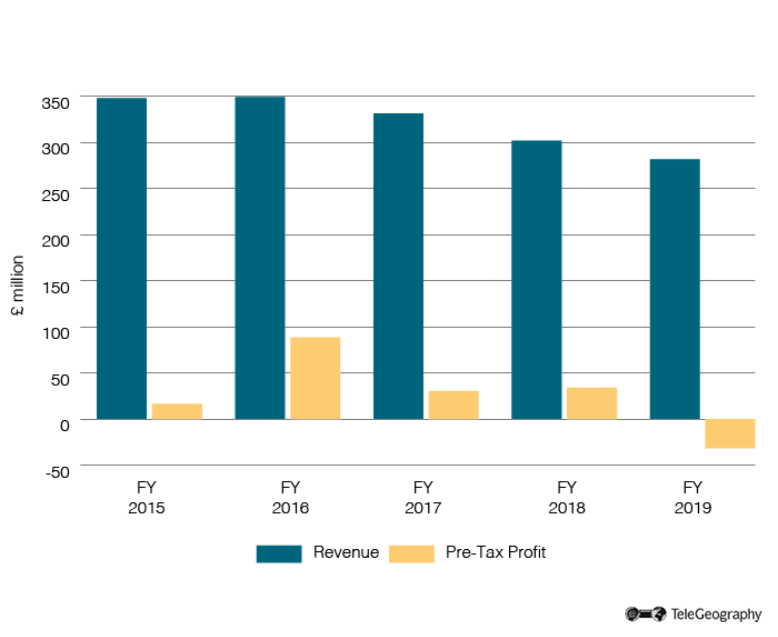 Network Upgrade
Notably, KCOM's network assets in Hull and East Yorkshire were not included.
In July 2011 KCOM outlined plans to upgrade its copper network in and around Hull with fiber-optics, saying it would roll out fiber-to-the-premises (FTTP) technology to increase the maximum available downlink speeds to up to 50Mbps.
Services were launched under the name Lightstream to roughly 15,000 premises at the start of 2012, with plans to make fiber-based services available to an additional 30,000 households before March 2015 and to pass 150,000 premises by end-2017.
In October 2019 KCOM announced the completion of its FTTP rollout, making Hull "the first full fiber city in the UK" with around 200,000 homes and businesses in the region accessing gigabit speeds. It added that the total cost of the project was £85 million.
Fiber Uptake
In November 2017 KCOM announced a subscriber milestone, confirming the connection of its 50,000th residential customer to a Lightstream service, while also revealing that it was providing fiber connectivity to 5,000 local businesses.
Subscriber Growth
KCOM Operating Statistics

| | | |
| --- | --- | --- |
| | FY 2018 | FY 2019 |
| Consumer Fixed Voice | 138,700 | 139,900 |
| Consumer Broadband (Copper+Fiber) | 118,300 | 121,000 |
| Consumer Fiber | 63,500 | 85,500 |
| Business Fiber Sites | 4,900 | 5,900 |
| Fiber Premises Past | 164,000 | 195,000 |
Subsequently, in January 2018, KCOM said it expected to have more broadband customers served by fiber than a copper-based service by the end of February 2018.
In line with this, for end-March 2018, the telco reported a total of 118,300 consumer broadband customers—of which 63,500 were on the FTTP network. A year later it confirmed that it had a total of 121,000 consumer broadband customers on its books, with 85,500 of those connected via fiber.
At the same time, the telco reported having 5,900 "business fiber broadband sites," up from 4,900 a year earlier. A milestone was subsequently announced in September 2019, with KCOM saying that the number of customers served over its FTTP infrastructure had surpassed 100,000.
For the financial year ending in March 2019, KCOM recorded a total turnover of £281.6 million, representing an annualized drop of 6.7% from the £301.9 million it reported a year earlier. EBITDA in the 12-month period totaled £5.1 million, down from £68.3 million in FY 2018.
KCOM is owned by Macquarie Infrastructure and Real Assets via Macquarie European Infrastructure Fund 6.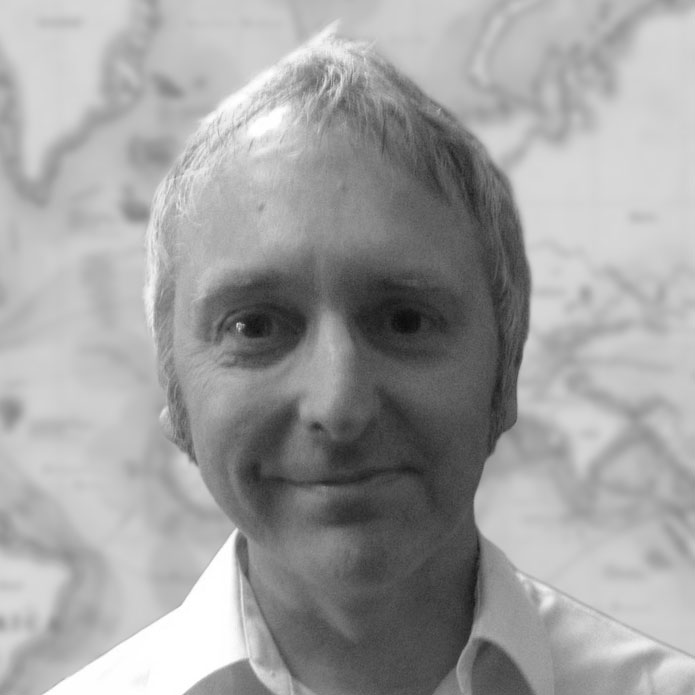 Pete Bell is a Research Analyst for TeleGeography's GlobalComms Database and also contributes to the daily CommsUpdate newsletter. He has a particular interest in wireless broadband and was responsible for TeleGeography's 4G Research Service until it was integrated into GlobalComms.