Digital transformation – which Interoute CTO Matthew Finnie defines as "using technology to get closer to the market and supply chain" – is becoming an important initiative for enterprises.
As Finnie explained during his presentation at Telegeography's WAN Summit London this fall, two key enablers of digital transformation are the cloud and the software defined wide area network (SD-WAN). As both a global data center operator and global communications service provider, Interoute has been advising enterprise customers about using those technologies to support their digital transformation initiatives.
Finnie shared some of those experiences during his presentation "How SD-WAN is Changing the Design and Technology of the WAN."
Ultimately, Interoute sees its network and data center assets melding to become what he called a "digital platform" that will help make enterprise customers more agile.
Digitization Drivers
Rather than focusing on the WAN in isolation, Finnie advises enterprises to think about what they're trying to do and about the limits of their current solution. "All anyone is trying to do is to be as efficient as you can within a marketplace and minimize risk," he said.
The cloud has had strong appeal among enterprises because of its promise of efficiency. For example, Finnie noted that most enterprises find paying for data center real estate an inefficient use of capital.
"The cloud is fast, efficient, and iterative," he said, citing the example of one Interoute enterprise customer that is outsourcing everything except the customer experience and supply chain.
The cloud is fast, efficient, and iterative.
Enterprises are also increasingly looking to digital platforms developed in-house to give them a marketing or other business edge – and the cloud can expedite that process by enabling a smoother transition from development to implementation, Finnie said.
Enterprises are finding that they can't use a public cloud solution for everything they would like to outsource, however. Finnie used the example of a pension platform developed in 1976 as such a case.
"Not all platforms are ready to be simply recoded and whacked out to the public cloud," he said. Instead, such platforms are likely to be rolled into a colocation facility, which means that many enterprises end up with both private and public cloud solutions – also known as a hybrid solution.
The Digital Platform
Changes such as these are driving some enterprises to begin talking about a digital platform, which Finnie defines as "interconnected IT assets available in a flexible manner."
Interoute began moving in this direction when MPLS customers began considering or adopting Interoute's virtual private cloud offering, but were concerned that to use the private cloud service in an elastic way, they had to "pop out to the internet and pop back in," which, according to Finnie, made no sense.
The solution involved providing customers with an x86 device with network functions virtualization (NFV) at the customer premises. That device supports split routing, enabling customers to divide traffic between an internet and MPLS connection by putting applications on dynamic path control. He noted that an important capability of MPLS is to provide label separation at scale, which can be important for some applications.
With split path routing and dynamic path control, "fundamentally what you're doing is grouping assets together under a common domain" – an approach that is "hugely scalable and efficient," he noted.
"Part of the value is you can combine together any old asset" and "use SDN at the edge as a form of access," Finnie said.
Fundamentally what you're doing is grouping assets together under a common domain – an approach that is "hugely scalable and efficient."
Interoute's solution included building an API across its backbone to "allow our compute to grab VRFs [virtual routing functions] directly off the backbone," Finnie explained.
This approach "made the network a backplane for our customers' services."
Interoute's approach essentially glued network and data center assets together, Finnie said – and as a result, IT developers at enterprise accounts often have a "light bulb moment" when they realize that they can spin up computing resources in 30 seconds and the connection doesn't go down.
However, what enterprises like the most is that "they can make mistakes and no one gets killed – they can blip in and blip out," Finnie added.
He also noted that, ultimately, Interoute envisions "complete abstraction of the network," at which point the company will truly have a digital platform.
Lessons Learned
Digital transformation relies heavily on the cloud and SD-WAN. The cloud is becoming an imperative for a wide range of enterprises, as it provides substantial benefits in agility and efficiency. Using SD-WAN can enhance those benefits by unifying the network and the cloud.
Enterprises should be prepared for the likelihood that they will have to use a hybrid cloud approach. The hybrid cloud will be common because it may be impractical – or even impossible – to shift certain platforms to the public cloud. Perhaps surprisingly, the private cloud may find itself the recipient of low-priority, rarely accessed platforms that may have been developed relatively long ago.
Think of SD-WAN as uniting separate WAN connections into a common domain. SD-WAN can tap the ability of MPLS to provide label separation at scale, while enabling customers to shift non-mission-critical traffic to the internet. When split path routing and dynamic path control are used, internet and other connectivity options are essentially grouped into a common domain.
Enterprises are encouraged to follow developments involving the "digital platform." Those developments will further unite IT and network resources, eventually involving complete abstraction of the network.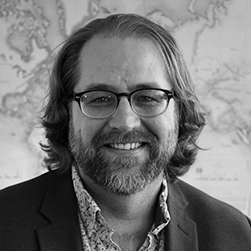 Greg is Senior Manager, Enterprise Research at TeleGeography. He's spent the last decade and a half at TeleGeography developing many of our pricing products and reports about enterprise networks. He is a frequent speaker at conferences about corporate wide area networks and enterprise telecom services. He also hosts the WAN Manager Podcast.