Last month, the TeleGeography team joined scores of ICT infrastructure professionals in National Harbor, Maryland for International Telecommunications Week.
One of the many topics discussed was price erosion in Latin America. The main trend likely comes as no surprise: prices keep falling. But there is nuance to how price erosion is occurring in different markets.
Let's explore the context in more detail.
The Battle of Competitive Wavelength Pricing
Connectivity to Latin America has historically been much more expensive than in more established regions, such as the trans-Atlantic. And while capacity services in Latin America still tend to come at a premium, that difference has shrunk.
According to our Wavelengths Network Pricing Database, in Q1 2023, the weighted median 100 Gbps price on Miami-Sao Paulo ($18,000) was just three times more expensive than London-New York. That's down from 6.6 times more expensive in 2018.
In the figure below, you can see how prices for 100 Gbps wavelengths on several other prominent routes in Latin America have fallen in recent years. Since 2020, the average price for 100 Gbps on these key routes has fallen 30%, compounded annually.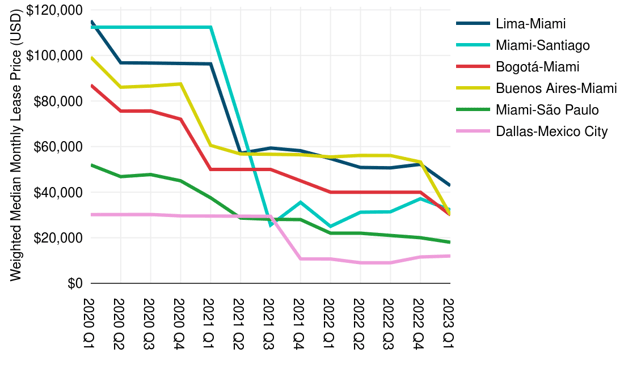 Source: © 2023 TeleGeography
There are several factors contributing to the rapid pace of erosion.
One factor mentioned at ITW was market disruption. Some specific examples that we heard cited include the creation of Cirion Technologies from Lumen's former Latin America assets, the creation of V.Tal in the wake of Oi's bankruptcy process, and general private equity investment in the region. This increased competition might help explain pricing trends in affected markets.
Pennies on the Dollar for IP Transit
Another wholesale product with prices plummeting in Latin America is IP transit. And in some markets, the decline has been sharp.
Using data from our IP Transit Network Pricing Database, the figure below shows just how quickly IP transit prices have fallen in key Latin American cities.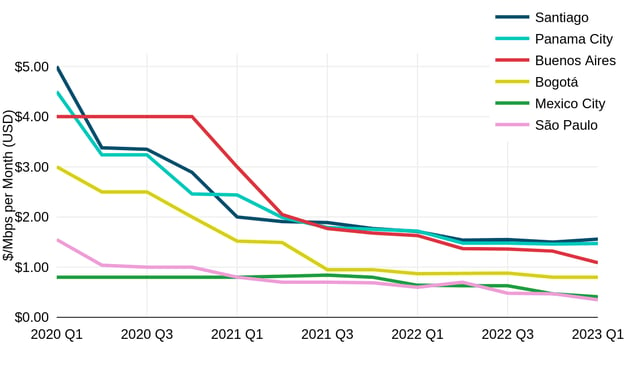 Source: © 2023 TeleGeography
While IP transit price erosion is certainly noteworthy across multiple markets, prices in Brazil were a hot topic at ITW. That's because the Q1 2023 weighted median price for a 10 GigE port in São Paulo was $0.35—a drop of 39%, compounded annually, since 2020.
In the submarine cable-friendly Rio de Janeiro and Fortaleza, pricing is reported even lower, with weighted median costs of $0.31 and $0.27, respectively.
Although the Brazilian market has historically had substantially more competitive IP transit pricing than other Latin American markets, over the past year, erosion has brought its IP transit pricing in line with major hubs in the United States. ITW attendees we spoke with attribute this to cable launches, more competition in the marketplace, and the rise of caches in Brazil.
The Search for the Next Hot Market
In past months, Colombia caught our eye as an increasingly appealing place to invest in telecommunications infrastructure. That's still the case, but network operators have turned their heads to other markets as well.
One such place is Peru, where the recently launched South Pacific Cable System/Mistral further connects an area gaining attention from carriers and investors alike. With systems like South America-1 and South American Crossing approaching retirement, the potential for an infusion of additional bandwidth looms on the horizon. This could lead prices in Peru—typically a bit higher than in neighboring countries like Colombia and Chile—to fall at an accelerated pace.
Further north, we continue to hear about Querétaro, Mexico as a booming market for investment—both for data centers and the fiber needed to connect them. In fact, data center growth has increased so much that there are concerns over whether the energy supply is sufficient to sustain further expansion.
Throughout Latin America, the situation remains similar: dynamic markets with prices that keep falling.
Throughout Latin America, the situation remains similar: dynamic markets with prices that keep falling. ITW 2023 was a helpful chance to check in with contacts throughout the region and assess where the rest of 2023 might be headed for a growing region.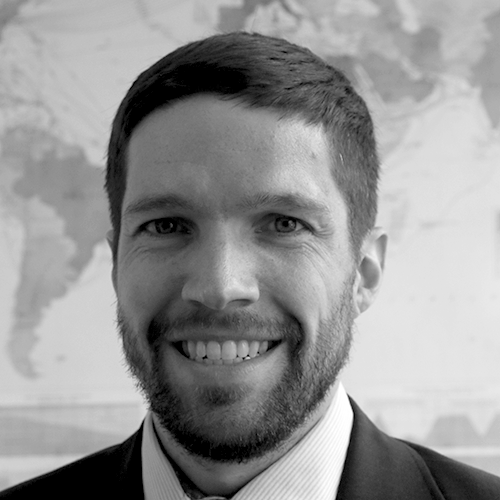 Peter Wood is a Senior Research Analyst at TeleGeography. His work is focused on network services and pricing with a regional focus on Latin America and the Caribbean.