The Philippines has moved one step closer to breaking the cellular market duopoly of well-established operators PLDT/Smart and Globe Telecom.
Mindanao Islamic Telephone Company (Mislatel)–the new major player (NMP) that was licensed in November 2018–has formally been issued its Certificate of Public Convenience and Necessity (CPCN). This paves the way for a planned commercial launch next year.
In awarding the newcomer its operating license, President Rodrigo Duterte challenged Mislatel to break the stronghold. "Let me take this opportunity to pose this challenge to Mislatel: break the prevailing duopoly in the telecommunications industry and fulfill your commitment to provide better telco services to our people," he said.
"Let me take this opportunity to pose this challenge to Mislatel: break the prevailing duopoly in the telecommunications industry and fulfill your commitment to provide better telco services to our people."
Rollout Plans
With the CPCN secured, Mislatel announced its intention to rename itself DITO Telecommunity Corp.
Its launch will include a 4G mobile network rollout this month. Department of Information and Communications Technology Acting Secretary Eliseo Rio suggested that DITO is expected to get its first subscribers from populated areas like Metro Manila, Cebu, and Davao as early as November.
"Of course, they would start with pilot testing first. Then they readjust if there are still problems with the network. They will only go to a commercial operation if they don't encounter problems any longer. In their timeline, that is 2020," he said.
Security Concerns
Mislatel is a consortium that includes two firms backed by Davao businessman Dennis Uy: Udenna Corp and its subsidiary Chelsea Logistics & Infrastructure Holdings, as well as Chinese state-owned telco China Telecom Corp.
The presence of a shareholder that is owned by the Chinese government caused some politicians to raise national security concerns. However, the award of the CPCN appears to show that authorities in Manila are happy to allow Mislatel to proceed with China Telecom as 40% co-owner.
Failed Launch
Back in 1998 Mislatel was awarded a license that allowed it to "construct, establish, install, maintain, and operate wire and/or wireless telecommunications systems in the Philippines." But the company failed to launch, repeatedly blaming the "peace and order situation in Maguindanao" as the reason. Its concession was eventually revoked in 2003.
The firm re-emerged in 2018 as one of 10 bidders reportedly interested in acquiring the NMP license. Just three of these eventually submitted final bids, with Mislatel's offer being the only one accepted. Rival bids from Philippine Telephone and Telegraph Corporation and the Sear Telecom Consortium of Tier One Communications, as well as LCS Group of Companies were disqualified due to their "failure to submit participation security and certification of technical capability, respectively."
While there had been questions over the legality of Mislatel's bid due to its failure to launch and conduct an IPO following its initial 1998 license win, in May 2019 Congress ruled that because the firm had changed ownership since 1998 its position as NMP could stand.
Increased Competition
As TeleGeography's GlobalComms Database notes, the Filipino cellular market is currently home to just two mobile network operators: PLDT, which trades under the Smart Communications and Sun Cellular brands, and Globe Telecom.
There are also a small number of MVNOs reselling services via these two networks, including ABS-CBN and Cherry Mobile. NOW Telecom is also in the mix, offering a digital wireless trunk radio service for enterprise users in several cities based on Motorola's iDEN technology.
Mobile Market Still Growing
Philippines Cellular Market 2008-2018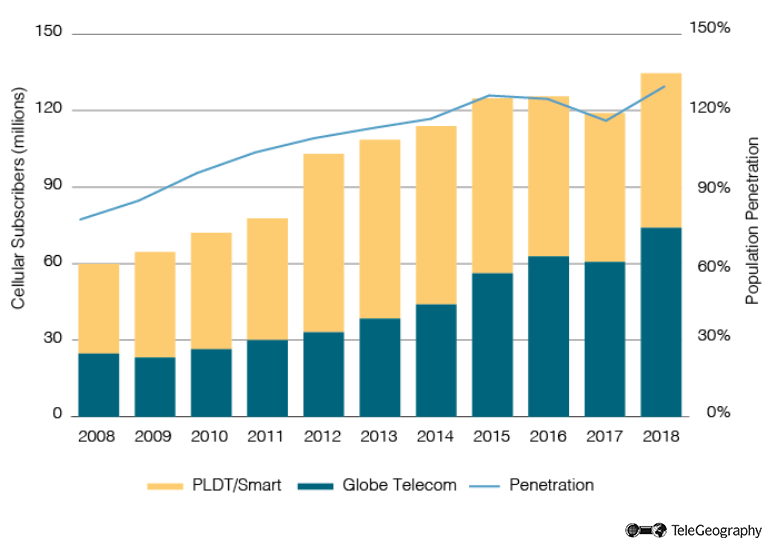 There had been hope that a third player would emerge in 2014 in the shape of San Miguel Corp (SMC). As we wrote in June 2016, SMC had formed an ambitious plan to build a nationwide mobile network via its Vega Telecom subsidiary but had to admit defeat after a proposed partnership with Telstra of Australia failed to get off the ground.
Should Mislatel's DITO service make it to commercial launch in 2020, it will join a market that has over 147 million subscribers and a population penetration rate of over 137%. It will be a tall order to win market share from the well-established duo, but the Mislatel consortium seems confident it can make a splash.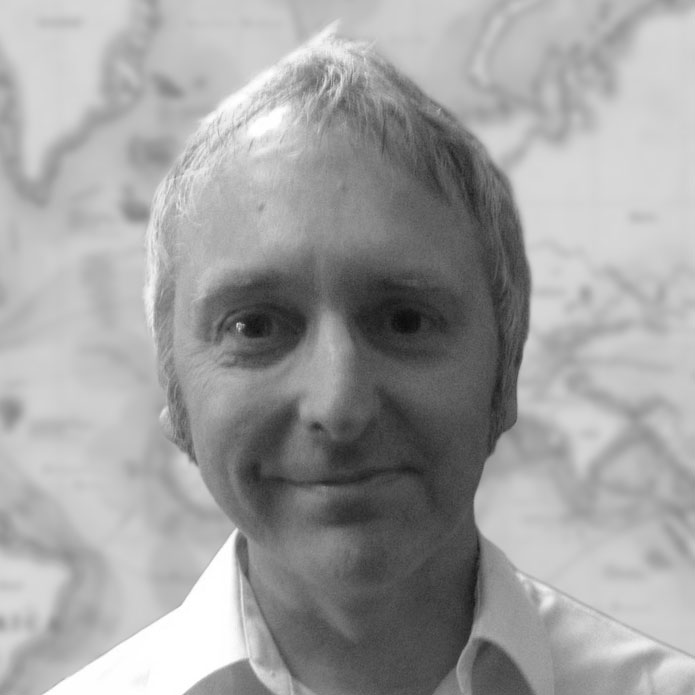 Pete Bell is a Research Analyst for TeleGeography's GlobalComms Database and also contributes to the daily CommsUpdate newsletter. He has a particular interest in wireless broadband and was responsible for TeleGeography's 4G Research Service until it was integrated into GlobalComms.