The SD-WAN vendor landscape has changed.
Many of the familiar faces that pioneered initial SD-WAN services have been acquired, and a host of managed SD-WAN service providers have emerged as a popular option for many enterprise customers.
So in a world where information is power, a new hero has risen to provide SD-WAN vendor knowledge to those in need: TeleGeography's 2023 SD-WAN Guide.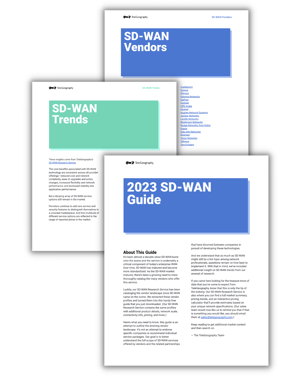 About the Guide
This e-book—detailing 26 SD-WAN vendors and 85 managed SD-WAN providers—is an attempt to outline the evolving vendor landscape. It's not an attempt to endorse specific companies or recommend individual service packages.
Our goal is to better understand the full scope of SD-WAN services offered by vendors and the related partnerships that have bloomed between companies in pursuit of developing these technologies.
And we understand that as much as SD-WAN might still be a hot topic among network professionals, questions remain on how best to implement it. With that in mind, we've included additional insight on SD-WAN trends from our arsenal of research.
This is only the tip of the iceberg. Our Cloud and WAN Infrastructure is where you can find a full market summary, pricing trends, and an interactive pricing calculator that'll provide estimates based on your unique network specifications.
Download the full guide here to get some market context and search on.