The fixed voice telephony market continued its downward trend in 2018—and the decline shows no signs of stopping.
According to figures from TeleGeography's GlobalComms Database, there were 971 million lines in service worldwide at the end of last year, down from 996 million 12 months earlier and a peak of almost 1.28 billion back in 2007.
The worldwide household penetration rate for wireline services stood at 45% at end-2018. Regional rates vary widely, however, from over 90% in Western Europe and North America, to below 10% in Africa.
Limited Growth in Africa
Although it has a smaller base of users overall, Africa was the only region to show positive fixed-line growth in 2018, with customer numbers up 3% to 25 million. Other regions had mixed results. In Western Europe, user numbers fell only marginally to 177 million, while in Eastern Europe the line total was down by more than 7% to 67 million.
The positive performance in Africa was due mainly to a sharp rise in the number of lines in service in Egypt, where increased demand for fixed broadband services helped boost growth in fixed-line uptake. Despite this, household penetration in Africa appears to have already peaked at 16% in 2008. Increasingly, countries in the region are preferring wireless-based technologies rather than the development of fixed networks.
Wireline Woes: Fixed-Line Subscriptions Keep Falling
Fixed-Line Subs by Region 2005-2018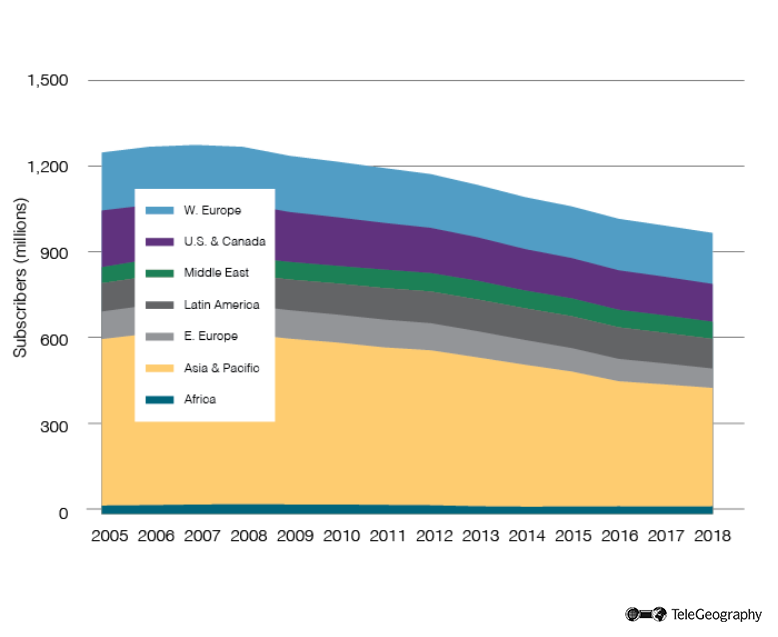 Globally, markets that saw the biggest fixed-line losses in 2018 included China, Brazil, Russia, and the U.S., which each recorded drops of more than 2 million connections. Some countries managed to buck the trend, however. As well as aforementioned Egypt, both Indonesia and Mexico grew their wireline subscriber bases by more than 1 million last year.
Globally, markets that saw the biggest fixed-line losses in 2018 included China, Brazil, Russia, and the U.S., which each recorded drops of more than 2 million connections.
Some of the world's biggest service providers saw their wireline customer bases fall by 10% or more in 2018. This includes CM TieTong (China), Reliance Communications (India), Telia (Sweden), Ukrtelecom (Ukraine), Kazakhtelecom (Kazakhstan), Telstra (Australia), and AT&T (U.S.).
PSTN vs VoIP
Although more and more people are switching to IP-based connections, the growth is not enough to offset the decline of traditional copper PSTN lines. At the end of 2018 there were 612 million public switched telephone network (PSTN) lines in service, down from 658 million the year before. Meanwhile, voice-over-IP (VoIP) lines rose from 338 million to 359 million over the same period.
Telcos have started migrating from copper to all-IP networks, with Germany-based Deutsche Telekom Group leading the way in Europe. In February 2014 its Macedonian subsidiary Makedonski Telekom became the first European incumbent to convert its PSTN infrastructure to an all-IP network. That was swiftly followed by the German telco's operations in Croatia, Slovakia, and Montenegro, which migrated to all-IP by the end of 2015.
Things are progressing somewhat slower at its units in Germany, Romania, and Greece. The company was forced to postpone its PSTN switch-off from 2018 to 2020/2021, partly due to client retention issues.
In most other developed markets, operators are quickly moving ahead with their transition to all-IP networks. These networks are cheaper to maintain and they allow a wider variety of services such as IPTV. As such, infrastructure vendors are beginning to discontinue support for legacy equipment.
VoIP Takes Over
PSTN vs VoIP 2005-2025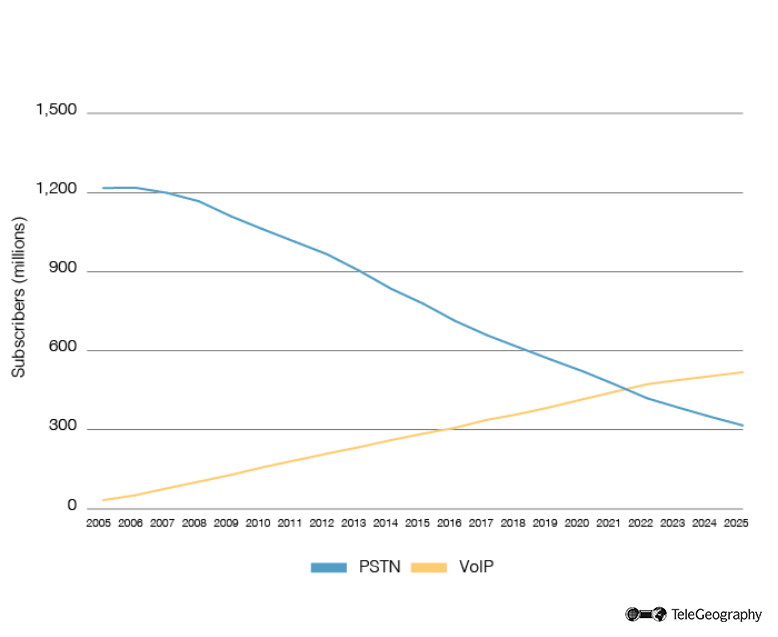 Fixed Line Forecasts
Newly released figures from TeleGeography's GlobalComms Forecast Service predict that the total number of fixed lines will drop to 834 million by end-2025. VoIP will overtake sometime in 2022 and claim 518 million connections by that date, while the PSTN total will have fallen to 316 million.
It will likely be decades before the PSTN disappears from all corners of the world, but the trend toward VoIP is inexorable.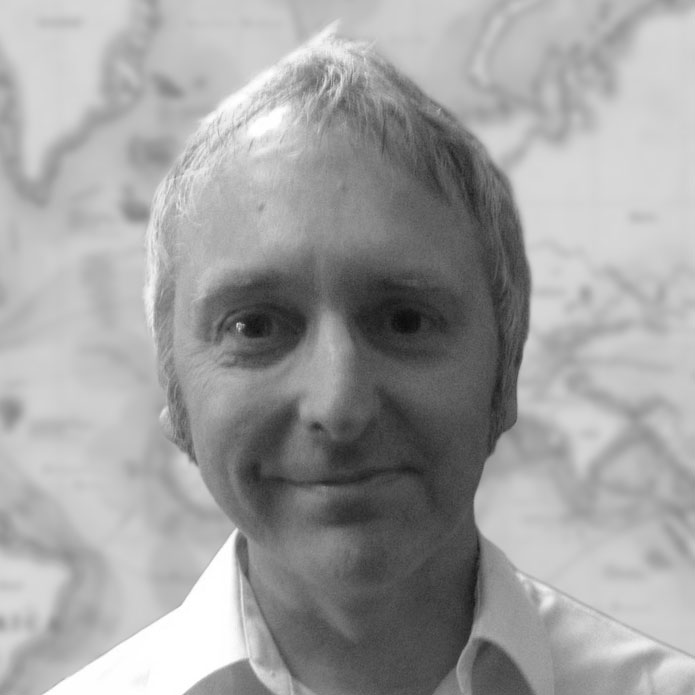 Pete Bell is a Research Analyst for TeleGeography's GlobalComms Database and also contributes to the daily CommsUpdate newsletter. He has a particular interest in wireless broadband and was responsible for TeleGeography's 4G Research Service until it was integrated into GlobalComms.