As more and more 5G mobile networks are launched, we've become curious about how the market will fare in the coming years.
According to TeleGeography's GlobalComms Forecast Service, the cellular market as a whole will be home to almost 9 billion subscriptions by the end of 2025, up from around 7.8 billion in December 2018. This excludes fixed-wireless and machine-to-machine/internet of things connections.
Technology Splits
2G services peaked at 4.9 billion users in 2011 and have been declining steadily since then, now accounting for around 30% of subscribers. This is forecast to fall below 10% by 2025. Meanwhile, 3G services topped out at 2.4 billion users in 2016 and fell under 2 billion by the start of 2019. That's roughly 25% of the overall market. By 2025, 3G is expected to account for just 11% of the global total.
2G and 3G on the Wane
Wireless Subscribers by Technology, 2005-2025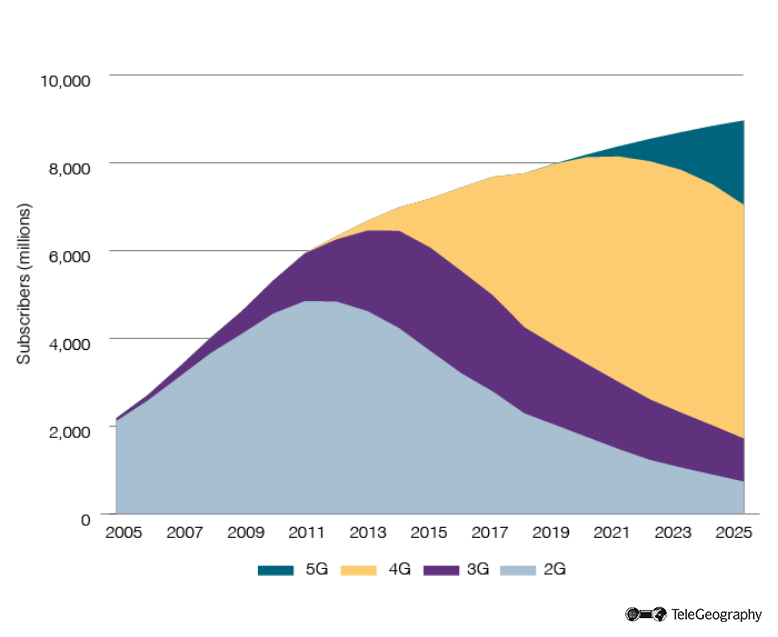 On the other hand, 4G technology is continuing its growth, passing 3.5 billion users and 45% of the market at end-2018. Our forecasts indicate that these subscriptions will flatten out at around 5.5 billion by end-2023 before decreasing as 5G take-up quickens.
The Dawn of 5G
The first commercial implementation of true 5G wireless networks came in South Korea in December 2018. All three local cellcos—SK Telecom, KT Corp, and LG Uplus—opened 5G services, initially for enterprise customers only. While firms like Verizon in the U.S. and Etisalat of the United Arab Emirates had claimed earlier 5G launches, these were fixed-wireless systems, not networks providing full mobility. They were also limited in geographic scope.
Since then, the Korean trio has gone on to introduce 5G tariffs for private customers, with a launch in April. They have been joined by the likes of AT&T, Sprint, and Verizon in the U.S.; Etisalat and Du in the UAE; Swisscom and Sunrise of Switzerland; and EE in the U.K. Vodafone has also penciled in a number of launches across Europe in the coming months.
5G Forecasts
5G will account for just 0.1% of all wireless subscribers by the end of 2019. The situation will have changed markedly by end-2025, however, when 5G is expected to have 1.93 billion users and 21.5% of the overall mobile market.
5G will account for just 0.1% of all wireless subscribers by the end of 2019. The situation will have changed markedly by end-2025, however, when 5G is expected to have 1.93 billion users and 21.5% of the overall mobile market.
Early signs have been encouraging. Korea's Ministry of Science and ICT confirmed in June 2019 that the country's three operators had already signed up 1 million 5G subscribers between them. This was despite the fact that network coverage was restricted to the largest cities and the range of handsets that supported 5G was limited.
Speedy 5G Network Rollouts
It took 2G technology almost five years before 100 live networks had been deployed worldwide, but subsequent generations of equipment have seen faster rollouts. Soon after, 3G services took four years to have 100 commercial networks. For 4G technology it was just under three years—and with 5G it's expected to take just two years before 100 operators have live networks.
5G Will be Quick Off the Mark
Time to Reach 100 Live Networks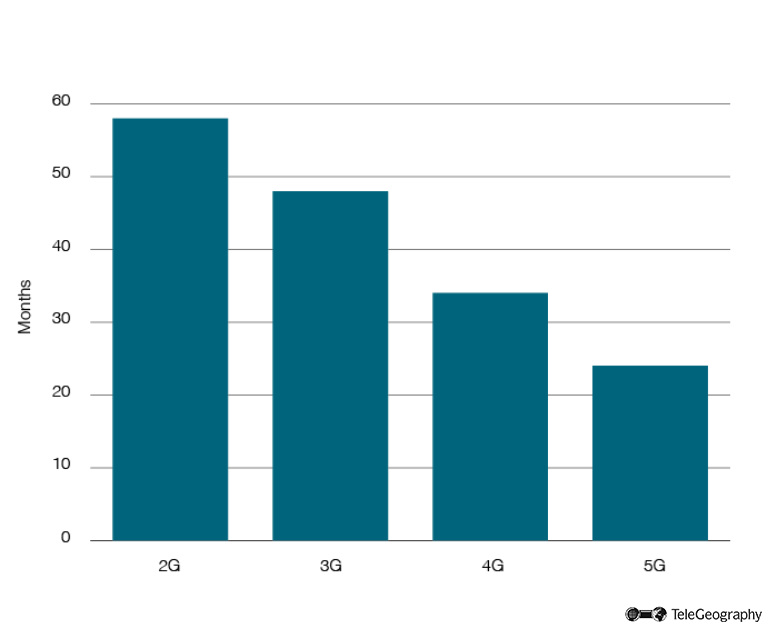 One reason behind the expected quick adoption of 5G compared to previous generations is the homogenization of standards. Whereas 2G had several competing platforms—GSM, CDMA, TDMA etc.—the market for fifth-generation equipment is concentrated on the single non-standalone 5G New Radio standard. This has led to a simpler, more focused ecosystem for both network infrastructure and end-user devices.
China, India, and the U.S. are expected to be the three largest markets for 5G services by 2025 in terms of subscriber count, with more than 1 billion users between them by that time.
Read Next
TeleGeography's Guide to 5G Auctions: We're saving all of our 5G auction updates here. Check back for new 5G stories in the coming weeks. Keep up with 5G.
When 5G Isn't 5G: U.S. telco AT&T has come under fire for pushing its "5G Evolution" technology. But many of their critics have been guilty of similar marketing hyperbole. Read all about it.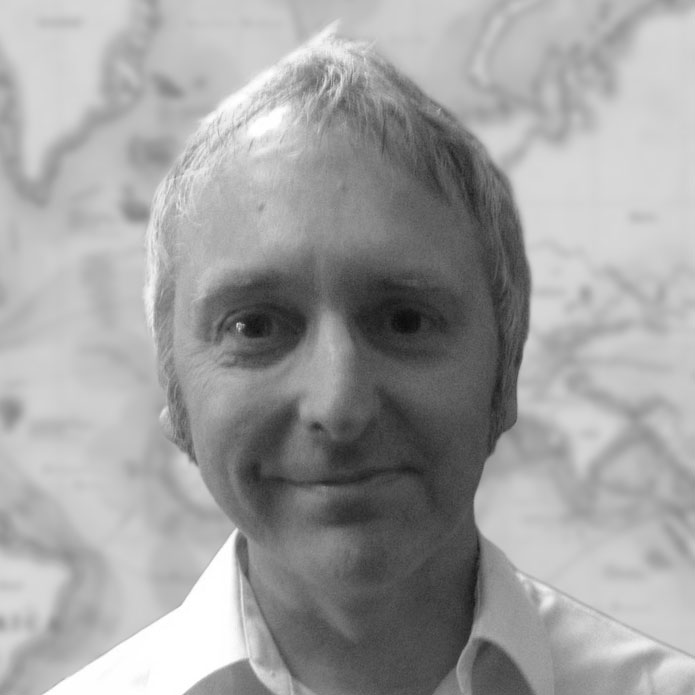 Pete Bell
Pete Bell is a Research Analyst for TeleGeography's GlobalComms Database and also contributes to the daily CommsUpdate newsletter. He has a particular interest in wireless broadband and was responsible for TeleGeography's 4G Research Service until it was integrated into GlobalComms.