Here's a good one from the archives.
"America and Europe will soon be linked by the first trans-Atlantic telephone cables," reads this March 1954 article from Popular Mechanics.
"Although the first successful telegraph cable between Europe and America was laid in 1866, this will be the first telephone line to cross an ocean."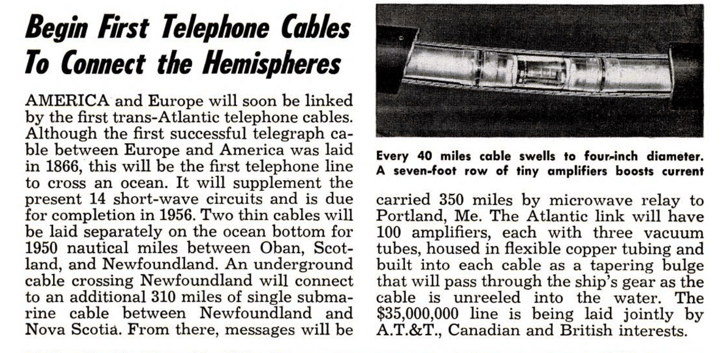 Exciting times, to say the least. The article continues, explaining that the new cable - due for completion in 1956 - "will supplement 14 short-wave circuits."
Two thin cables will be laid separately on the ocean bottom for 1950 nautical miles between Oban, Scotland, and Newfoundland, says the article. And "an underground cable crossing Newfoundland will connect to an additional 310 miles of single submarine cable between Newfoundland and Nova Scotia."
Popular Mechanics further details the Atlantic link, noting that it will have 100 amplifiers housed in copper tubing and built into each cable.
"The $35,000,000 line is being laid jointly by A.T.&T., Canadian and British interests."
It's a fun look back at cable history.