DIA has emerged as the first choice alternative product to MPLS in the hybrid WAN. And for good reason.
The service delivers an uncontended synchronous connection to your upstream provider backed by a carrier-grade service level agreement. As such, the service is much closer to the assurance and security levels of MPLS, especially with an SD-WAN overlay, than other connections to the public internet.
By creating a more direct path between the end-user and hosting data center, DIA improves the performance of cloud and SaaS applications by avoiding the latency that may be introduced by tromboning across an MPLS network and through a centralized gateway.
In addition, DIA often proves to be a more cost-effective alternative to MPLS across major global cities.
The use of internet services in the global enterprise network is growing, but has not yet quite overtaken MPLS.
Data from the latest update of our WAN Manager Survey details that the average network is running DIA at 42% of sites, and broadband at around one-quarter of sites. MPLS was still running at a plurality, an average of 46% of sites.
Source: © 2022 TeleGeography
So how does this compare to previous years?
In the figure below, you can see a clear downtrend in MPLS usage (featured in the dark blue columns), from a dominant high of 82% in 2018 down to the current ratio of 46%.
During the same time period, DIA usage (featured in the turquoise columns) increased from 27% to 42% amongst our survey respondents.
Finally, broadband usage increased and ranged from 16% in 2018 to 2% in 2021.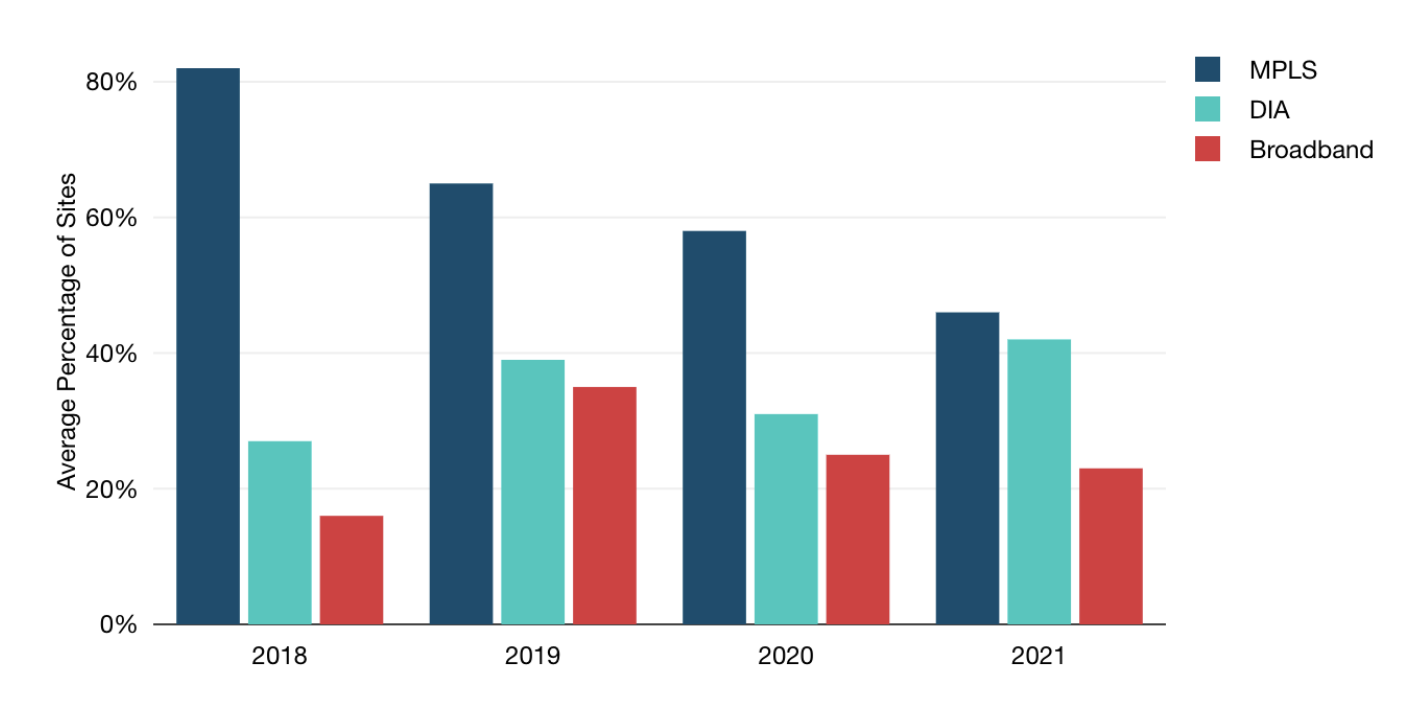 Source: © 2022 TeleGeography
Where these different products are being used in a network is also important to understand. As such, we asked WAN managers what their bandwidth distribution was for key underlay products: MPLS, DIA, and broadband.
We see that MPLS skews toward the lower bandwidth ranges, likely because of price.
DIA peaks at higher ranges—51-100 Mbps—with another spike at the GigE level.
Broadband also peaks at the 51-100 and 100-500 Mbps ranges, but drops off after that, likely due to lack of availability of broadband at those very high ranges.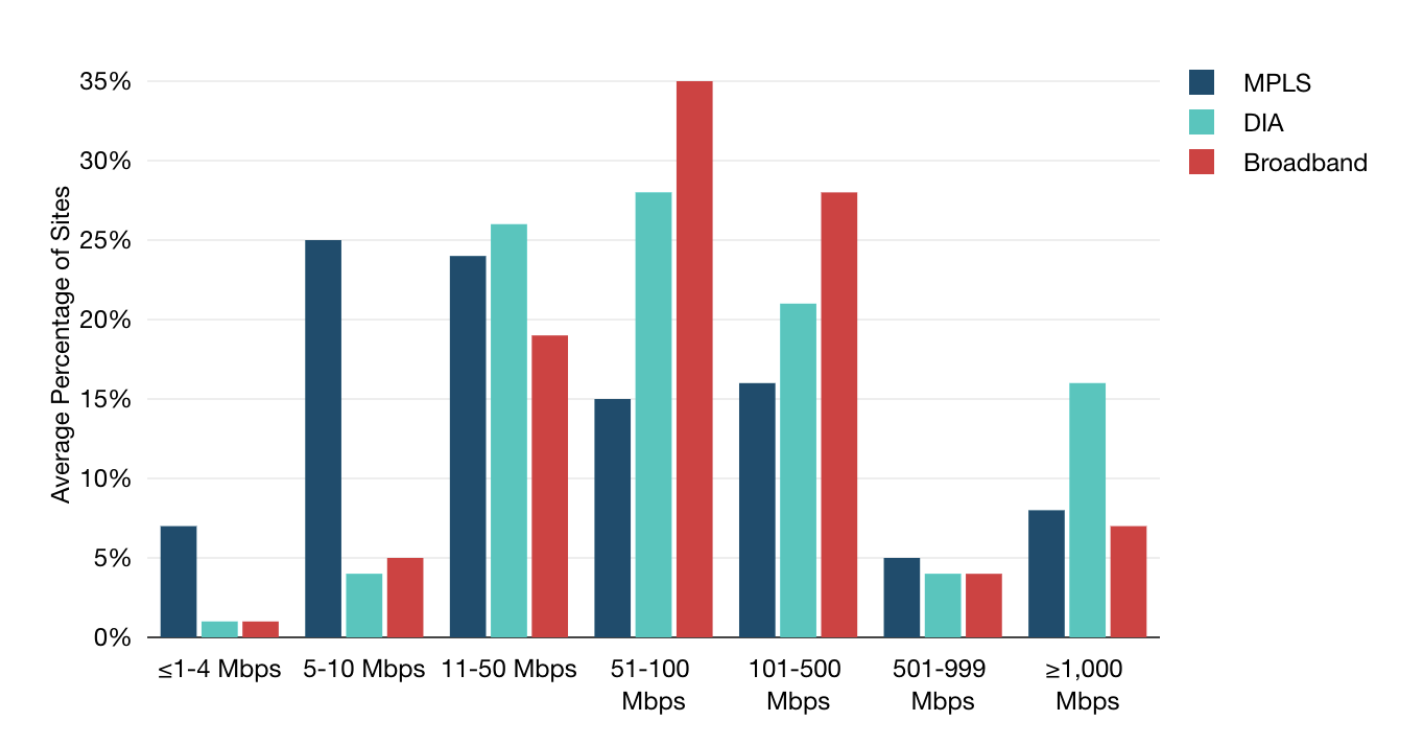 Source: © 2022 TeleGeography
Across the board bandwidth sizes are increasing, a reflection of the adoption of cloud services and UCaaS tools (Zoom, Teams, etc.) from a growing number of enterprise customers.
DIA services saw the biggest reported increase in the 51-100 Mbps capacity range (2%) and 101-500 Mbps range (3%), compounded annually over the past four years. We expect to see demand for these higher capacities continuing to increase going forward.
Pricing Across Network Services
Price Relative to MPLS
As we mentioned above, part of the appeal of DIA is its price.
Some carriers' MPLS and DIA pricing plans have converged as providers look to maintain their MPLS customer base. But by and large, we continue to see a fairly significant difference between MPLS and DIA pricing globally.
Across the key global cities featured below, the monthly recurring charge for a 100 Mbps DIA port (in the turquoise columns) was an average of 56% less than that of Best Efforts CoS3 MPLS (the dark blue columns).
While still significant, the price gap between the two services was smallest in global internet hubs such as London, New York, and Hong Kong where MPLS services are already priced pretty competitively.
In cities such as Johannesburg and São Paulo, where MPLS retains a premium, a 100 Mbps DIA port was 76% and 67% less expensive than MPLS, respectively.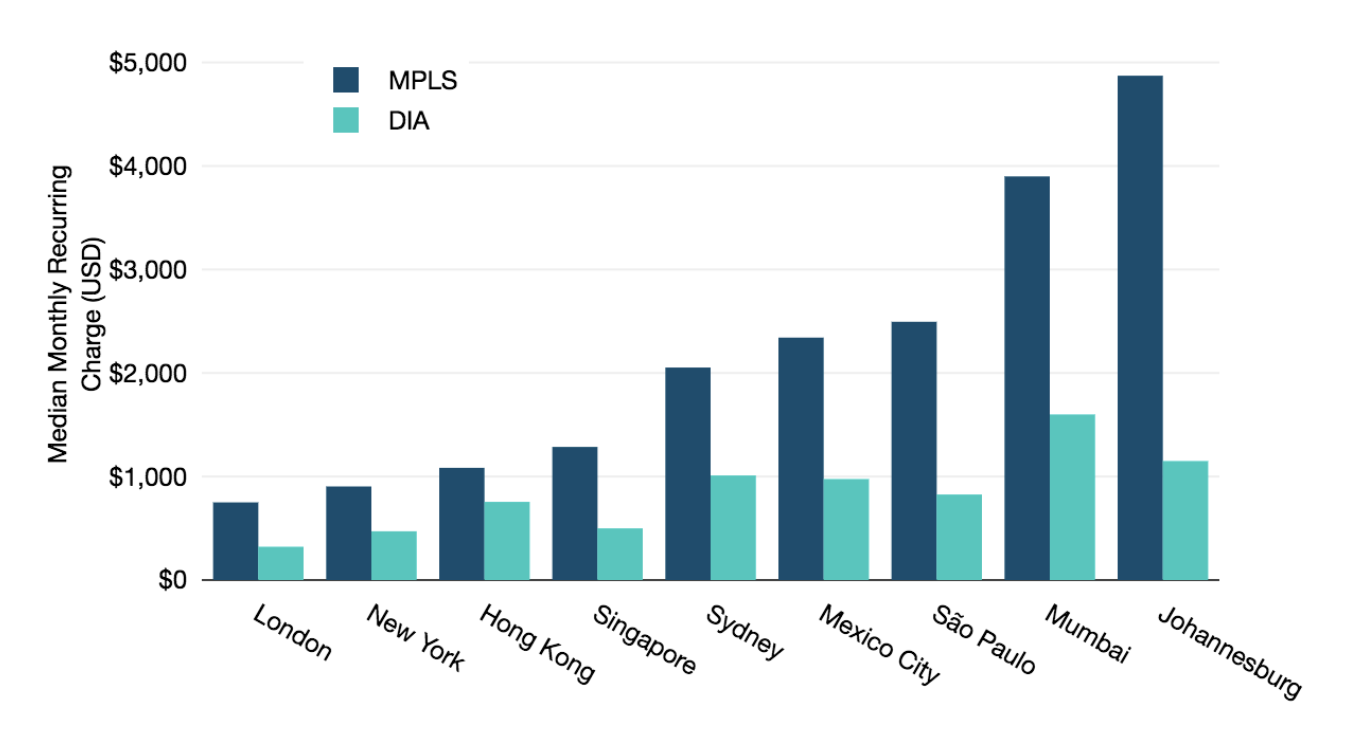 Source: © 2022 TeleGeography
You can explore all of TeleGeography's WAN content over here.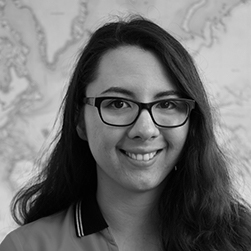 Elizabeth Thorne is a Senior Research Analyst at TeleGeography. Her work is focused on enterprise network research.