A long-running telecom saga came to an end last month with the conclusion of the C$25 billion ($18.4 billion) merger between Canadian operators Rogers Communications and Shaw Communications.
The deal—which first reached agreement in March 2021—combines Rogers' nationwide mobile network with both operators' coast-to-coast fixed networks. The resulting national cable, media, and mobile operating company offers fiber-powered cable internet to nearly 70% of Canadian households.
Rogers and Shaw declared they'll now "bundle more products to more Canadians, including everything from internet, television, phone, and smart home monitoring; to wireless services; credit card offers; sports and media content."
As a result of the merger, the Shaw family is now one of the largest shareholders of Rogers.
While the deal was initially valued at C$26 billion, the final price was under C$25 billion—comprising C$18.9 billion cash, C$1.4 billion in shares, and the assumption of C$4.5 billion of debt.
Competition Concerns
The merger proceeded after final federal approval for the requisite transfer of Shaw's mobile subsidiary Freedom Mobile to Quebec-based Videotron.
In March 2022—a year after the initial agreement—Canada's Minister of Innovation, Science and Industry, Francois-Philippe Champagne, indicated that at least some of Freedom's cellular spectrum licenses would need to be divested as a condition of merger approval.
Minister Champagne stated: "The wholesale transfer of Shaw's wireless licenses to Rogers is fundamentally incompatible with our government's policies for spectrum and mobile service competition, and I will simply not permit it."
A joint statement from Rogers and Shaw followed, reading: "We continue to work constructively with the government and regulators to close this transaction and deliver the benefits of the merger to all Canadians." Rogers then initiated talks with potential buyers of Shaw's mobile business.
The merger was put on hold in May 2022 in order to resolve objections from Canada's Competition Bureau. The following month, Rogers and Shaw agreed to the sale of Freedom Mobile to Quebecor, the parent of cable and mobile network operator Videotron. A definitive agreement for the sale was signed on August 12.
Despite this sale agreement, mediation between the merger parties and the Competition Bureau was unsuccessful.
Despite this sale agreement, mediation between the merger parties and the Competition Bureau was unsuccessful. The regulator argued that the deal would "degrade competition and lead to higher prices for consumers." The proposed tie-up then went before a Competition Tribunal public hearing in November/December 2022.
The merger was eventually cleared by the Tribunal on December 29, after the body claimed it was unlikely to lead to higher prices for consumers in Shaw's Western heartlands of Alberta and British Columbia. The Competition Bureau immediately launched an appeal, but it was rejected by the Federal Court of Appeal on January 24, 2023.
Champagne Moment
Minister Champagne finally approved the transfer of spectrum licenses from Freedom to Videotron on March 31, 2023, adding "strict" and "unprecedented" legally-binding conditions to the dual mergers.
The Minister declared: "This transfer follows a series of agreements signed by the parties that will ensure that this new national [mobile] fourth player [Videotron] will be in it for the long haul, be able to go toe-to-toe with the big three [Rogers, Bell and Telus], and actually drive down prices across Canada."
The announcement of approval on the Innovation, Science and Economic Development Canada website confirmed that Videotron:
Will offer plans that are comparable to those currently available in Quebec, and offer options at least 20% cheaper than those available from the major players.


Cannot transfer the Freedom licenses for a period of ten years.


Must expand its 5G network in Freedom's pre-existing operating territory within two years.


Will expand mobile service into Manitoba via an MVNO agreement or other means and offer plans comparable to what it offers in Quebec.


Will increase data allotments of existing Freedom customers by 10% as a near-term bonus while it invests to bring down prices overall.
Separately, Rogers will be subject to commitments requiring major investments to improve connectivity within the next five years, including:
Creating 3,000 new jobs in Western Canada and maintaining them for a minimum of ten years after the closing date.


Establishing a Western headquarters in Calgary and maintaining it for a minimum of ten years.


Investing C$1 billion ($740 million) to expand broadband internet access at speeds of at least 50Mbps/10Mbps (down/upload), and 5G mobile service in areas where it is not currently available.


Investing at least C$2.5 billion to enhance its 5G network in Western Canada, and C$3 billion in additional network service expansion projects.


Expanding access to low-cost broadband internet plans and launching a new low-cost mobile offering for low-income Canadians.
As Minister Champagne underlined, "These agreements are subject to significant financial damages for non-compliance: up to C$200 million in the case of Videotron and up to C$1 billion in the case of Rogers. These agreements will be released publicly and are subject to annual reporting requirements."
Videotron and Rogers also entered into commercial network access agreements—including an MVNO and Domestic Roaming Agreement—on terms that will help Videotron compete more effectively as it expands in other regions of Canada.
Alongside his decision, the Minister declared a moratorium on "large scale" spectrum transfers and announced the initiation of a "comprehensive review" of the spectrum transfer framework—"something which has not been done in almost a decade."
"Today's announcement allows for the establishment of [an effective] fourth national player for the first time in Canada's history. If Canadians do not begin to see a clear and meaningful reduction in prices within a reasonable amount of time as a result of this decision, I will have no choice but to use further legislative and regulatory powers to drive down prices," Minister Champagne concluded.
Market Shake-up
TeleGeography's GlobalComms Database notes that Rogers and Shaw had a combined 4.38 million retail fixed broadband subscriptions at end-December 2022. The market leader at that time, Bell Canada, had 4.26 million.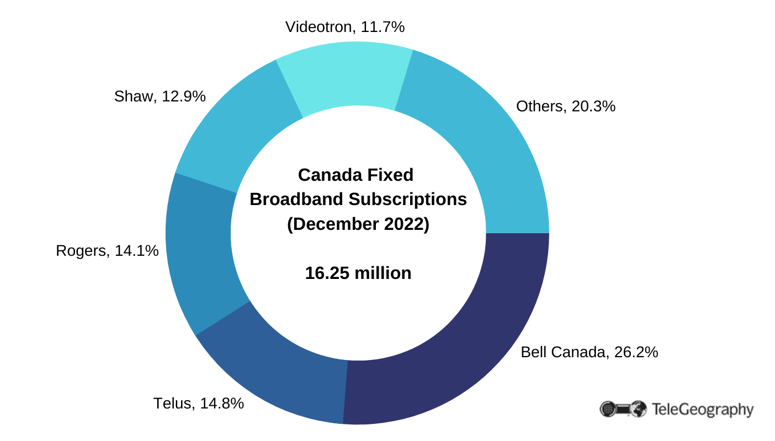 Rogers was Canada's mobile market leader as of end-2022 with 11.94 million subscriptions and 31.1% of the overall sector. Rogers was followed by Telus with 10.86 million (28.2%) and Bell Canada with 10.80 million (28.1%).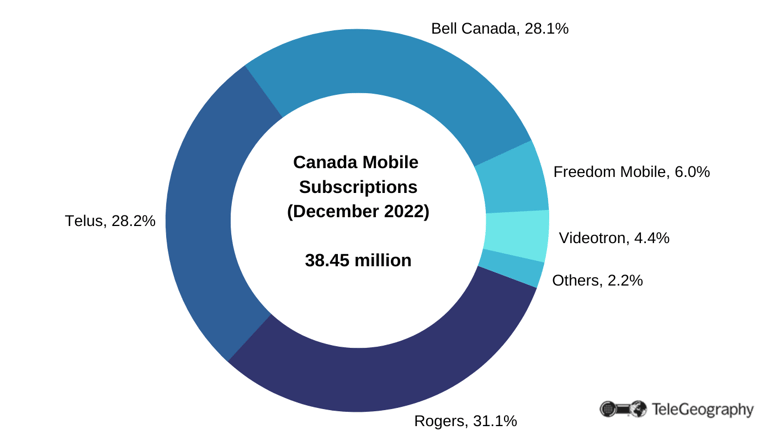 The acquisition of Freedom Mobile by Videotron, meanwhile, has created a larger fourth mobile market player.
The acquisition of Freedom Mobile by Videotron has created a larger fourth mobile market player.
This player stacks up with a combined total of more than 3.5 million mobile subscriptions—alongside Videotron's Quebec cable subscription base (1.9 million fixed broadband, 1.4 million TV, and 750,000 fixed voice)—and nearly 7,500 employees.
Looking forward, Rogers plans to invest more than C$6.5 billion to enhance and expand its networks across British Columbia, Alberta, Saskatchewan, and Manitoba, including C$1 billion to connect rural, remote, and Indigenous communities.
Rogers aims to expand 5G coverage to reach a total of 300 communities—with a network covering 140,000 square kilometers—while also upgrading and expanding its fiber broadband infrastructure to pass 4.7 million homes in British Columbia and Northern Ontario.
Key Statistics
Canada, December 2022
| | |
| --- | --- |
| Mobile Subscriptions | 38.45 million |
| Mobile Population Penetration | 99.6% |
| Fixed Broadband Subscriptions | 16.25 million |
| Fixed Broadband Household Penetration | 107.3% |
| Fixed Voice Subscriptions | 12.89 million |
| Fixed Voice Household Penetration | 85.8% |
Source: TeleGeography's GlobalComms Database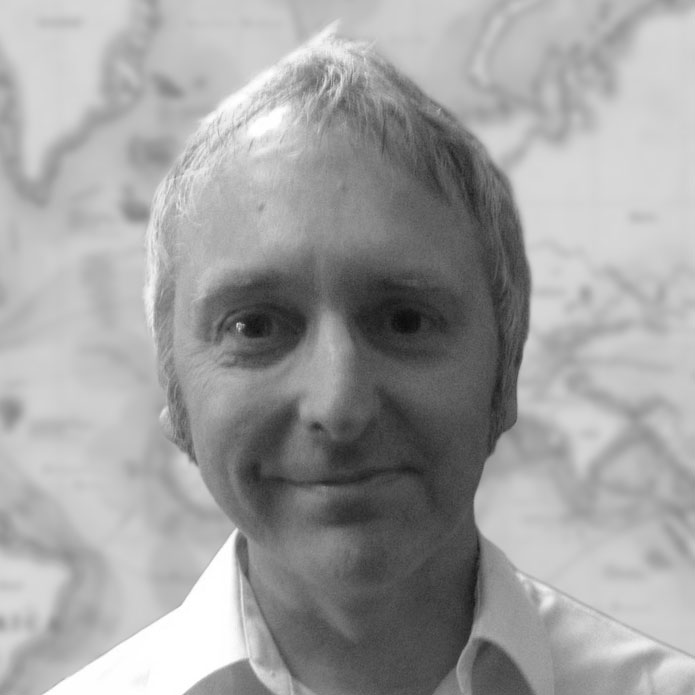 Pete Bell is a Research Analyst for TeleGeography's GlobalComms Database and also contributes to the daily CommsUpdate newsletter. He has a particular interest in wireless broadband and was responsible for TeleGeography's 4G Research Service until it was integrated into GlobalComms.